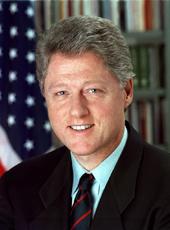 Remarks at a Ceremony Unveiling a Portrait of Former Secretary of Commerce Mickey Kantor
Thank you very much, ladies and gentlemen. Secretary Daley, thank you for your comments and your extraordinary leadership. I thank Secretary and Mrs. Glickman, Secretary Richardson, Ambassador Barshefsky, John Podesta, Ambassador Zuzul from Croatia for being here, and the many friends and family members of Mickey Kantor, but especially Heidi, and Leslie and Bruce, and Doug and Allison, and Alix, and of course, Ryan and Zachary.
I think that when they're old enough to watch the videotape of this ceremony, they will enjoy it a lot. They will see that their father was one of America's greatest public—their grandfather was one of America's greatest public servants. They also, because of what I am about to say, will know that he's known for something other than cuddles and hugs. [Laughter] After all, you don't earn the title he actually earned in a poll once, there of the "third most hated man in South Korea"—[laughter]—by being Mr. Nice Guy all the time. [Laughter]
I went to South Korea, and I gave a speech to the South Korean Parliament. And it's always a big deal, the American President goes to a foreign parliament. I spoke to the French Parliament; I've spoken to parliaments all over the world, and they're always so excited and happy, not because of me but because it's the United States. Not in Korea. [Laughter] They all sat there glumly, with—and they held up little protest signs that said, "Rice." [Laughter] Thanks a lot, Mickey. It was great. [Laughter]
Secretary Daley has already alluded to this, and I just want to say briefly, in April of 1996, after Ron Brown and the other fine people from the Department of Commerce died in that terrible plane crash, I really thought there was no one else I could turn to to run this Department. I hesitated to ask Mickey to do it. I thought that he had been one of the truly most outstanding and effective Trade Ambassadors we had every had.
But when I did ask him, without a moment's hesitation, even though he'd rather carry his own scheduling book and make his own deals, he came over here to this massive Government Department to do the Nation's work again. And he did it out of loyalty to me, to Ron, to the thousands of grieving Commerce Department employees, and to the United States. And I am very grateful.
I like this portrait an awful lot. Mr. Polson, you did a remarkable job. But on the way over here, I was sort of hoping that you'd break the mold and you would lift this curtain and I would see Mickey in his Speedo bathing suit, flexing his biceps. [Laughter] But instead he's got that double-breasted suit on, he can afford now that he's left Government service. [Laughter]
I want to thank Mickey for many things. I've been a close friend of his for what seems like forever now, more than 20 years. Bill mentioned his service in the Navy. I think it's worth, for the record, to point out that he served on an aircraft carrier. What you may not know is that he and the rest of the crew of the U.S.S. Wasp were on the frontlines of the Cuban missile crisis, locked eyeball-to-eyeball with Russian sailors for those 14 harrowing days.
I think it was good preparation for the rest of his life and the constant, constant occasions he has had to call upon his steel nerves. This has served Mickey well in everything he's ever done: in turning 9th inning double plays at Vanderbilt to dealing with 11th hour crises in our '92 campaign to closing the deal on some of the largest trade negotiations in America's history.
Back in 1993, when Mickey was using those nerves of steel in a series of complex negotiations with the Japanese, some teenagers were spotted at Japanese Disneyland with a T-shirt that sums it up well. Mickey Kantor was drawn to look like Mickey Mouse calmly beating the dickens out of sumo wrestlers 10 times his size. [Laughter]
We all like watching Mickey work. If we want to watch Mickey at all, we have to like to watch Mickey work. [Laughter] We've all seen him up for days and nights at a time on some difficult negotiation. Instead of just throwing in the towel or throwing a chair, he sort of does that "I'm just a country lawyer from Tennessee" routine, and you turn around, and you've lost your wallet.
We all know that Mickey has on occasion shown displays of temper; at least he has to me, but I deserved it, and it served the conversation well at the time. But let me say to all of you, the thing that I like about him so much is that he does have passion, and he does have nerves of steel. He has courage and a good mind, but he also, most importantly, has the right kind of heart.
When he was a teenager, he was profoundly moved when his father lost his job on the Nashville School Board because he had the temerity to believe that Nashville ought to abide by the Supreme Court's order to desegregate our schools. Later he was inspired by the activism of Caesar Chavez and went down to Florida to defend poor farm workers against labor abuses.
As Secretary Daley mentioned, Mickey worked with Hillary on the board of the Legal Services Corporation when President Carter served here, helping to secure every American's right to equal justice under the law. He also served on the board of the Mexican American Legal Defense and Education Fund and created an award and scholarship in Valerie's name. He created the Los Angeles Conservation Corps, giving hundreds of young people a chance to make a difference in their communities and exposing me to the Corps in 1991 and 1992, which was, along with City Year in Boston, for me, the model that led to AmeriCorps, and has now given over 100,000 young Americans the chance to serve in their communities and earn some funds to go on to college—in just 5 years, more people than served in the first 20 years of the Peace Corps. I am very proud of that and very grateful to Mickey for giving me the inspiration.
Mickey has done things that I think are important for America's politics beyond the jobs that he's held. He's always believed we could fight for the underdog and make life good for everyone else. He was the prototypical New Democrat, before the phrase became popular.
When we were working on this campaign, in '91 and '92, whenever he sensed the message of the campaign drifting he would always say, "We have to prove that our party can grow the economy, can get the deficit down, is committed to expanding trade, not running away from the globalized future we all face. We have to prove that we believe in welfare reform, that able-bodied people can work and raise their children and succeed." And he used to talk all the time about how important it was for us to follow policies that would drive down the crime rate and make America safer, things that didn't always fall within the direct ambit of his work in the campaign and later as trade negotiator. And whenever he felt we were drifting away, he would call me on the phone and say, "Remember what we ran; remember what we promised; remember what we've got to do." And still, even though he's not in public service and now that he's not in my employ—sometimes with greater color—[laughter]—he calls and reminds me of that, if he ever senses any drift.
So Mickey, before I turn the program over to you and give you a chance to rebut the charges of the Koreans, the Japanese kids, and your President, let me say, thank you for 21 or more remarkable years of genuine friendship. Thank you for astonishing public service. Thank you for being a good model, as father and husband and citizen. And thank you for believing in things and people, enough to fight for what you believe in. Our country is much better because you have served it.
Thank you.
NOTE: The President spoke at 6:05 p.m. in the main lobby at the Herbert C. Hoover Building. In his remarks, he referred to Secretary Glickman's wife, Rhonda; Croatian Ambassador to the U.S. Miomir Zuzul; and artist Steven Polson, who painted the portrait.
William J. Clinton, Remarks at a Ceremony Unveiling a Portrait of Former Secretary of Commerce Mickey Kantor Online by Gerhard Peters and John T. Woolley, The American Presidency Project https://www.presidency.ucsb.edu/node/226732