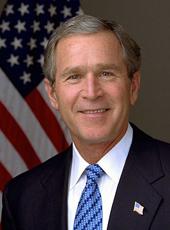 Remarks at a Celebration of Greek Independence Day
The President. Your Eminence, thanks. It's great to have you back at the White House. One of the joys about being the President is, you get to meet some pretty interesting people. And I will tell Your Eminence, I value our friendship. You're such a gentle soul, and it gives me great—it soothes my spirit to be with you. I appreciate your prayers, and I appreciate your leadership, and I am proud to join you in celebrating the 186th anniversary of Greek independence. And we're glad you're here. Thanks for coming.
As you can tell, there is going to be a series of orations, and then you get to go have some refreshments. [Laughter] I appreciate the leaders of the Greek American community who are here with us today. Our country is home to 1.2 million Greek Americans—actually, more than that. And, Your Eminence, Greek Americans have really enriched our culture and enriched our Nation's heritage. They're a lively bunch, as you know—[laughter]——
Archbishop Demetrios. Absolutely.
The President. ——but an important group of people in our country, and that's really what we celebrate here. We celebrate our friendship with the nation of Greece.
And, Madam Foreign Minister, thanks for coming. I talked to Condi about her discussions with you. We have a lot to do together, and I appreciate your leadership.
I thank the Ambassador for joining us today. Mr. Ambassador, thanks. Thanks for bringing Francoise, wife. I appreciate the Ambassador from—the Cypriot Ambassador to the United States. Andreas, thank you for coming. Appreciate you being here. Thank you for bringing your wife Kareen.
I want to thank Nick Burns for being here, former Ambassador to Greece from the United States, now top official at the State Department. One of my top advisers happens to be a Greek American—Fran Townsend, Fran Fragos Townsend—[laughter]—whose advice I listen to on a regular basis, Your Eminence. Thank you for serving.
I appreciate Members of Congress who have come. Thank you all for taking time: Congressmen Carolyn Maloney from New York, Gus Bilirakis from Florida, John Sarbanes from Maryland, Zack Space from Ohio. I appreciate you all coming. You're welcome to be here.
I want to thank Father Alex—wherever you are—there he is. Father Alex, yes, trying to be as low profile as possible. [Laughter] Appreciate you coming, and thanks for your continued friendship.
I want to thank members of the United States military, Greek Americans who wear the uniform of the United States. I thank you for your service; I thank you for your dedication; I thank you for your stalwart defense of freedom and peace.
As you mentioned, Your Eminence, in 1821, the people of Greece proclaimed their independence, and they risked their lives to secure liberty. They knew that their land had been the home of the first democratic society, the first place in the world where people could choose their leaders, speak their minds, and freely explore the arts and the sciences.
These Greek patriots also knew that freedom and democracy were more than just a legacy, that they were their destiny. And they believed, like I believe, that freedom is the hope of all mankind, not just a few people, but of all mankind.
And when they made their stand for freedom and independence, they found a lot of friends in this country: Americans who express their support by contributing funds, and some who volunteer to serve in the new Greek Army. Americans stood with Greece again after World War II, when violent Communist insurgents threatened Greece's free Government. As you mentioned, President Truman saw the danger, and he articulated a new and bold doctrine for our country. In an address to the United States Congress, he put it this way: "It must be the policy of the United States to support free peoples who are resisting attempted subjugation by armed minorities or by outside pressures."
Like democracy itself, the Truman Doctrine grew out of the experience of the Greek people and affirmed the desire for freedom for all people—not just a handful, not just some, but for all.
Today, Greece and the United States are allies in the cause of freedom, Madam Minister, and I want you to send thanks to your Government. In Afghanistan, a Greek engineering team provides support to the International Security Assistance Force; a Greek medical team provides emergency care to those who are wounded. And we thank you very much.
In Lebanon, Greek naval units are part of a UNIFIL force supporting the democratic Siniora Government. These Greek forces are serving with courage; they're helping young democracies who struggle against the forces of evil. And I appreciate your vision. I appreciate the good work that we're doing to lay the foundation of peace for generations to come. It is hard work, Madam Minister, but it is necessary work.
I appreciate the important help Greece has provided to Americans who find themselves in danger overseas. Last summer, Greece was one of the first nations to offer ships to help evacuate Americans who found themselves stranded in Lebanon following Hizballah's unprovoked terrorist attacks on Israel. We called for your help, and you delivered, and we appreciate that a lot. That's what friends do.
In January, the Greek Government responded quickly following a grenade attack on our Embassy in Athens. And we appreciate the determination of Greek authorities to bring those responsible for this attack to justice. We're grateful for the many messages of sympathy and support we've received after those attacks.
We also share with Greece important ties of faith, Your Eminence. The Greek Orthodox Church counts more than 1 million members in the United States, and it plays a vital role in the spiritual life of our Nation. Your Eminence, I thank you and congratulate you on 40 years of ministry as a bishop. You're providing necessary and important leadership here in the United States. You are a man of wisdom. You're a man of prayer. I appreciated your thoughtful response to me and Laura after the September the 11th attacks. These were tough times for our Nation, and your comforting call meant a lot to me.
I thank you for your determination to rebuild what was lost on that terrible day. On 9/11, the terrorists who struck Manhattan brought down not only magnificent skyscrapers but a humble house of worship. Before those attacks, St. Nicholas Church stood just south of the second tower of the World Trade Center. Your vision is for a new St. Nicholas to rise just a few steps from its original site. And with your help, St. Nicholas will once again be a sanctuary of faith in New York's financial district and a new center of reconciliation for visitors from all over the world.
I thank you very much, Your Eminence, for gracing this house. This is the people's house. This belongs to everybody who's an American. I thank you for your vision of peace. I thank you for your spirituality. And I thank you for joining me as we celebrate Greek Independence Day.
May God bless you all.
NOTE: The President spoke at 3:10 p.m. in the East Room at the White House. In his remarks, he referred to Archbishop Demetrios, Primate of the Greek Orthodox Church in America; Minister of Foreign Affairs Dora Bakoyannis of Greece; Greece's Ambassador to the U.S. Alexandros P. Mallias; Cyprus's Ambassador to the U.S. Andreas S. Kakouris; Reverend Father Alex Karloutsos, assistant to the Archbishop for public affairs; and Prime Minister Fuad Siniora of Lebanon. The proclamation of March 21 on Greek Independence Day: A National Day of Celebration of Greek and American Democracy, 2007, is listed in Appendix D at the end of this volume.
George W. Bush, Remarks at a Celebration of Greek Independence Day Online by Gerhard Peters and John T. Woolley, The American Presidency Project https://www.presidency.ucsb.edu/node/273070