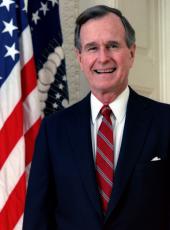 Remarks to a Campaign Rally for Senatorial Candidate Hal Daub in Plattsmouth, Nebraska
Mr. Daub. Mr. President?
The President. Yes.
Mr. Daub. We're gathered in Plattsmouth, Nebraska, in a Veterans of Foreign War post with lots of friends and supporters. And it's actually a part of the Second District that it was my privilege to represent when you were Vice President.
The President. Well, Hal, let me just say hello to everybody gathered at Plattsmouth. Barbara and I are here in Houston. We vote here day after tomorrow -- end up my campaigning -- we'll be here tomorrow. But we just wanted to wish you and Cindy the very best as this campaign wraps up.
Obviously, both of us have been there before. But I'd like to once again ask the people in Nebraska to send you, Hal Daub, to the Senate. I need more support. If we're going to get the job done for the people of Nebraska and the country, we need more people that think like you do. And I really am emphasizing the fact that we need change. Somebody told me that you'd visited 93 counties -- every single one of Nebraska's counties -- at least once in this campaign. And if there's ever anything that demonstrates hard work and commitment, certainly that is it. I'm not surprised, nor is Barbara, about the tireless campaign you've been waging. We also know that Cindy's a tremendous asset.
To the voters and the people there in Plattsmouth, let me just say this: I've known Hal for almost 20 years now. And I've learned a lot about him. I believe he will make a difference. It is the new versus the old for the Senate. As a lawyer, as a businessman, as a four-term Congressman, he's had the experience; but now he's going to bring a breath of fresh air to that Senate. And I believe he can make a difference.
You know, dealing with a Congress completely controlled by the Democrats is not easy. It's not an easy assignment. Let me just give you a couple of examples before I let you go and let you get out to work for Hal.
Early on, I proposed tough, new Federal laws, and I believe we had -- on crime. I believed that -- then, as I do now -- that it is time we had a little less sympathy for the criminals and a little more for the victims of crime. And incredibly, the liberal Democrats killed this legislation in a back room in the dead of the night. And that is a singular reason why we need Hal Daub in the Congress in Washington, in the Senate, in the United States Congress, to help work on these key issues, because I know where he's coming from. And the people of Nebraska should understand that we need this driving force to get control in that Senate so we'll be able to take the offense. On the tax-and-spend policies of our opponents, this liberal, Democratic Congress is tough to top.
And again, I think if we had more Republicans in the Senate we would control the agenda. We wouldn't be playing defense to the liberal agenda that's coming down the pike at me from time to time. The only tool that I've got is the veto pen. We've used it; we've used it successfully. But even where we get whipped, if I had a Hal Daub in there, we'd have a vote to sustain the President's position on these key issues.
I sometimes think that if Washington was as well-run as Lincoln, Nebraska, things would be a heck of a lot better; and so, I want to put in a pitch here for Kay Orr. I also hope you get out the vote for another dynamic candidate, Ally Milder. Barbara was out campaigning with her the other day, and both of us send her and send Kay and, of course, send Hal and Cindy our very best wishes.
This election could be won or lost depending on who gets out to the polls. Nobody could have worked harder than Hal Daub. But now the question comes: Who is going to get out to the polls? I know the Daub campaign was on the move. And I'm depending on each and every one of you to get our friends and neighbors to vote. And vote for a Senator who will work with us, not against us. Vote for one that will be good for Nebraska and, in my view, good for the values that I was elected on and that Barbara and I believe in so much. So, my appeal: Elect Hal Daub as your next Senator. Hal, go get them. And many thanks.
Mr. Daub. Mr. President, for you taking this time to focus your thoughts on Nebraska and on my Senate campaign, I'm mighty grateful. Dorothea Roberts, who's here, who's done a good job with her team of helping put this gathering together. And my wife, Cindy, is standing right beside me.
The President. Well, give her a big hug and go on out and win now. And I'm pleased you feel things are moving.
Ms. Roberts. Hello, Mr. President.
The President. Hi, Cindy.
Ms. Roberts. Mr. President, this is Dorothea. Just a minute, I'll give her to you.
Mrs. Daub. Mr. President, I bring you greetings from Plattsmouth, Nebraska, from District 2, from Cass County. We all love Hal Daub, and we love you. Thank you.
The President. Well, not at all. Good luck to all of you. Now, this is exactly the time to put on the final pressure to win on Tuesday. Good luck.
Mr. Daub. Thanks very much, Mr. President.
The President. Over and out.
Note: The President spoke by telephone at 2:05 p.m. from Houston, TX. In his remarks, he referred to Mr. Daub's wife, Cindy; Gov. Kay Orr; and Ally Milder, candidate for the House of Representatives. Mr. Daub referred to Dorothea Roberts, Republican field representative. A tape was not available for verification of the content of these remarks.
George Bush, Remarks to a Campaign Rally for Senatorial Candidate Hal Daub in Plattsmouth, Nebraska Online by Gerhard Peters and John T. Woolley, The American Presidency Project https://www.presidency.ucsb.edu/node/265508