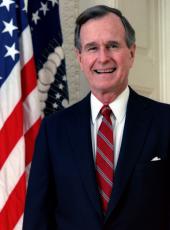 Remarks at a Campaign Rally for Gubernatorial Candidate J. Marshall Coleman in Richmond, Virginia
The President. Thank you very, very much. Marshall, thank you. I am just delighted to be back in this beautiful capital city, and I want to thank the good people of Richmond for such a warm welcome today. I guess some of you may have come out because you heard there was something special planned for Festival Park. So, if any of you came here for one last Friday cheers, sorry about that.
I know some of you may have come out to see the most popular person in America today. Sorry, Barbara is up in New York this morning, and so, you've got to put up with me. But I want to thank all the eminent Virginians who are here with me today. What a great congressional delegation you've got, and here they are: Tom Bliley is here, and Stan Parris, Frank Slaughter, Herb Bateman -- what a job they are doing representing the Commonwealth in Washington, DC!
Our emcee today -- State Senator Bob Russell. And outstanding two members of the Virginia Senate who are ready to step up to new positions of public trust: Joe Benedetti, running hard for attorney general -- what a gutsy man he is -- and, of course, Barbara; and my old, dear, close friend, Eddy Dalton, Virginia's next Lieutenant Governor. And are you going to be lucky!
And finally, let us all say hello to Virginia's next Governor, Marshall Coleman. We're -- --
Audience members. Marshall! Marshall! Marshall!
The President. Look, we're here on the eve of a contest of great concern to everyone who lives in this State -- an epic battle, a clash of wills. And, yes, that's right: I'm talking about the University of Virginia versus North Carolina State. We also know that there is a vital statewide contest 4 days from now. Let me tell you my pick: It's going to be Marshall Coleman who comes out the winner.
You see, 4 days from now, the people of this State are going to decide who can lead this Commonwealth into a new decade, which candidate has a vision for Virginia in the nineties. And, my friends, that must be a man of total integrity. That man must offer the new ideas that Virginia needs to fulfill its own destiny. And that man is clearly Marshall Coleman.
He knows the issues that matter to Virginians. Take the issue of law and order. Marshall's a veteran crimefighter, a former attorney general who understands that you cannot have safe streets and neighborhoods unless you're ready to make life tough on the criminals. And that means tougher sentencing, an end to early release and parole policies that put dangerous criminals back on the street. Dangerous criminals should stay where they belong, and that is behind bars. And something else -- I know that this man, a Governor Coleman, would give me strong support for the anticrime package that I have sent to the United States Congress, a package that sits there now -- waiting for the Congress to move. And I believe a Governor can help mobilize public opinion to get the will of the American people fulfilled. I need him right here in the statehouse.
Marshall Coleman is the right man to lead Virginia in this battle against drug abuse. The war on drugs isn't simply a war of words. Anyone can talk tough, but talking tough doesn't keep dealers off the street. It doesn't keep drugs out of the hands of our children. Marshall Coleman knows that it is time for action, and he knows we've got to go after the drug dealers and the drug users. And he knows it's time to confiscate the dealer's ill-gotten gains and take the profit out of the drug business. And I submit to you that that is the no-nonsense, real-world approach that we need. And if you need any more proof, just ask the folks out there on the frontline in this war on crime and drugs. The Virginia Fraternal Order of Police has given Marshall Coleman its vote of confidence, and I think that that says it all. When it comes to fighting crime, Virginia can count on Marshall Coleman.
But there are other issues, and he's strong on the issues across the board. Take the one issue that may well be the most important of any that fall within a State's responsibilities: education. Marshall and I have talked many times about the state of our schools today, and I can tell you he's as convinced as I am that there is no other issue more vital to the future of this State, this nation, and to the kind of lives that our children will lead in the future.
He's got two fine boys of his own, Sean and Billy. And Sean is here today somewhere -- over here, here he is -- down here from college, helping his dad. And let me tell you: He may be young, but he's a real veteran out on the campaign trail. And, Sean, let me say this to you: Your dad knows what every parent with kids in school today knows -- it's time to move beyond the status quo. We've got to recognize what works in our schools and reward it. And that is the idea behind Marshall's merit pay plan: better pay for better teachers. We've got to increase accountability. And that means expanding choice in our schools, because, you see, choice can create an incentive for improvement that spurs a competition for excellence in all our schools. And when it comes to guaranteeing a first-rate education for her children, Virginia can count on Marshall Coleman.
But it's when we talk about taxes that we know how important the election of Marshall Coleman is. I hear the same things up on Capitol Hill that you do from Capital Square. And it's beginning to sound like a broken record. It doesn't matter what it is -- every issue an opportunity to raise your taxes. Well, make no mistake, Marshall Coleman is one candidate who doesn't confuse having a vision for the future with having a sharp eye on your wallets.
The past 4 years, the people of this State have endured five tax increases -- five just in the past 4 years. And I know Virginia, and I know you cannot afford another 4 years of open season on the taxpayer. Well, with Marshall in the statehouse, taxpayers won't feel like there's a bull's-eye painted on their backs, because he knows one way not to fulfill this State's great destiny is to sock it toÿ7Eÿ7E theÿ7Eÿ7E taxpayer.ÿ7Eÿ7E Marshallÿ7Eÿ7E comesÿ7Eÿ7E withÿ7Eÿ7E a 4-year, easy-to-understand guarantee. He won't raise taxes. And he's going one step further: When it comes to vetoing any tax hike that lands on his desk, Virginia can count on Marshall Coleman.
And so, as we get near the end, it's been a long, hard campaign. And in the end, every campaign comes back to the basics, to the simple question that every voter asks himself: Which candidate is right for the job? And the plain truth is this: Marshall Coleman, a man of total integrity, total experience, a man who deeply loves this State. He's right on the issues, right for Virginia. Marshall Coleman will be a Governor all of Virginia can count on. And let me tell the people of this great capital city: When Marshall Coleman becomes Governor, the man in the statehouse here in Richmond is going to have a friend in the White House.
But right now, Marshall needs to know that he can count on you and he's got your support and, come next Tuesday, that you'll be there with your votes and your help to make him the next Governor of Virginia. He needs to know that. And only 4 short days remain in this campaign for the future of this great State. So, talk to your family, your friends. Take them to the polls with you. Make these last days count for Marshall Coleman, for Virginia, and for the United States of America.
Thank you, and God bless you. And God bless our wonderful country.
Note: The President spoke at 11:28 a.m. in Festival Park. He was introduced by Mr. Coleman. In his remarks, he referred to Barbara Benedetti, wife of the candidate for State attorney general. Prior to the rally, the President attended a fundraising reception for Mr. Coleman at the Marriott Hotel. Following his remarks, the President traveled to Norfolk.
George Bush, Remarks at a Campaign Rally for Gubernatorial Candidate J. Marshall Coleman in Richmond, Virginia Online by Gerhard Peters and John T. Woolley, The American Presidency Project https://www.presidency.ucsb.edu/node/264521