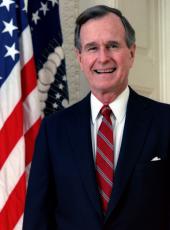 Remarks at a Campaign Rally for Gubernatorial Candidate J. Marshall Coleman in Norfolk, Virginia
Thank you so much for that warm welcome back to Old Dominion, and I am delighted to be here. First, let me thank this magnificent choir from Atlantic Shores and also the Old Dominion University Pep Band over here. Go Blue! And I want to pay my respects -- as I came in here, I was greeted by several distinguished Virginians who are connected with this wonderful university -- my old friend, your president, Bill Spong, the former Senator, great Senator for this State. Your executive vice president, Dr. Healy, greeted me there, and so did my old close friend and one of my earliest supporters, now teaching here, former Congressman Bill Whitehurst. And it's a pleasure to be here with the next Governor. It's a pleasure to be here with a former Governor of this State, Mills Godwin, sitting right here. And thank you all.
A word about your Senator. We're in some tough battles up in Washington, DC. And this Senator, Senator John Warner, is outstanding because, you see, he understands that the national security of the United States and our allies, even in these times of change, depend upon a strong United States, a strong defense. And you are lucky having him fighting for Virginia and the United States in the United States Senate.
And you have a distinguished delegation in Washington, and I'm pleased to see two of them with us here today, Congressman Parris and Congressman Bateman. Welcome, and thank you for being with us.
And I want to salute Mayor Wynne and our magnificent Republican ticket -- Marshall Coleman, Eddy Dalton, Joe Benedetti -- they are winners!
And ladies and gentlemen, all of you -- ladies and gentlemen and friends. Marshall, good speech, and thanks for that kind introduction. And let me say that, as always, I am delighted to be back in this historic State and one of our greatest cities, the home of Old Dominion University. It's a pleasure to speak at this distinguished school, and in a gym where the Monarchs have often reigned supreme.
Well, on Tuesday, November 7th, Virginia's common sense is going to reign supreme from the rivers of the Tidewater to the Shenandoah Valley.
I know you all turned out to see one of the most famous people in the United States. I'm sorry, Barbara is in New York today, but she sends her love, and I wish she were here.
Tuesday -- I'm talking, as you know, about Virginia's election for Governor, one of the most crucial in America, and about the man that I am very proud to support, one of the rising young leaders in our country, the next Governor of this great Commonwealth, my friend of longstanding, Marshall Coleman.
Four weeks ago, I stumped for Marshall in northern Virginia, as I did 2 hours ago in Richmond. And I believe in this man. I admire him. We share the same philosophy and the same values. So, let's build a bright new day for one of America's oldest States. Let's elect this man Governor of the Commonwealth of Virginia -- Marshall Coleman.
Now look, I know that here at Old Dominion, of course, you know something about the kind of victory we're going to celebrate next Tuesday -- the same way Nancy Lieberman would help the Lady Monarchs come from behind to win the game. Believe me, Marshall Coleman's taking a page from Old Dominion's playbook. And when we win the Governor's mansion in Virginia, they'll call it the greatest comeback of the year. And Marshall Coleman's victory will be a victory for Virginia. This is a great State, and it deserves a great Governor, a man in the statehouse who will have a friend in the White House.
And Marshall deserves to win because this State deserves fiscal sanity and because it rejects the excesses of spending. He deserves to win because Virginia deserves -- it rates -- a man of principle. For while two men are running for Governor, only one truly understands this State, and only one knows that Virginians expect tough answers, honest answers -- answers to child care and transportation and education and the environment, answers in the fight against crime, fight against drugs, from the banks of the Potomac to the Cumberland Gap. Ladies and gentlemen, Virginia deserves a Governor who faces and makes hard choices, who says what he means and means what he says. And I am convinced that Marshall Coleman is that man.
You know, I've seen a lot of candidates, as many of you all have, over the years. I've seen them react to victory -- and also to defeat. Defeat breaks some men; it makes others. And I remember how 8 years ago Marshall lost a tough campaign for Governor, and 8 years ago, I met with him a few days after election day. And even then, he was strong, resolute. And even then, he was a fighter determined to serve his State and the people he cares so much about. For he has that attribute called character, a quality so innately Virginian -- the character to examine a problem, to understand a problem, and then to act on that problem on every voter's behalf.
And what are those problems, Virginia's challenges of tomorrow? They're the same challenges that we face in Washington. And just as you need a Governor who understands Virginia, I need and America needs a Governor in Richmond who shares our goals, who supports those goals, and who will help me pass the programs to make those goals a reality.
Think, for example, of education. Five weeks ago, at the University of Virginia, I convened an unprecedented event: this nation's first education summit. And there in Charlottesville, America's Governors, my Cabinet, and I gathered to talk, to think, to exchange ideas. And we talked about how to spur educational reform and return power to the people, for it is time for change, perhaps radical change, to find new ways to improve educational performance.
And Marshall Coleman has two sons, Sean and Billy -- one of them right here, the big guy -- 19 and 14. And he knows that educational reform is vital to our future, so he supports greater choice for parents and students, merit pay to reward those outstanding teachers. And he's talked many times of how the next Governor of Virginia must act in tandem with the President and with the Congress, the county and local officials to uplift our schools. He can help me, and I need him to make education America's most enduring legacy, vital to everything we are, vital to everything we can become.
Another Virginia challenge -- and I know it's of concern to everybody at Old Dominion -- is the environment. And here, too, I need Marshall in Richmond, just as Virginia does. I need a Governor I can work with. We have proposed bold, new environmental policies to reduce acid rain and air -- toxic -- and urban smog, policies that will preserve our wetlands and combat the polluters and help to clean up our air and hazardous wastes. And together, Marshall and I can work to protect our environment for generations to come. We owe it to every young person in this gymnasium today, and we will do it.
And next, there's Virginia's historic concern, a strong military. Virginia and Marshall Coleman understand that a strong America is an America at peace. And there are no greater supporters of America's defense than the people of this great State. And I need Marshall to work with me to preserve this area's jobs and prosperity, and to convince the Congress that when it comes to a secure America, finishing second means finishing last.
For centuries, Virginia has demanded officials that are both responsive and responsible. Well, Marshall Coleman can increase support in Virginia for our ethics legislation to make public service a public trust.
Transportation is another priority. And I look forward to his regional transportation plan to reduce gridlocks in areas such as the Tidewater.
And then there's the crucial issue -- he referred to it -- of taxes. And you all know my position there, and when it comes to fighting for lower taxes, Marshall is my kind of guy. He opposed five major tax increases passed by his opponent's administration, and he has pledged not to raise taxes as Governor.
And finally, of course, this State, like every State -- shocked about crime and drug use. And as you know, our administration has proposed the most comprehensive plan to assault these plagues. We know that the Federal Government, like the government in Richmond, must wage real -- not simply rhetorical -- war against this crippler of our kids. And I need Marshall Coleman to help us win this war and help enact our legislation.
Yes, two candidates for Governor, but only one truly understands the Commonwealth. And that's why only one, Marshall Coleman, has been endorsed by those on the cutting edge -- endorsed by Virginia's Fraternal Order of Police, the men and women that are giving their lives for our kids every single day. Marshall Coleman understands that the Old Dominion doesn't need old ideas like the liberal creed which blames everyone except the criminal. Instead, it needs a Governor who understands its people and its values, and who will protect those family values which make Virginia great.
Marshall Coleman has stood for that, and he will stand for that. Remember, he's been a U.S. magistrate, delegate, State senator, the attorney general. And remember, he's long been on the firing line, working to put the criminals where they belong. He's urged the stiffer penalties for violent criminals, demanded greater certainty in sentencing and an end to easy parole and early release. And he agrees with me that drug kingpins should pay the ultimate price. And he wants stiff mandatory sentences for drug distribution offenses, and perhaps above all, he wants the end of a hit-or-miss parole system that lets hardened drug dealers prey on society. Today in Virginia, a 20-year sentence for drug dealing can mean as little as 3 1/2 years in actual time served. Marshall Coleman wants to make 20 years mean 20 years. You might call it his 20/20 vision. I share that goal. We must be tough. We must be strong.
Challenges and solutions, in Washington and Richmond -- we're one country. We're all in this together, and we have to work together, work honestly and directly to reach our common goals. Marshall Coleman knows that, for he knows Virginia from Mount Vernon to Monticello to the beauty of Williamsburg. But most of all, he understands the people; he understands Virginians -- an unparalleled blend of civility, respect for tradition, and faith in God that led John Adams to say: "We all look to Virginia for examples."
On November 7th, America will again look to Virginia for examples, and it will find one in Marshall Coleman. For in a State whose people have been called the quintessential Americans, he is a quintessential Virginian. So, let's roll up our sleeves and raise Virginia's sights, and let's help Marshall Coleman and his two great running mates, State Senator Eddy Dalton, your next Lieutenant Governor, and State Senator Joe Benedetti, your next Attorney General.
Four days until election day -- and so, get out there and work and vote and see that others do the same, because we need Marshall Coleman in the State capital. I do, you do, and most of all, this great State does. You know, your State slogan says, "Virginia is for Lovers." Well, by electing Marshall Coleman, let's ensure that years from now we can tell our kids: On election day 1989, America loved what Virginia did.
God bless you, God bless America, and let's make this man the next Governor of the Commonwealth.
Note: The President spoke at 1:44 p.m. at Old Dominion University Field House. Following his remarks, he traveled to Bloomfield, NJ.
George Bush, Remarks at a Campaign Rally for Gubernatorial Candidate J. Marshall Coleman in Norfolk, Virginia Online by Gerhard Peters and John T. Woolley, The American Presidency Project https://www.presidency.ucsb.edu/node/264527