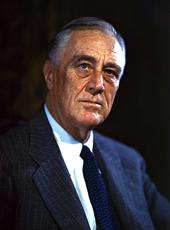 Remarks at Buffalo, New York
Mayor Holling, my friends of Buffalo:
I am very much touched and I am very happy by this resolution that has been handed to me from united labor. It is something that the United States has a right to be proud of.
I am happy to think that in these years labor has made progress. I have sought by every means to make that possible. I believe that in the days to come united labor is going to make more progress. I believe that in the next four years we are going to do even greater things for the men, women and children in the United States than ever before.
We are going to give them better working conditions and better home conditions, better housing, and at the same time a more equitable and continuing wage.
When I come to Buffalo I think that this City and your sister City of Detroit probably can be held up as examples of just what this country is striving for for humanity—just what this country is striving for in relations between all the nations of the world. I looked out of the train window this morning and I saw the Canadian shore, and I wished that I could get out as far as Detroit and see the same thing. Here are these cities that look across a narrow strip of water and see another nation. We are not only at peace with that nation; but, in all of our personal relationships with that nation, we have and we seek the kind of unarmed peace that we are looking for, some day, throughout the world.
I have been inspecting some plants this morning-plants which are turning out weapons of war, pursuit airplanes. Why are we building them in such great quantities? It is because the world as a whole is today going through a storm that we hope Will soon be over. There is potential danger to America; and we believe that the strongest way in which we can maintain peace is to be fully armed against any attack.
And we believe too, equally, that in arming against any possible attack we are going to preserve our democracy from being endangered by any other form of Government.
Our eyes are on the goal of peace; and this Administration will strive to continue an eight year record of peace in the next four years.
I wish I could stay here in Buffalo longer, but, as you know, I cannot get too far off base. I have to be within a reasonable distance of Washington in order to continue our efforts to help maintain peace. And so tonight I am going to Cleveland and back again, tonight, to Washington. I don't even dare to go back to Hyde Park, much as I would like to get home.
I hope and I believe that this Administration will be able to keep this country at peace during the next four years, and that we shall be able to carry on the very great gains that have been made over these past seven and a half years.
I ask, and I think I shall get your help in that.
Defense is not for aggression. Defense is for defense. You can't change the English language, even if you are a leader on the other side.
I think the railroad men in charge of this train will give me a minute more to tell you a story:
A few days ago, about a week ago, a person very high in Republican circles, a man, in fact, who is in charge of the Republican national campaign, was holding a press conference. I am telling you this story to illustrate some of the things that lie behind these vicious misrepresentations being made not about the Democratic candidate, not about any individual, not about a ticket, but about the Government of the United States. At the end of his press conference this leader said: "Wait a minute, boys; wait a minute. I want to tell you something off the record and here it is. You must not attribute this to me. But you can spread it around; in effect, spread it around without putting the responsibility on me. Here it is: 'The President of the United States has already started the American Fleet westward from Hawaii in the direction of the Far East. And that, as you know, would be regarded, properly, as a hostile act by Japan, and would lead us into war.'"
And then this Republican leader went, on, and he said: "And the orders have been issued that the day after Election the whole of the United States Fleet, will proceed further westward, out to the Philippines. And that, you know, would be an act of war against Japan."
Well, the fact is that a portion of the American fleet is on the West Coast, a portion on this Coast, and a portion in Hawaii. None of it has gone west of Hawaii. But, aside from the fact that it is a falsehood, a falsehood peddled out to the press of this country surreptitiously by the "don't quote me process"-that kind of action is more dangerous to our peaceful international relations, than anything that has ever been done in Washington by this Government.
And I can cite to you many, many other examples of rumors that have been started in the same rumor factory—all of them untrue, but every one of them tending to make people believe that this country is going to war.
Your President says this country is not going to war.
And I feel quite certain that the good people of Buffalo are going to resent these unfounded charges, the same as the good people in every State of the Nation next Tuesday, November 5th.
Franklin D. Roosevelt, Remarks at Buffalo, New York Online by Gerhard Peters and John T. Woolley, The American Presidency Project https://www.presidency.ucsb.edu/node/209341