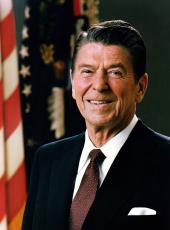 Remarks in Bridgetown, Barbados, Following a Luncheon Meeting With Leaders of Eastern Caribbean Countries
I am honored to be the first United States President to meet with leaders of the eastern Caribbean here in the islands where the history of this new Western World began.
Columbus found a thriving Indian civilization when he was sailing through these islands, and that blend of that culture and Spanish, English, Asian, and African has created a very rich culture. There are cultural differences making these island nations each unique in its own way, but at the same time I think that all are bound together with a common heritage of a love of freedom. But at the same time all are bound to each other in more ways than that. And I think the meeting here today serves notice on the world that our destiny is democracy, and the defense of that destiny is one that all of us share.
On the mainland, Central America, as we've been talking about them, rebels, supplied by the Soviet Union through Cuba and Nicaragua, are attempting to shut the door on democracy for the people of El Salvador. Very effective worldwide propaganda has tried to convince the world that Communist guerrillas and terrorists were freedom-fighters representing and having the support of the people of El Salvador. A week ago Sunday that lie was exposed for what it was, once and for all.
Guerrillas destroyed hundreds of buses, so people walked many miles under the threat of death to reach the polling places and vote. And they voted for democracy and against Marxism and the tyranny that it represents.
El Salvador isn't the only country that's being threatened with Marxism, and I think all of us are concerned with the overturn of Westminister parliamentary democracy in Grenada. That country now bears the Soviet and Cuban trademark, which means that it will attempt to spread the virus among its neighbors.
May I suggest that the Caribbean Initiative offers another and, I believe, quite different course. It aims at securing peace, prosperity, and freedom for the Caribbean nations by providing new opportunities for economic development. It is a series in a long-term commitment to make available to you more of the free enterprise system's dynamic and potential that serve the people of my own country so well. Your views will be helpful to me in working to get Congress to approve that plan.
Our ties to the nations of the Caribbean are many and strong, and we mustn't let them be weakened by neglect.
So, will you join me in a—and may I say, there's a custom in one city of America that maybe we should follow here today, and that is that in Philadelphia they only stand to toast the dead. So, we won't be toasting the dead; we'll be toasting freedom and the opportunity of those still in this New World. And let us hope that we can all remember the dream we share and the tie that binds us all together here in this Western Hemisphere.
Note: The President spoke at 2:51 p.m. at the residence of Milan D. Bish, U.S. Ambassador to Barbados.
Earlier in the day, the President and Mrs. Reagan left Jamaica and traveled to Barbados. They were greeted upon their arrival at Grantley Adams International Airport by Ambassador Bish, Prime Minister and Mrs. J. M. G. (Tom) Adams, and a delegation of Barbadian officials.
Following the welcoming ceremony, the President and Mrs. Reagan went to the U.S. Ambassador's residence, where the President held a meeting and a working luncheon with Prime Minister B. Milton Cato of St. Vincent and the Grenadines, Prime Minister Vere C. Bird, Sr., of Antigua and Barbuda, Prime Minister M. Eugenia Charles of Dominica, Premier Kennedy A. Simmonds of St. Christopher-Nevis, and Prime Minister Adams of Barbados.
Following the luncheon, the President went to Casa de Pablo, a private home owned by Paul H. Brandt, president and chairman of the board of A. Brandt Co., Inc., of Ft. Worth, Tex. The President and Mrs. Reagan stayed at the Brandt residence during their stay in Barbados.
Ronald Reagan, Remarks in Bridgetown, Barbados, Following a Luncheon Meeting With Leaders of Eastern Caribbean Countries Online by Gerhard Peters and John T. Woolley, The American Presidency Project https://www.presidency.ucsb.edu/node/244921