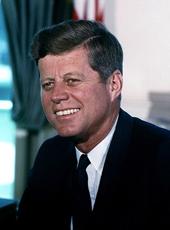 Remarks in Bonn at the Signing of a Charter Establishing the German Peace Corps.
Mr. President, Chancellor, Mr. Ministers:
I want to express our warm congratulations to the Federal Republic, to the people of the Federal Republic, for the effort that they are now undertaking.
The United States Peace Corps commenced in 1961. And I believe that it has given us an opportunity to harness the idealism which is, I think, in all free people; has given us an opportunity to be of assistance, not merely in the cold field of economic help, but in the human relations which must exist for a happy understanding between people.
Western Europe and the United States really are islands of prosperity in a sea of poverty. South of us live hundreds of millions of people on the edge of starvation, and I think it essential that we demonstrate, we in the United States, we in the Atlantic Community, that we demonstrate our concern for their welfare. However repugnant the Communist system is to all of us, it nevertheless has been able to enlist the devotion of a good many people all around the globe. I hope it is possible for us to demonstrate an even greater devotion in the free society.
Nine thousand Americans will be serving overseas by the end of this year. In some countries of Africa, nearly half of the high school students are being taught by Peace Corpsmen. I cannot think of any people that can serve this cause with greater success and more devotion than the German people. Highly skilled and understanding of the great issues which tear the world apart, I believe that you are greatly needed and that you will, as the President said, find your greatest reward in a service in these very difficult times. Dante once said that the hottest places in hell are reserved for those who in a period of moral crisis maintain their neutrality. This is a moral crisis. This is an opportunity, and I am confident that the German youth, and I hope the older citizens of this country, will find their greatest reward not here, pursuing merely their private pursuit, but in some far-off country. In some small village they will lay a seed which will bring a rich harvest for us all in later days.
I hope that these Peace Corpsmen of America and the members of the German Development Service will be joined by representatives of dozens of other free countries in a great international effort in the 1960's for peace. I congratulate the people of Germany on their commitment to this cause.
Note: The President spoke at 11:40 a.m. at the Villa Hammerschmidt, the German Presidential residence. His opening words referred to President Heinrich Lubke, Chancellor Konrad Adenauer, Foreign Minister Gerhard Schroder, and Minister for Economic Cooperation Walter Scheel.
John F. Kennedy, Remarks in Bonn at the Signing of a Charter Establishing the German Peace Corps. Online by Gerhard Peters and John T. Woolley, The American Presidency Project https://www.presidency.ucsb.edu/node/236777