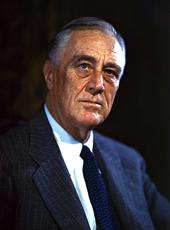 Remarks at Bismarck, N.D., during a Drought Inspection Trip
As you know, I came out here to see things with my own eyes. I felt that I could learn a lot more by coming out than by just reading blueprints and reports back in Washington.
What I have seen confirms me in the belief that I have had for a long time—the belief that we are going to win out in this problem.
It really comes down to three problems: The first is the immediate one of keeping people going who have lost their crops and their livestock. The second is to keep them going over the winter until next year, when we hope we shall have more rain. The third problem relates to the future—not only the future of North Dakota, but the future of a good many other States. It relates to working out a plan of cooperation with Nature instead of continuing what we have been doing in the past— trying to buck Nature.
That means cooperation between all the agencies involved. There are a lot of Federal agencies, there are State agencies and there are local agencies, and our chief problem now is to work out a plan that all of these different agencies can carry out, working intelligently with each other and not crossing wires.
It means we have got to have the cooperation of the people in the cities as well as of the people on the farms. It is just as much their problem as it is the problem of the farmers themselves. Indeed, in an agricultural country, there would not be any cities if there were no farms.
There was another reason for my coming out here, and that was to look at you people. Back East there have been all kinds of reports that out in the drought area there was a widespread despondency, a lack of hope for the future, and a general atmosphere of gloom. But I had a hunch—and it was right—that when I got out here I would find that you people had your chins up, that you were not looking forward in despair to the day when this country would be depopulated, but that you and your children fully expected to remain here.
And that is what we all want to see- the people in every part of the country. We want to see this country remain fully populated; we want to see it attain a greater prosperity than ever.
A few days ago I was passing through one of the greatest industrial centers in the United States, Gary, Indiana, where you pass through mile after mile of steel factories. I told them there what is perfectly true, that your problem out here is their problem back there, because of the perfectly obvious fact that steel factories would not run at full capacity unless the agricultural States were in a position to buy farm implements and other products of the steel mills.
I have learned a great deal today, and I am going to learn more in the next few days. I get a picture which reassures me as to the future of the so-called Great Plains drought area. You are entitled to reassurance of the fact that the Government—not only the Federal Government, but the State Government and the local government—can and must and will go ahead with winning out through a system of careful long-range planning.
I ask for your cooperation through many, many years to come in putting that kind of program into effect. And again I say that I know you are not licked.
Franklin D. Roosevelt, Remarks at Bismarck, N.D., during a Drought Inspection Trip Online by Gerhard Peters and John T. Woolley, The American Presidency Project https://www.presidency.ucsb.edu/node/208968