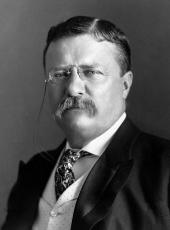 Remarks in Bethlehem, Pennsylvania
Mr. Mayor, fellow citizens:
It is a great pleasure to be here and to be introduced by your mayor, who has called my special attention to this wonderful industry typified by the Bethlehem Steel Works. As I passed by I was greeted with salutes from some of the cannon you have made, and I feel about those cannon that, while I earnestly hope that they may never have to be used, and while all that in me lies shall be done to see that this Nation never gives just cause of offense to another nation so as to warrant their use, yet that if they should be needed, they will come in mighty handy. If they should be needed, we want the very best, and we want the best men behind them. In war the ultimate factor is the man behind the gun. You have got to have not only an A1 gun, but an A1 gunner. The shot that counts is the shot that hits.
We need in the interest of peace and so that we can do our duty in promoting peace of the world to have it understood that we desire peace not from fear, not from weakness, but because we regard peace as just and right. My friends, in private life, in the life of peace, in ordinary civil life, it is true, as it is in time of war, that great though it is to have these evidences of our material prosperity, the thing that counts most is the average of our citizenship. Whether this country goes up or goes down will depend in the last analysis upon the character of the average American, and I believe that this country will go up because I believe that in the future the average character of our average citizen will be as it has been in the past.
Theodore Roosevelt, Remarks in Bethlehem, Pennsylvania Online by Gerhard Peters and John T. Woolley, The American Presidency Project https://www.presidency.ucsb.edu/node/343642