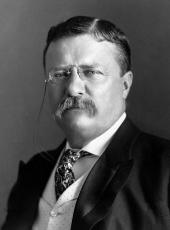 Remarks on Being Presented With a Canteen by Various Organizations of the Spanish War Veterans in San Francisco, California
My Fellow-Citizens:
Now, comrades, I guess you do not wonder that I am fond of the men of my regiment. In receiving this beautiful canteen I want to say that I shall prize it even more than the old one, and all of us know how we prize the old one. I want to thank you and my comrades of the Spanish-American War from my heart; and I do not have to say to you of the old war that there is no other bond that can unite men quite so closely together as the bond of having in actual service drunk out of the same canteen. [Applause]
I want to say to you a word about Mr. King. The only time I ever saw him nervous was just now. He was not only a first-class soldier, but I am sure that all of you will understand me when I say that in the field he was also a first-class cook. I shall never forget one day right after the San Juan fight when I had lived sumptuously for thirty-six hours on two hardtacks, Comrade King, somehow or other, had evolved the ingredients of a first-class stew, and with an affection which was mighty real in its results to me at that moment, brought some of it to me. And I have never tasted, not even at the wonderful banquet that I have attended in San Francisco, anything quite so good.
I have four comrades in this city and I had almost to break their hearts yesterday in the interests of the chief there by refusing to have them act as my escort in the procession. It is such a pleasure to see them here and to see all my comrades of the Spanish War. None of the men of my own generation or of this younger, stand as close to me as you of my regiment, as the men of the Spanish War do, and I know you younger ones will not object to my saying that there are some that stand even closer, because we join in doffing our hats to them, the men of the great war, our examples in all that we strove to do. [Cheers and applause]
Theodore Roosevelt, Remarks on Being Presented With a Canteen by Various Organizations of the Spanish War Veterans in San Francisco, California Online by Gerhard Peters and John T. Woolley, The American Presidency Project https://www.presidency.ucsb.edu/node/298054