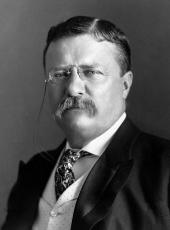 Remarks Before the Merchants Club in Chicago, Illinois
It is a great pleasure and a great honor to be the guest of an association like this. This country of ours is pre-eminently a business country, and we can succeed—and I say this in my turn with entire sincerity, gentlemen—only, if as a country we carry on the national business as the typical member of this association carries on his business—that is, in an entirely practical spirit; in a spirit which desires and commands success, but which desires and commands it as an incident of acting with decency toward all our fellow-citizens. No business community can permanently succeed if the average member of it does not possess a certain quantity of high ideals; and, gentlemen, there is not a business man of large experience here who will not agree with me when I say that. Permanent success will come to the business community where the average man's work can be trusted; where the aver age man himself can be trusted in dealing with his fellows.
Just as that is true of the average business community, so it is true of the nation as a whole. The nation must act in a spirit which gives full recognition to the national demands; which is not in the least quixotic; which sees the need of working for the interest of the average individual of the nation, but in a spirit which recognizes duties as well as rights; which recognizes that in our internal affairs; which recognizes that in our external affairs. And that leads me up to a subject concerning which I wish not merely to congratulate, but on behalf of the nation, to thank those present upon the part played by the Merchants' Club in initiating, and with the aid of the Commercial Club, in carrying to a successful conclusion the movement which resulted in the establishment of a naval training station here on Lake Michigan.
I need not say to those of you who know anything of me at all that I believe in a big navy; and I hope I need not say that I believe in it not as a provocative to war, but as a guarantee of peace. And I want to say every section of this country realizes that the navy stands for the whole country, and that the people of the sea coasts are not a particle more interested in it than the people of the Mississippi Valley. There were two sides to the establishment of that naval station here where it was established. In the first place, we get, as perhaps some of you know, a peculiarly valuable class of recruits for the navy from the Mississippi Valley and the regions adjoining the Great Lakes. In the next place, I wanted to see part of the establishment of the navy have its local habitation here in the great West. And so I feel that this organization conferred a favor not only upon the city of Chicago, but an advantage to the whole country in what it did toward securing the establishment of that station here where it has been established.
I do not think that it is now very necessary to make an argument for an efficient navy. We are so fortunate that in this country we can get along with a very small army; an army, which, relative to the population of the country, is smaller than the police force of any one of our great cities. With the navy the case is different. We have not the choice, gentlemen, as to whether this country will play a great part in the world; we cannot help playing a great part. All we can decide is whether we will play it well or ill; we have that to decide. We can consider whether we will do badly or well, but we cannot decide whether the parts are to be played; we have got to play them.
We cannot abandon our position on the Monroe Doctrine; we cannot abandon the Panama Canal; we cannot abandon the duties that have come to us from the mere fact of our growth as a nation, from the growth of our commercial interests in the East and in the West, on the Atlantic and on the Pacific. Now, I earnestly hope that with the added responsibility will come not merely a growth in power to meet that responsibility, but a growth in sobriety of mental attitude on our part toward these new duties. If there is one thing that ought to be more offensive to every good American than anything else it is the habit of speaking with a loose tongue offensively about foreign nations, or of adopting an ill-considered and irritating attitude toward any one of them.
In private life there is no one to whom we rightly object more than the man who is continually offending and insulting his neighbors, except the man who in addition to that then fails to make good. Now, I hope to see our foreign policy conducted always in a spirit not merely of scrupulous regard for the rights of others, but of scrupulous courtesy towards others, and at the same time to see us keep prepared so that there is no position that we take in either hemisphere that once taken we cannot stand on. In that attitude, not only is it important that the government officials should behave themselves, but it is important that private citizens should. The public speaker, the writer in the press, the legislator, or public servant, all owe it to this country to behave with the courtesy toward others which we would like to have extended in re turn to us; but behave with that courtesy whether it is extended or not. The outsiders cannot hurt us by being insolent as long as we behave ourselves, and what they say is of no consequence to us compared to what we say of them.
Hard words won't hurt us if we disregard them. Let them say any thing and go on and build up the navy. That will be a much greater provocative to friendship and respect than any amount of recrimination; and so I have a right to appeal to the men here before me, to the men who in so many different walks take the lead in this great city, to aid in consistently building up just that type of foreign policy a foreign policy under which we shall make the name of the United States government an example on one hand, as it ought to be, for a just and proper insistence upon its own rights, but also an example for a disinterested and generous willingness to treat all other nations, all other powers, with frank courtesy and good will, and to make it evident that in this country's foreign policy it recognizes its duty toward the weak just as much as its responsibility to the strong.
Theodore Roosevelt, Remarks Before the Merchants Club in Chicago, Illinois Online by Gerhard Peters and John T. Woolley, The American Presidency Project https://www.presidency.ucsb.edu/node/343607