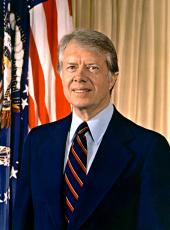 Remarks in Atlanta Accepting Election as the 39th President of the United States
Thank you. Thank you very much. Thank you everybody. Let me say just a word. Let me say just a word to you.
This...this tremendous crowd at 4 o'clock in the morning represents hundreds of millions of American people who are now ready to see our nation unified, and I want to congratulate the toughest and most formidable opponent that anyone could possibly have, President Gerald Ford.
As I've said many times throughout this nation, he's a good, a decent man and no one could have a campaign that had to be so thoroughly organized, hard fought, and which has marshaled so much cooperation from hundreds of thousands of people around this country who have had confidence in me. And I pray that I can live up to your confidence and never disappoint you.
We have...we have a great nation as you know, and sometimes in the past we've been disappointed at our own government. But I think it's time to tap the tremendous strength and vitality and idealism and hope and patriotism and a sense of brotherhood and sisterhood in this country to unify our nation, to make it great once again. It's not...it's not going to be easy for any of us. I don't claim to know all the answers, but I have said many times in my campaign around all 50 states that I'm not afraid to take on the responsibilities of President of the United States, because my strength and my courage and my advice and my counsel and my criticism comes from you. And if I can tap the greatness that's in you and in the American people, we can make our nation's government great and a source of pride once again.
Are you proud of our nation? [crowd shouts back "Yes."] Do you think we can help to unify it and bring it back together? [crowd shouts "Yes."]
So do I. And I'll do the best I can. I'll do the best I can during this transition period from now until next January to continue to learn how to be a good President. And I've learned in the last 22 months, I believe as well as any human being could have learned, what our people are, what we have been in the past and what we can be. And I believe that in the next four years, we will have a sense of purpose, a sense that the government belongs to us, a sense that participated in this campaign.
And now I welcome all those in the United States whether they, like you, (were) supporting me, or supporting Mr. Ford or someone else. It's time for us to get together to correct our mistakes, to answer difficult questions and to make our nation great.
I want to thank all of you. I love everybody here, you've been great to me. Thank you...thank you very much. It's been a good campaign. It's going to be a good administration. Let's all get to work to make our country great once again. I'm depending on you like I have in the past. I'll try not to disappoint you. Thank you very much.
We're all in it together. We're partners. And I'm looking forward to the next four years. Thank you very much, everybody.
Jimmy Carter, Remarks in Atlanta Accepting Election as the 39th President of the United States Online by Gerhard Peters and John T. Woolley, The American Presidency Project https://www.presidency.ucsb.edu/node/345919