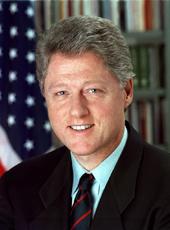 Remarks on Assistance for Areas Affected by Hurricane Floyd and an Exchange With Reporters in Newark, New Jersey
The President. I want to begin my visit to New Jersey by announcing several steps our administration is taking, either today or previously over the weekend, to deliver Federal assistance to the citizens in the communities of New Jersey that were hurt and are recovering from the flood damage caused by Hurricane Floyd. We're doing all we can, and I hope these steps will help.
Earlier today, I directed the Department of Health and Human Services to release $5 million in LIHEAP funds to New Jersey for energyrelated damage caused by the hurricane. The Low Income Energy Assistance Program makes funds available for emergency use to help atrisk families in times of weather distress and in the aftermath of natural disasters. The State can use the funds for utility repairs, for furnace and air conditioning replacement, for the removal of damaged insulation, and for energy costs related to the crisis.
Initially over the weekend, the Department of Housing and Urban Development announced the early availability of approximately $34 million in HUD community development block grants for the counties hit hardest by Hurricane Floyd. These expedited funds, which normally would have been released in January of 2000, can be used by communities now for disaster recovery and for repairs to both homes and businesses—I know this has been a big issue up here—as well as to water and sewer facilities.
Last, on Saturday the Federal Emergency Management Agency announced a lump sum rental assistance of up to $10,000 for individuals whose homes were damaged in the hurricane. We will continue to do all we can to help, and I hope that these measures will be particularly helpful. I have been following this very closely. I know there's been a lot of concern up here, particularly from businesses who felt that they needed more help than just the lowinterest loans could provide. So I hope this early release of community development block grants will give them the help that they need.
Budget Negotiations
Q. Mr. President, do you expect Republicans to make any concessions at your budget summit tomorrow?
The President. Well, I don't know. What I would like to see is the return to the spirit of working together that we had in 1996 and 1997 and 1998. We had plenty of arguments, but we banded together in all those 3 years to pass good budgets. We passed the welfare reform; we passed the Balanced Budget Act of '97; and we passed the remarkable budget in 1998 that, among other things, contained the 100,000 teachers. In the balanced budget, we had the HOPE scholarships, which have opened the doors of college to virtually all Americans— first balanced budgets, back-to-back, in 42 years. So there has been this year something that I hoped we wouldn't have; there's been a return almost to the spirit they had in 1995. I don't understand that, and I thought that I did everything I could to reach out my hand to them early in the year to try to get the country back together, and I still hope we'll do that.
I still think that it's almost inexplicable that we're going through these really good times, and some people see good times as a luxury to indulge in division and diversion. To me, they impose an obligation to make the most of them. So you know, I'm just going to reach out a hand of friendship and hope that we can work together. We've done it on one of these bills, the VA/HUD bill. I think is quite a good bill, based on what I understand of it, and we can do it throughout. We can work through all of this if we just have the right attitude. I'm going to bring my right attitude to the meeting.
Vieques Island
Q. Sir, have you had a chance to consider the military's report on the Vieques Island?
The President. I have not. I think it's just been released. But I do know that Secretary Cohen said that he wanted to have further discussions and to try to talk to the leaders down in Puerto Rico, which is what I think ought to be done. The best of all worlds here would not only reach a good result, but it would reach a good result in a good way, and we would have a process which would restore a sense of trust and partnership between Puerto Rico and the Pentagon. An enormous number of Puerto Ricans have served with great distinction in the American Armed Forces, and to have the whole island, starting with the Governor and Congressman Romero-Barcelo´ feel estranged from the Pentagon, not only over this but over the way the memorandum of understanding has developed since 1983, I think is a very bad thing.
So it may be that something good can come from this, and I think the fact that Secretary Cohen wants to actively reach out to the Governor and to that committee that has been appointed down there and have further discussions with them before making some sort of final recommendation to me is quite a good thing, and that's what I'm looking forward to.
Hurricane Floyd Disaster Assistance
Q. Mr. President, a lot of the frustration of the people in New Jersey over the flood situation is that—a lot of them have said this to me—is that when natural disasters occur, one, they're given grants very quickly, but they're saying, "Hey, here we are in the United States, and we have to deal with loans, SBA loans, and keep waiting and waiting."
The President. That's why I gave this community development block grant money early, because this money can be used as grants to do this kind of work. And I've been following this very closely. We spend a lot of money, if you will, in grants in America, but most of it is in repairing public facilities and in helping people get through immediate emergencies, which is about all we can do overseas as well. But under unusual circumstances, we've seen this in other places.
In North Dakota, when they had that terrible flood—you remember in Grand Forks—we were able to release some community development block grant funds, which they were able to use not only for individuals but also for businesses who were so devastated that the low-interest loans were not enough.
So I'm hoping that this announcement I've made today will respond directly to what I have heard from the people of New Jersey needs to be done.
NOTE: The President spoke at 6:37 p.m. at Newark International Airport. In his remarks, he referred to Gov. Pedro Rosselló of Puerto Rico. A tape was not available for verification of the content of these remarks.
William J. Clinton, Remarks on Assistance for Areas Affected by Hurricane Floyd and an Exchange With Reporters in Newark, New Jersey Online by Gerhard Peters and John T. Woolley, The American Presidency Project https://www.presidency.ucsb.edu/node/229361