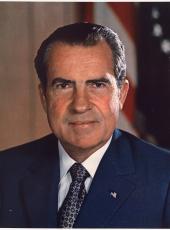 Remarks on Arrival at Indianapolis, Indiana.
THANK YOU very much, Governor Whitcomb. I want to express on behalf of Mrs. Nixon and myself, and all of the members of our Cabinet who are here with us--and they are right down here below, I wish we could have a chance for all of them to speak to you--our appreciation for your giving us this very warm Hoosier welcome on a rather cool day.
I know that some of the members of the Cabinet know Indiana as has been indicated by the Governor. But one of the reasons that I wanted to have this historic, unprecedented meeting in Indianapolis, in the heartland of this country, is that I want Washington to know the Nation better than it does; and we have come to Indiana first, because we know that Indiana is where we can learn about the Nation, with the people of the Nation.
After a meeting with 10 mayors here in Indianapolis--with Mayor [Richard] Lugar, your own mayor, and the mayors of the other cities, medium-sized and some smaller cities--we are then going over to Chicago for a meeting of midwestern Governors on the problems of the environment and Governor Whitcomb will go with us there.
I would simply like to say that, as I stand here again in Indiana, a State that has been very good to me politically, as was pointed out by the Governor, where we did get the biggest majority in 1968, that I am very proud to be back in what was my mother's home State. If she were here, she would say, "It is nice to be back home in Indiana."
Now I note there are a number of high school students and some grammar students here. I know that when you get back to school, they are going to want you to give some report on what was said. And I did a little studying before coming here, knowing that in your social studies or history classes that you will wonder what Indiana had to do with the Federal Government through the years in various ways.
Well, Indiana, of course, has sent many famous Senators and Congressmen to Washington, D.C. And you have a very fine congressional delegation there at the present time. Two of them are here today. But Indiana is also famous in other respects. I think Indiana has sent as many Vice Presidents to Washington as any State in the Union. The names Colfax, Fairbanks, and Hendricks--they are names that are not household words. But I think, as Vice President Agnew would say, that was before television makes a Vice President a household word.
So finally, thank you again for such a warm welcome. And we look forward to working with your Governor, and for those of you who live here in Marion County in Indianapolis, with your mayor, for a better city and a better State and a better Nation. That is why we are in the positions we hold. We are proud to work with you whether you are Republicans or Democrats. We are all working for the best for America. Thank you.
Note: The President spoke at approximately 12:40 p.m. at Weir Cook Municipal Airport. He was introduced by Governor Edgar Whitcomb of Indiana, whose remarks are printed in the Weekly Compilation of Presidential Documents (vol. 6, p. 133).
Schuyler Colfax served from 1869 to 1873 in the administration of President Grant; Thomas A. Hendricks served from March to November 1885 under President Cleveland; and Charles W. Fairbanks served from 1905 to 1909 under President Theodore Roosevelt.
Richard Nixon, Remarks on Arrival at Indianapolis, Indiana. Online by Gerhard Peters and John T. Woolley, The American Presidency Project https://www.presidency.ucsb.edu/node/240559