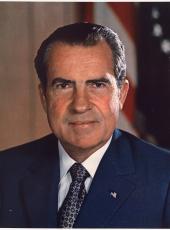 Remarks on Arrival at Bucharest, Romania
Mr. President, Your Excellencies, ladies and gentlemen:
Speaking on behalf of all of the American people, I wish to express my deep appreciation for the very warm welcome that you have extended to us on this occasion, and I bring with me the warm good wishes and feelings of friendship from all of the American people to all the people of Romania.
As you pointed out, this is not my first visit to your country. I recall with pleasure that first visit. It was at the very end of winter, at the beginning of a new spring, and I had very useful talks with you at that time, and other Romanian Government officials. I recall vividly the warm welcome extended to me by the people of Romania.
This is an historic occasion. While this is not my first visit to your country, it is the first visit of a President of the United States to Romania, the first state visit by an American President to a socialist country or to this region of the continent of Europe.
Mr. President, this significant moment in the history of relations between our two countries coincides with a great moment in the history of the human race. Mankind has landed on the moon. We have established a foothold in outer space. But there are goals that we have not reached here on earth. We are still building a just peace in the world. This is a work that requires the same cooperation and patience and perseverance from men of good will that it took to launch that vehicle to the moon.
I believe that if human beings can reach the moon, human beings can reach an understanding with each other on the earth.
If we are to make progress in this lifetime effort, we must see the world as it is-a world of different races, of different nations, of different social systems--the real world, where many interests divide men and many interests unite them.
Our meetings represent, I am sure, the desire of the Romanian people and of the American people that we do not allow our differences to prevent a deeper understanding of our national points of view. Yours is a European country and your most direct concern is, therefore, with the security of this continent. I come from another continent, but from a country that twice in this century has shed the blood of its sons in the pursuit of that European security.
We are prepared to do our part, also, in this era of negotiations so that all in Europe can pursue the fulfillment of their just aspirations for a better life, free from the fear of war or threats of war, and in constructive cooperation with others, near and far.
Let us agree at the outset to be frank with each other. Our differences are matters of substance; indeed, no nation's range of interests are identical to any other nation's. But nations can have widely different internal orders and live in peace. Nations can have widely differing economic interests and live in peace.
The United States believes that the rights of all nations must be equal, but we do not believe that the character of all nations must be the same.
My country has already undertaken new initiatives to reduce the tensions that exist in the world. We stand ready to respond firmly and positively to sincere and concrete initiatives that others may take. Every nation, of whatever size and whatever region of the world, will find us receptive to realistic new departures on the path to peace.
The purpose of your invitation, Mr. President, and the purpose of my visit here, is to improve communications between our two nations. This is a useful and a peaceful purpose.
In that spirit of realism and of open-mindedness, I look forward to our talks. I thank you for your hospitality.
Traiasca prietenia Romano-Americana. [Long live Romanian-American friendship.]
Note: The President spoke at approximately 12 :40 p.m. at Otopeni Airport in Bucharest in response to welcoming remarks by President Nicolae Ceausescu. An advance text of President Nixon's remarks was also released by the White House Press Office. A translation of President Ceausescu's remarks follows:
Dear Mr. President, dear Mrs. Nixon, ladies and gentlemen:
I am pleased to extend to you, the first President of the United States of America ever visiting Romania, the cordial greetings of the Council of State and of the Government, to express the feelings of sympathy of the Romanian people towards the American people whose contribution to the cause of world progress and civilization is unanimously appreciated in this country.
I hope that your visit to Romania, though a short one, will enable you to get more closely acquainted with the endeavors made by the Romanian people for the development of economy, science, and culture, their determination to build a dignified, free, and prosperous life, and also with their aspirations for peace and cooperation with all of the states of the world, irrespective of their social system.
Personally, I recall with satisfaction, Mr. President, the meeting we had together 2 years ago, the spirit of frankness and sincerity during our discussions at that time, and I have no doubt that the same spirit will characterize the exchange of views we are going to have together these days.
We believe that in the complex conditions of international affairs today, the development of relations between states on the basis of the principles of peaceful coexistence and respect for the independence, sovereignty, equal rights, and noninterference in the internal affairs, represents the safe way towards promoting a climate of confidence and understanding among peoples, and of peace and security in the world.
In this direction an important contribution can be made through the contacts, meetings, and discussions between the leaders of states. We are confident that your visit and the talks we shall have will contribute towards the development of relations between our two countries, that they will prove useful and fruitful for the cause of cooperation between nations for general peace.
It is with these feelings and convictions that we welcome you in Romania today, Mr. President, with the traditional greeting of our people: "Bine ati venit" [welcome].
Richard Nixon, Remarks on Arrival at Bucharest, Romania Online by Gerhard Peters and John T. Woolley, The American Presidency Project https://www.presidency.ucsb.edu/node/239868