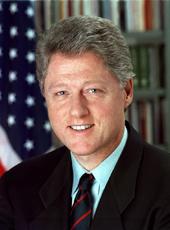 Remarks on April Fool's Day and an Exchange With Reporters
The President. I came here today because I thought I should personally deliver some disturbing news. Mike McCurry has just made a fool of himself by taking an unfortunate fall on dimly lit steps here at the White House. We believe he may have torn a tendon in his upper right thigh, which could get him a 6inch incision above the place where he's torn it, but we won't know for sure until he's been thoroughly examined. And so until we can bring him back to full health, Kris Engskov is going to do the daily briefing today. [Laughter] And he will be my Press Secretary during Mike's absence, and he has some truly disturbing things to comment on. And frankly, I do not have the courage to stand here and listen to what he's about to tell you. But I am responsible for all of it. [Laughter]
Q. Will his accent get in the way of his job?
The President. I thought we should have a Press Secretary that did not have an accent for the first time in 4 years. [Laughter]
Q. Is there a danger of Mr. McCurry getting his old job back?
The President. I think McCurry's job is in real danger now. [Laughter]
Q. Will he be taking narcotics, pain—[laughter]——
The President. Yes. And under the 25th amendment he has already signed his authority over to Kris Engskov. [Laughter]
Q. How come the pool wasn't notified earlier about this accident?
The President. It's because we're pretty sneaky around here. [Laughter]
Q. Was he using alcohol before he fell? [Laughter]
The President. And beer and wine. [Laughter] But only after he watched 4 hours of advertisements on television. He was shaking beyond all belief.
Q. What about controlling legal authority here?
The President. Well, Kris Engskov is, I'm reliably informed, still underage. [Laughter] I first met this man when he was 3 years old, in his grandfather's store. And he still looks like he's 3 years old to me. [Laughter]
Q. Sometimes acts like it.
The President. That's right. Which makes him a perfect choice for the Presidential Press Secretary. [Laughter]
Mr. Engskov, this is your big chance. Don't blow it. [Laughter]
NOTE: The President spoke at 2:20 p.m. in the Briefing Room at the White House. In his remarks, he referred to Press Assistant Kris Engskov.
William J. Clinton, Remarks on April Fool's Day and an Exchange With Reporters Online by Gerhard Peters and John T. Woolley, The American Presidency Project https://www.presidency.ucsb.edu/node/224526