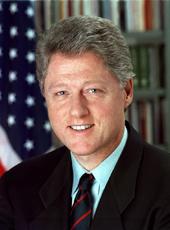 Remarks Announcing the White House Chief of Staff Transition
Thank you, and good morning. Thank you. Thank you very much for coming here for this important and happy announcement. For 6 years I have worked hard to prepare our Nation for the new century. We have changed America for the better. There is more opportunity, more citizen responsibility, a stronger American community. We are a stronger force for freedom and prosperity and for peace. In a few moments, I will return to the Wye Conference Center to continue our work on this Middle East peace process.
In all the work that has been done here in this house in the last 6 years, the White House staff has played a pivotal, indeed, irreplaceable role. For the past 2 years I have been blessed to have as my Chief of Staff a gifted manager and an inspiring leader, the world's best negotiator, and a great personal friend.
When Erskine took this position in 1996, I asked him to finish the job of balancing the budget. More than any other single individual, he was responsible for the agreement last year that just a few weeks ago wiped the red ink from the books here in Washington. He also cares passionately about education and led our negotiating team to impressive victories last week on behalf of our schools and our children. He fought hard to protect the surplus until we save Social Security. And as I said the other day, if you look at the last few days, he certainly knows how to stage an exit. [Laughter]
He also cares deeply about uniting the American people. He poured his heart into our race initiative. And throughout, he has worked hard to mold a streamlined White House staff into a genuine team.
Erskine has made it plain how much longer he has stayed here than he intended to or wanted to. [Laughter] At the end of the month he is going home to North Carolina. I'm only pleased that I was able to persuade him to stay this long. I know he still has a lot to give his State and his country, and I hope he has the opportunity to do so in the future.
To follow his leadership, I have chosen someone who is both a strong manager and a skilled policymaker, with a sharp mind, a strong, strong sense of courage, and a giving heart. John Podesta has those qualities, and I am honored to name him today as the next White House Chief of Staff.
We're delighted to have his family here and his many friends. I think it's important to point out for the record just how superbly qualified he is for this job. He used to be the chief counsel to the Senate Agriculture Committee— which is, in itself, unusual; that means that for the first time in years and years, there will actually be two people who work in the White House and know something about agriculture.
He has been a law professor. He has been an adviser to a generation of lawmakers. He has been at the heart of public policy and public life for a long time now. He has helped to guide our foreign, defense, and economic policy, served as a key liaison to Congress, most recently representing me as a leader in the budget negotiating team that delivered this balanced budget that invests so much in education.
Also, with the singular exception of the Vice President, he is the most technologically proficient of our administration, guiding our technology policy on many fronts. He has another great qualification for this job: He is a better hearts player than Erskine Bowles. [Laughter]
He knows how the White House works; this will be his third assignment here in the White House. But even more importantly, he knows why the White House ought to work and for whom every single one of us does work. He entered public service for the right reasons, and he has certainly stayed there for the right reasons.
As many of you know, he and his family have a taste for riding roller coasters. That will certainly serve him well here. [Laughter] He is brilliant. He has a tough hide, a dry wit, a lot of patience in dealing with the President, hard-won wisdom, and a genuine compassion for improving this Nation. He will lead a seasoned White House team, working with Deputy Chief of Staff Maria Echaveste and their colleagues, working every day for the American people.
They have a lot of work to do. I would remind you that while we have balanced the budget, set aside for the time being the record surplus, invested again in education, we know that if we do not act to save Social Security and do so soon, we will be running the risk that our retirement system will be in serious trouble as the baby boomers retire. We do have an opportunity to act to strengthen Social Security for the new century; the next Congress will be called upon to do just that.
There are other important challenges as well: Strengthening our economy at this time of global economic turmoil; passing the Patients' Bill of Rights; expanding opportunity through an increase in the minimum wage; passing our initiative to modernize our schools. None of this could be done without a strong and dedicated administration, and at the heart of our actions here, the White House staff.
So let me again say to my wonderful friend Erskine Bowles and to his successor, John Podesta, I thank you from the bottom of my heart.
Mr. Bowles.
NOTE: The President spoke at 11:52 a.m. in the Rose Garden at the White House. The transcript released by the Office of the Press Secretary also included the remarks of Chief of Staff Erskine Bowles and Chief of Staff-designate John Podesta.
William J. Clinton, Remarks Announcing the White House Chief of Staff Transition Online by Gerhard Peters and John T. Woolley, The American Presidency Project https://www.presidency.ucsb.edu/node/225087