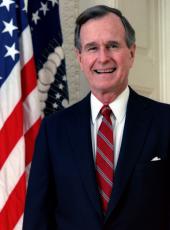 Remarks Announcing the Resignation of Secretary of Labor Elizabeth Dole
The President. Let me say at the outset here that I have an announcement to make. I will not take questions, but I will have this statement and then ask Secretary Dole to say a few words. And then keep the focus on this subject. She will be glad to respond to questions.
This morning, Secretary Elizabeth Dole offered me her resignation. And it is with real, deep regret that I accept this resignation. But let me hasten to say I understand her desire to continue her public service as president of the American Red Cross.
After a quarter-century of service to this country, Elizabeth Dole has earned the respect of the American people. And as Secretary of Labor, she's made the workplace safer, healthier, and more secure. She's reached out to Americans on the job, youth at risk, workers in retirement.
Secretary Dole, you really have changed the way America looks at education and training, retraining in the workplace. And you've built better labor-management relations; you've kept collective bargaining a vital American institution. And no one has been a stronger voice for job opportunity for young people.
I couldn't help but notice this morning some very supportive comments about Secretary Dole by the Nation's number one labor leader, Lane Kirkland. They were supportive, and they almost said it all. And I was very pleased because, for me, that was just one more important testimony to the job that she has done as Secretary of Labor.
So, Barbara joins me in wishing you nothing but the best in this big, new challenge at the Red Cross. Bob, the Senator, tells me your first project is disaster relief. Capitol Hill maybe or -- [laughter]. But anyway, good luck, and thank you so very much. It's been a joy serving with you in the Cabinet, and I look forward to staying in very close touch. You have done a superb job for this country.
Secretary Dole. Thank you, Mr. President. Thank you so very much.
Reporter. Are you going to have a budget tonight, Mr. President? Budget?
Q. Will there be business as usual?
Secretary Dole. Ladies and gentlemen, I have some comments to make. First of all, Mr. President, I want to thank you so very much for the opportunity you've given me to serve as your Secretary of Labor. I'll always be extremely proud of the fact that I had an opportunity to serve the American people under your strong leadership, and I appreciate the faith that you have shown in me. I'm grateful for that faith and confidence.
And you know, as I leave the Department of Labor, I take with me a strong inspiration which has been fired in me in that particular post; and that's the fact that the American working men and women are the greatest engines of productivity that this world has ever known. And if we're going to continue to be competitive in a complex global market, then we must realize that our most precious resources are our human resources.
And you know, Mr. President, I remember so well when you and I first talked about the Labor Department position. It was just about 2 years ago. It was before Christmas. And we were talking about the kinder, gentler Nation that you want to bring about. And I mentioned that I felt a calling to join with those who wanted to increase charitable giving in this country. And you said, "Elizabeth, the Labor Department offers many opportunities to make a difference, a positive difference, for people." And how right you were.
The Labor Department is the people's department. And what we've tried to do there is use the power of the Labor Department to empower people with the skills they need, the safety on the job, and with security of their pensions in their retirement years.
And I consider it just a great honor to have had this opportunity to work on issues that mean so much to me in making a difference in people's lives. But this does make my 25th year in government service, and I plan to continue my public service now from a different organization.
As president of the American Red Cross, I'll have the opportunity to work with about 1,200,000 volunteers all across America, 250 million volunteers around the world, Mr. President. And the sole purpose of these individuals and the 23,000 staff members -- the sole mission is to make that positive difference for people, to meet dire human needs and to improve the quality of human life.
Now, it's occurred to me that since the Congress has chartered the Red Cross and you're the honorary chairman and it's located just across the street here -- I wonder if we couldn't just regard this as a transfer, Mr. President. What do you think about that? Do you think that would work?
The President. It's fine with me. Fine with me.
Secretary Dole. But in any case, you will still be the boss, and a wonderful boss, a strong boss. And I look forward to continuing to work with you. And again, I thank you for your support. I thank you for your trust in me and for your friendship.
The President. Well done.
Note: The President spoke at 11:37 a.m. in the Briefing Room at the White House. In his remarks, he referred to Lane Kirkland, president of the American Federation of Labor-Congress of Industrial Organizations, and Senator Robert Dole, the Secretary's husband.
George Bush, Remarks Announcing the Resignation of Secretary of Labor Elizabeth Dole Online by Gerhard Peters and John T. Woolley, The American Presidency Project https://www.presidency.ucsb.edu/node/265252