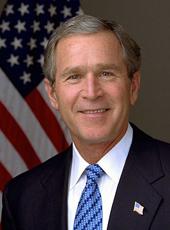 Remarks Announcing the Resignation of Andrew H. Card, Jr., as White House Chief of Staff and the Appointment of Joshua B. Bolten as White House Chief of Staff
Earlier this month, Andy Card came to me and raised the possibility of stepping down as Chief of Staff. After 5 1/2 years, he thought it might be time to return to private life, and this past weekend, I accepted Andy's resignation.
Andy Card has served me and our country in historic times: on a terrible day when America was attacked; during economic recession and recovery; through storms of unprecedented destructive power; in peace and in war. Andy has overseen legislative achievements on issues from education to Medicare. He helped confirm two Justices to the Supreme Court, including a new Chief Justice.
In all these challenges and accomplishments, I have relied on Andy's wise counsel, his calm in crisis, his absolute integrity, and his tireless commitment to public service. Andy is respected by his colleagues for his humility, his decency, and his thoughtfulness. They have looked to him as a leader and a role model, and they, like me, will miss him.
On most days, Andy is the first one to arrive in the West Wing and among the last to leave. And during those long days over many years, I've come to know Andy as more than my Chief of Staff. He is leaving the White House, but he will always be my friend. Laura and I have known Andy and his wife, Kathi, for more than 20 years, and our close friendship will continue.
With me today is Joshua Bolten, who will be the new White House Chief of Staff. Josh is a man with broad experience, having worked on Capitol Hill and Wall Street and the White House staff and for nearly 3 years as a Director of the Office of Management and Budget. Josh is a creative policy thinker. He's an expert on the budget and our economy. He's respected by Members of Congress from both parties. He's a strong advocate for effective accountable management in the Federal Government.
He's a man of candor and humor and directness, who's comfortable with responsibility and knows how to lead. No person is better prepared for this important position, and I'm honored that Josh has agreed to serve.
The next 3 years will demand much of those who serve our country. We have a global war to fight and win. We have great opportunities to expand the prosperity and compassion of America. We've come far as a nation, yet there's a lot on the road ahead. I'm honored to have served with Andrew Card. I've got great confidence in my next Chief of Staff.
Congratulations, Josh.
NOTE: The President spoke at 8:31 a.m. in the Oval Office at the White House. The transcript released by the Office of the Press Secretary also included the remarks of Chief of Staff Card and Chief of Staff-designate Bolten.
George W. Bush, Remarks Announcing the Resignation of Andrew H. Card, Jr., as White House Chief of Staff and the Appointment of Joshua B. Bolten as White House Chief of Staff Online by Gerhard Peters and John T. Woolley, The American Presidency Project https://www.presidency.ucsb.edu/node/214928