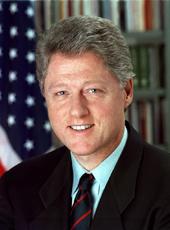 Remarks Announcing the Nomination of Norman Y. Mineta To Be Secretary of Commerce and an Exchange With Reporters
The President. Good afternoon. I'm pleased to bring you here to announce my nomination of Norm Mineta to be the 33d Secretary of Commerce, to carry on the successful work of Bill Daley, Mickey Kantor, and Ron Brown.
I want to welcome Norm and his wife, Danealia, here. And I want to thank Secretary Daley for returning from his new duties to be with us and for the truly magnificent job that he has done.
I also want to thank our Deputy Secretary of Commerce, Rob Mallett, for being here today and for also being part of that same tradition of excellence—his leadership in improving the way the Department is run and especially his efforts to open Government contracting to women and to minority-owned businesses. We couldn't do it without you, Bob, and we thank you for your service.
Norm Mineta is a worthy addition to the Cabinet. He was, of course, a Member of Congress for 21 years, representing Silicon Valley, serving as chair of the House Committee for Public Works and Transportation. He was a leader on trade and technology and helping his colleagues understand and promote the emerging digital economy.
We worked closely together on trade issues but on others as well, such as family and medical leave, where his support was absolutely pivotal. And he has ably chaired my Advisory Commission on Asian-Americans and Pacific Islanders.
Now, Norm thought he'd left politics for good in 1995 when he left Congress to work for Lockheed Martin. But politics and public service have a way of calling the best back. Norm is one of the best, a strong leader for the Department of Commerce, a highly skilled negotiator in Washington and throughout the world. He will play a crucial role in keeping our economic strategy on track, opening trade around the world, investing in our people, promoting high technology, bridging the digital divide.
He brings an indepth understanding of American business and a strong sense of the needs of our high-tech economy. But he also has a deep concern for people—for the people in places who are not yet fully participating in this economy.
You see, Norm Mineta's family story tells a lot about the promise of the American dream and the power of one person's devotion to opportunity and to justice. As a young boy during World War II, he and his family were forced from their home and held hundreds of miles away in a desolate internment camp for Japanese-Americans. When he got home, young Norm vowed to work to make sure that kind of injustice could never happen to anyone else.
He grew up, went to college, served with the Army in Korea and Japan. Then he began a career of public service in the San Jose government, becoming the first Asian-Pacific American mayor of a major American city. He was elected to Congress in 1974 and became the first Asian-Pacific American to chair a major congressional committee. But he never stopped fighting for justice. His efforts led to the passage of the Civil Liberties Act of 1988, which provided an apology and compensation for every survivor of the wartime internment camps.
I am proud to add to Norm's string of firsts by naming him the first Asian-Pacific American ever to hold a post in the President's Cabinet, proud to have a man of his qualities as a member of our economic team, as we work to make the most of this moment of unprecedented opportunity.
Recently I received a remarkable book called, "Asian American Dreams." It's author writes that Asian-Pacific Americans are "a people in constant motion, a great work in progress, each stage more faceted and complex than before. As we overcome adversity and take on new challenges, our special dynamism is our gift to America."
Well, that pretty well describes Norm Mineta's life and why I decided to name him Secretary of Commerce. I am very grateful to him, and to his wife, for giving up the joys and the remunerations of private life to come back into public service. And I hope he will be swiftly heard and confirmed by the United States Senate.
Norm.
[At this point, Secretary of Commerce-designate Mineta made brief remarks.]
The President. Thank you.
William M. Daley
Q. Mr. President, Mr. Daley is leaving your Cabinet, but he's going to another important job, and I wonder if you have any advice for him as he moves to take over the Gore campaign, and also, if you think you're going to be offering advice regularly to him over the next couple of months.
The President. My advice is not to discuss such advice in public but just to listen and do what he thinks is right.
Labor
Q. Mr. President, the industrial labor movement is none too pleased by Mr. Daley's movement over to the Gore campaign. I'm wondering if you think choosing someone from the corporate world will further antagonize the labor movement and cause difficulty for the Clinton/ Gore administration generally, and for Vice President Gore and the campaign.
The President. No. I think, for one thing, anybody that looks at Bill Daley's lifetime record or his family's lifetime record would have a hard time finding someone who has been in the mainstream of Democratic politics who's been any more pro-labor.
You know, we all have a difference on these trade issues. The Vice President does, and I do, and Secretary Daley does. But on virtually every other issue, I think you can make a very compelling case that this has clearly been the most pro-labor administration since President Johnson, and maybe going back before that.
So, I don't think so. And I think he and John Sweeney will get along well. They're just two good Irish boys that are trying to do right by their country.
Q. Mr. President, while it's laudatory——
Q. [Inaudible]—in the corporate world, sir, do you think that will have any effect on labor movement's general direction?
The President. No. Certainly not. I mean, he's got a great record, particularly when he was chairman of the committee. I think labor supported what he did there, and I think they will receive him very well.
House Vote on Private Insurance Prescription Coverage
Let me just say this. I have to make one other announcement before you all go, because this is the only chance we have to talk about this. I want to talk about last night's vote on prescription drug coverage in the House.
As you know, the Republican bill passed by three votes. They would allow no vote on the Democratic bill. And I just want the American people to know that the bill that they passed is an empty promise to most of our seniors. The bill passed along partisan lines, and it offers a flawed, unworkable private insurance prescription benefit that the insurance companies themselves—to their everlasting credit—the insurance companies themselves have said, this will not work; these policies will not be affordable; most seniors who need help will not be able to take advantage of this bill.
Now, they have said it over and over. This provides more political coverage for the Republicans who voted for it than insurance coverage for the seniors who need to buy medicine.
Now, let me just say this. In a report that was made available only late yesterday—too late to be of use in the debate, I might add— Congress's own budget office concluded that more than half the Medicare beneficiaries who don't have drug coverage today would not be covered by the Republican private insurance plan. It also shows that their premiums would be 50 percent higher than those under our plan, and the coverage would be 20 percent lower.
So, for seniors with incomes over $12,600 a year, or couples with incomes over $16,600 a year, this plan doesn't do the job. And it certainly doesn't do the job for Americans with disabilities, who would also be covered by a real Medicare prescription drug plan. That's why the leading aging and disability groups across the country have supported our plan, and that's why the drug manufacturers and their allies have supported the Republican plan. And it's important that the American people understand the difference between the two proposals.
Again I say, we have a substantial budget surplus projected. If we can protect the Medicare tax receipts, I'm prepared to work with Congress on a real prescription drug benefit and on marriage tax relief and other tax relief that will cost about the same amount of money that the Republicans say they want. But we're going to have to work across party lines on a bipartisan bill. We don't need the kind of one-party vote we had last night, especially without allowing us to even bring up our substitute and see how many Republican votes we could get for a real bill.
So I haven't given up, and we're still working.
Thank you all very much.
Middle East Peace Process
Q. Mr. President, do you expect Secretary Albright to recommend a summit in the nearterm, or are you just going to take a couple more weeks before that's a possibility?
The President. I just don't know because I haven't talked to her. I want her to come back and visit. Obviously, I've been spending a major amount of time thinking about this, working on it, talking to all the parties. But I really wanted her to go there and get a sense of it, come back, and then we'll decide where to go from here.
But I actually don't know the answer to your question. This is not one of those deals where I'm just not ready to announce it; I just don't know. And I'm going to do whatever I can in the time I have left to help them make peace. So whatever I do or don't do will be based on my calculation that it will maximize the possibilities of ultimate success. But I don't know yet.
Q. Do you expect any kind of decision today or tomorrow?
The President. No.
NOTE: The President spoke at 12:11 p.m. in the Oval Office at the White House. In his remarks, he referred to author Helen Zia and her book, "Asian American Dreams: The Emergence of an American People"; and John J. Sweeney, president, AFL-CIO. The transcript released by the Office of the Press Secretary also included the remarks of Secretary-designate Mineta.
William J. Clinton, Remarks Announcing the Nomination of Norman Y. Mineta To Be Secretary of Commerce and an Exchange With Reporters Online by Gerhard Peters and John T. Woolley, The American Presidency Project https://www.presidency.ucsb.edu/node/228812