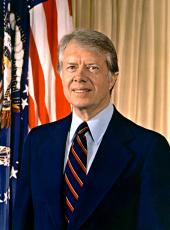 Remarks Announcing the Nomination of John C. Sawhill To Be Chairman of the Board of Directors of the Synthetic Fuels Corporation
THE PRESIDENT. I'm proud to announce today my choice for the chairmanship of the Synthetic Fuels Corporation.
This corporation for energy security is a cornerstone of our national energy policy. It's our main instrument in cutting down the intolerable overdependence of our Nation on imported oil from, primarily, the OPEC nations. This threatens our economic vitality and also our national security. The Corporation will use American resources, American knowledge, and American labor to encourage a production of 2 million barrels per day of synthetic fuels by 1992. It will create hundreds of thousands of jobs specifically to design and to build and to operate these plants, which will turn our coal and our shale, our tar sands and other resources into synthetic fuels.
The governing body of this Corporation, its Board of Directors, will be authorized to commit up to $88 billion to strengthen our country and literally to change the way Americans live. As I've said many times, the scope of this project, the amount of money to be expended, is greater than the sum total of the Interstate Highway System, the Marshall plan, and the space program all combined. I have, therefore, searched throughout the country over a number of weeks for the finest Chairman that I could find and also the best qualified six-person Board of Directors. I believe that I've succeeded in this goal.
I'm nominating John Sawhill as Chairman of the Board and the Chief Executive Officer of the Corporation. John has a deep knowledge of energy policy, having served under my administration and also a previous Republican administration. He's knowledgeable about technology, he's compiled a brilliant record of management, both in the private and the public sectors, and has an outstanding record as an educator, an administrator, and an economist.
He served this Nation well as Deputy Secretary of Energy since 1979. He came to this administration after an outstanding tenure as president of New York University. John Sawhill is vigorous and is totally dedicated to making the Corporation the spearhead of our drive to attain energy independence.
The six board members have also been selected by me. They will be announced as soon as proper notifications have been completed.
I'd like to add a comment about a very important matter as well. It's ironic that on a day when we are making an announcement like this, I again have the responsibility to set the record straight because of false allegations made by the Republican nominee for President, Governor Reagan.
Today in Cleveland, Governor Reagan, without one shred of supporting evidence, charged that the policies of this administration, and I quote, "... discourage the discovery and production of energy in this country." Governor Reagan is wrong. He's again made an accusation without checking the facts. Let me tell you the truth.
Coal production in the United States this year is at an alltime high. We will produce more coal in the United States in 1980 than we have ever produced in any single year in the history of this country.
Second, crude oil production has increased this year. This is only the second time in a decade that this has occurred. More oil wells will be drilled in the United States this year, 1980, than in any other year in the entire history of this country, and some experts are predicting that next year we will again set an alltime high record.
As of Monday this week 75 percent more oil wells were being drilled in the United States than they were at the same time 4 years ago when the Republican Party controlled the White House and the executive branch. These are not my figures. They are figures from the oil and gas industry itself, and some of them were reported in the Wall Street Journal this very morning.
I do not intend to let my Republican opponent continue to misrepresent the facts about this administration or about an issue so important to our country as energy itself.
Those are the statements I had to make. Thank you very much.
REPORTER. Mr. President, do you think you'll change your mind about the League debates and take part in them if they had one-on-one after a multi-candidate debate for the first time?
THE PRESIDENT. My position has been clear. It's consistent, and I do not intend to change it. We have offered in an unprecedented way to debate both the Republican nominees, Reagan and Anderson, and any other candidate for President who might have a theoretical chance to be nominated for President.
The League of Women Voters has done a good job. But they have refused, along with Governor Reagan, to consider so far in any serious way a debate one-on-one between myself as the Democratic nominee for President and Governor Reagan as the Republican nominee for President. This is what we want.
We have already accepted three different invitations to debate Governor Reagan in a two-man debate. It's obvious to me and I think to almost everyone else in this country that the two people who have a chance to be elected as President are the nominee of the Republican Party, Governor Reagan, and myself as the nominee of the Democratic Party. That is what I want. And if the other two of the many candidates decide to debate as a Republican duo, to debate each other, that's perfectly all right with me.
We still are eager to have as many debates as we can schedule between myself and Governor Reagan first and then to debate Governor Reagan, Congressman Anderson, and any others that the sponsors of the debate might bring together.
Q. Is there any prospect today of a one-on-one debate?
THE PRESIDENT. It's up to Governor Reagan. We are
Q. Do you know what the outlook is now?
THE PRESIDENT. We're still working on it, and we hope we will be successful.
Q. Is the debate issue hurting you at this point?
THE PRESIDENT. I don't know. I don't think so.
Note: The President spoke at 4:16 p.m. to reporters assembled in the Oval Office at the White House.
Jimmy Carter, Remarks Announcing the Nomination of John C. Sawhill To Be Chairman of the Board of Directors of the Synthetic Fuels Corporation Online by Gerhard Peters and John T. Woolley, The American Presidency Project https://www.presidency.ucsb.edu/node/250868