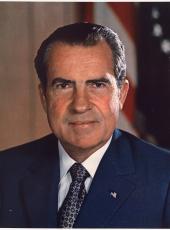 Remarks Announcing the Conversion of Fort Detrick, Maryland, to a Center for Cancer Research.
Senator Beall, Senator Mathias, Congressman Byron, ladies and gentlemen:
I am glad to see that, despite what happened to the Orioles yesterday, everybody is happy here today in Maryland.
I have come here today for the purpose of making an announcement with regard to this facility, which has, of course, an effect on all of the people who live in this area; but it also has an enormous effect in terms of the future of the people of the United States, and probably the future of the people of the world.
As I flew over this facility--and I have flown over it many times on my way to Camp David--I was impressed by its size. As I looked down upon it today, I realized that up until 2 years ago this facility was one of the most highly classified top secret facilities in the whole United States. As all of you who live in this part of Maryland know, there was no way you could get into this area without a top secret clearance. The reason was that this facility was being used for the purpose of research in biological warfare weapons.
In November of 1969, I made a decision that the United States would take the leadership in discontinuing research in the development of weapons for biological warfare. As a result of that decision, this facility, therefore, no longer could be used in that way. But it was one of the finest facilities in the world, and consequently, we found that, in January of this year when I made an announcement with regard to a new initiative for conquest of cancer, we needed just what this facility had to offer.
Consequently, today we are making an announcement that, where we have previously had scientists--some of the best people that we could possibly find in the United States--working on weapons of war, we now have scientists devoting their efforts toward saving life, rather than destroying life.
So I think all Americans are very appreciative of the fact that, in terms of our conquest of cancer program, we have one of the best facilities in the world right here which will be used for the purpose of making progress in that area.
I think all of us, too, are very happy that we have here an indication of how the genius of man, which could be used to destroy life--that same genius can better be used to save life.
I would finally say this: This facility, which once was so top secret, which was closed not only to Americans but, of course, to anybody from foreign lands, now is open to all people in the world. Wherever scientists or doctors may be, whether in Europe or Latin America or Africa or Asia, they can come here. They are welcome to come here to see what we have done, just as we hope they will welcome us, so that we can see what they have done. And whether they come from the Soviet Union, or perhaps later from Mainland China, we want people from all over the world who are working on what is one of the great initiatives for mankind, finding some way that we can have a conquest of cancer, a cure for it, and a prevention of cancer, so that scientists from all over the world can share the information and work together toward that end.
I am confident that this day, therefore, is a very significant day, significant in terms of the people who live in this area, and whose Senators and Congressmen were so anxious to have us not simply say that this is surplus, and that would mean that the jobs that were available here, that were caused by this facility, would be gone; but you are also happy that this facility is being used for a cause that helps not only the people in this community, but in the future may help the people of all the United States and all of the world.

Thank you.
Note: The President spoke at 11:25 a.m. at Fort Detrick.
On the same day, the White House released a fact sheet describing the conversion of the Fort Derrick facilities to cancer research.
On January 27, 1971, the White House released an announcement of the conversion of the biological warfare facilities at Pine Bluff Arsenal, Pine Bluff, Ark., to the National Center for Toxicological Research. The announcement is printed in the Weekly Compilation of Presidential Documents (vol. 7, P. 123).
Richard Nixon, Remarks Announcing the Conversion of Fort Detrick, Maryland, to a Center for Cancer Research. Online by Gerhard Peters and John T. Woolley, The American Presidency Project https://www.presidency.ucsb.edu/node/241072