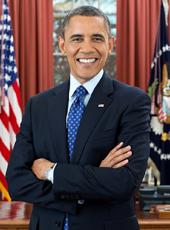 Remarks Announcing the Appointment of Tim Kaine as Chairman of the Democratic National Committee
Good afternoon.
When I launched my campaign for the presidency, I knew we setting out on an improbable journey. But I also knew that if we ran a different kind of campaign, if we engaged young voters for the first time, and older voters for the first time in a very long time, if we united Democrats and Republicans and independents from red states as well as blue states, if we rallied the entire Nation around a common purpose, then we would not only build a strong campaign, but we would build a movement for change. With the support of ordinary men and women who gave whatever time and money they could spare, we did just that. And that's why we can truly call our success on November 4th not just a Democratic victory, but an American victory.
On the other hand, it would be a mistake to take our success in the campaign as a sign that our work is somehow complete. At a time when the challenges we face in this country are so vast, we cannot afford to abandon the movement we've built. We have to strengthen it.
We must build a movement for change that can endure beyond a single election, and that will require redoubling our efforts to reach out to Americans throughout our 50 states, north and south, east and west. It will require finding candidates for elective office whose policies and plans are rooted not in ideology, but in what works.
And it will require shedding our ingrained habits of taking money from federal lobbyists and special interests, and relying instead on small donations from ordinary Americans.
We're in a strong position to rebuild a Democratic Party committed to these principles because of the outstanding work of its current chairman, Howard Dean.
For nearly four years, Howard has served our party and our nation as a visionary and effective leader. He launched a 50-state strategy that made Democrats competitive in places they had not been in years, working with my chief of staff, Rahm Emanuel, to give Democrats a majority in the House for the first time in over a decade.
Having steered the Democratic Party through two successful elections, Howard deserves enormous credit for helping usher in a new era in Washington.
And now is the time not only to build on Howard's record of achievement, but to remake the Democratic Party to meet the challenges of the 21st century. And no one is better suited to help lead this effort than the new chairman of the DNC, my good friend, Governor Tim Kaine of Virginia.
Tim comes from Virginia, a state that reflects America, where people of all backgrounds and walks of life, big cities and small towns, and a growing population come together.
But in a state so diverse, Tim has been a successful candidate and a successful governor, not by appealing to our divisions, but by appealing to our common hopes, not by pursuing policies that advance any dogma, but by pursuing policies that work for the people of Virginia.
Tim and I share a philosophy. It's a pragmatic, progressive philosophy that was at the heart of my campaign and will be at the heart of this administration. It's a philosophy that measures the strength of an idea not by whether it's Republican or Democrat, but whether it can actually solve a problem and make a difference in people's lives. Tim knows that breaking free of the old orthodoxies and reaching across party lines isn't just a way to build a Democratic Party that's more open and inclusive; it's a way to achieve progress for all Americans.
He understands that, while politics is tough and we need to fight hard for our ideals and our values, we also need to work together to solve our common problems. That's how he built what has become a model of good and responsible government in the commonwealth of Virginia.
As governor, Tim's promoted smart growth reforms to help traffic move better and improve the quality of life in our communities, ramped up the number of children getting health care and a pre-K education, and invested in schools while holding them more accountable.
Under his watch, Virginia has become one of America's leading centers of innovation, creating new jobs, building new industries, and seizing the opportunities of a 21st-century economy.
In the end, what will make Tim such an outstanding DNC chairman is not just his ability to win campaigns by bringing people together or his recognition that we need new, more pragmatic approaches to meet the challenges of our time.
It's his belief that politics is about something more than what all too often it's become in Washington, that it's not about enriching corporate friends or feeding partisan disputes or getting your name in the papers, but about the dignity of service.
That's the kind of leadership he will bring to the Democratic Party. That's the kind of leadership the Democratic Party will bring to America.
THE PRESIDENT-ELECT: So, with that, let me just introduce very briefly the new chairman of the Democratic National Committee, Governor Tim Kaine.
GOV. TIM KAINE (D-VA.): Well, thank you, President-elect Obama. It is such a treat to be here today and accept this honor.
I will say about you, that you proved to me in this discussion what you proved to Americans on November 4, that you are a very persuasive individual. And I am -- I'm thrilled to accept the opportunity and humbled, as well.
I signed on to Barack Obama's campaign for presidency in February of 2007, early, with a great deal of confidence in him as the person who should be the leader of what I believed would be a very challenging time for our nation that we're now in.
And I'm so proud of the campaign that he ran, the policies that he advocated, and proud of my native state of Virginia, which supported him in a very unusual way, after not having supported a Democratic candidate for 44 years.
I want to thank the president-elect for his confidence in me. I have been honored to serve 15 years in elected -- in elective office, entering my last year as governor of Virginia, and I pledge to do my very best to continue to keep his trust in this very important job.
I hope to do three things as DNC chair. I want to promote this president's agenda. I want to carry the proud banner of a proud party. And I want to work to creatively engage citizens in new ways through this party to be active in civic life.
In promoting the president's agenda, we're at a crossroads time for this nation. It is truly a time of momentous import as we confront challenging economic circumstances in a troubled international environment.
All Americans, however they voted on November 4th, have a huge stake in this presidency being successful. And so I will be a passionate and positive promoter of President Obama's agenda. And that will be my first goal as DNC chair.
My second goal is to carry a proud banner for a proud party. The Democratic Party has a long pedigree and the basic values, the best of what being a Democrat is about, belief in the equality of all, the lifting and leveling power of education, the dignity of work, the power of innovation in America, our responsibilities to each other, especially to the least of these, and internationally that we're strong when we're strong militarily and economically, but that we also have to be strong diplomatically and in our moral example.
Those are the basic values of the Democratic Party that I cherish and that Americans of all parties cherish those values, as well.
In Virginia, we've managed to do some good as Democrats. When I started as a statewide candidate in state politics in 2000, our party was moribund, but we, beginning with a great leader, Mark Warner, Jim Webb, so many other great Democrats, we've won a lot of seats, but we haven't done it because of the letter after our name. We've done it because we have made the party in Virginia, working every day, a party of problem-solvers and unifiers.
We're not the ideologues, the obstructionists, the gridlock folks. We're the problem-solvers.
And we're not the dividers. In Virginia, we've rejected the politics of negativity, the politics that, you know, often energizes the 51 percent by beating up on the 49 percent, and instead try to unify people. And so that will be the same model that I will try to carry here at DNC chair as I carry the banner for this great party.
And, finally, the thing I'm most excited about, being able to engage Americans in -- in new ways in politics. Chairman Dean, with the 50-state strategy here at the DNC, has just done a remarkable job, as the president-elect said, in recognizing that we can't be a regional party or a party of a few states that might get us to 270 electoral votes, but that we've got to be a party that plays everywhere.
And what a remarkable job he did in his four-year tenure. I've got huge shoes to fill.
And then Senator Obama in his campaign, they campaigned in truly a different way. I remember early in the campaign, a friend of mine in Virginia said, "Well, he's good on the inspiration." But I thought, "You know, you just don't see it, because at the end of the day, the story of this campaign was less about the inspiration than about the organization," an organization around what I think is a pretty basic principle, the principle that everybody matters.
You don't have to be a big donor for your donation to matter. You don't have to be a Ph.D. or a foreign policy expert for your idea to matter. And you don't have to be a full-time campaign worker for your effort to matter.
And so if we could engage people as we did in this campaign in remarkable ways -- many coming in to politics for their first time, many without a party affiliation who just felt excited that a candidate was offering them a chance to engage -- we can do the same thing in politics not just around election cycles, but also around making change, changes that this president wants in our economy, in our health care system, in our need to find a brighter and cleaner energy future. And so in those three areas, I'm going to do my best. For my friend -- I consider Barack a great friend. I can -- I'll call him Barack until January 18th, and then thereafter there will be a different title.
But I am -- I'm very, very humbled at this opportunity and excited to take it on. And we'll do great work together.
THE PRESIDENT-ELECT: Thank you, guys.
Barack Obama, Remarks Announcing the Appointment of Tim Kaine as Chairman of the Democratic National Committee Online by Gerhard Peters and John T. Woolley, The American Presidency Project https://www.presidency.ucsb.edu/node/286776