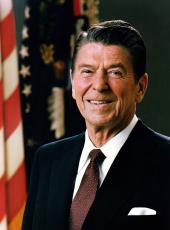 Remarks Announcing a Proposed Interim Intermediate-Range Nuclear Force Reduction Agreement
Last week, when I addressed the American people on this administration's defense program, I expressed our determination to reduce our reliance on the terrible power of nuclear weapons to assure the peace. And today I want to say a few words about this critical aspect of our security policy-our efforts to drastically reduce the arsenals which burden the lives of our own citizens, of our friends and allies, and, yes, of our adversaries as well.
As you know, over the last year and a half, this administration has undertaken a comprehensive and far-reaching arms control program designed to achieve deep reductions in nuclear arms, to rid the world of chemical weapons, and to cut the size of conventional forces in Europe. I'll be saying more about these initiatives in a speech tomorrow, but this morning let me focus on one of these negotiations.
I have just met with the Ambassadors of the countries of the North Atlantic alliance. We invited them here because the citizens of their countries share with Americans a profound hope for success in the Geneva negotiations on intermediate-range nuclear missiles.
The forces being discussed in the INF negotiations directly affect the security of our allies. As I told you last week, the Soviet Union has deployed hundreds of powerful, new SS-20 missiles, armed with multiple warheads and capable of striking the cities and defense installations of our allies in Europe, and of our friends and allies in Asia as well. The Soviets have built up these forces even though there's been no comparable threat from NATO. They've deployed them without letup; there now are more than 350 SS-20 missiles, with more than a thousand nuclear warheads. NATO will begin deploying a specific deterrent to this threat late this year, unless, as we hope, an agreement to eliminate such weapons would make this deployment unnecessary.
The United States, with the full support of our allies, has been negotiating in Geneva for more than a year to persuade the Soviet Union that it is a far better course for both of us to agree to eliminate totally this entire category of weapons. Such an agreement would be fair and far-reaching. It would enhance the security of the Soviet Union as well as the security of NATO. And it would fulfill the aspiration of people throughout Europe and Asia for an end to the threat posed by these missiles.
So far, the Soviet Union has resisted this proposal and has failed to come up with a serious alternative. They insist on preserving their present monopoly on these weapons. Under their latest proposal, the Soviets would retain almost 500 warheads on their SS-20 missiles in Europe alone and hundreds more in the Far East, while we would continue to have zero. Their proposal would actually leave them with more SS-20 missiles than they had when the talks began in 1981. In addition, the Soviets have launched a propaganda campaign aimed apparently at dividing America from our allies and our allies from each other.
From the opening of these negotiations nearly 18 months ago, I have repeatedly urged the Soviets to respond to our zero-zero proposal with a proposal of their own. I've also repeated our willingness to consider any serious alternative proposal. Their failure to make such a proposal is a source of deep disappointment to all of us who've wished that these weapons might be eliminated, or at least significantly reduced. But I do not intend to let this shadow that has been cast over the Geneva negotiations further darken our search for peace.
When it comes to intermediate nuclear missiles in Europe, it would be better to have none than to have some. But if there must be some, it is better to have few than to have many. If the Soviets will not now agree to the total elimination of these weapons, I hope that they will at least join us in an interim agreement that would substantially reduce these forces to equal levels on both sides.
To this end, Ambassador Paul Nitze has informed his Soviet counterpart that we are prepared to negotiate an interim agreement in which the United States would substantially reduce its planned deployment of Pershing II and ground-launched cruise missiles, provided the Soviet Union reduce the number of its warheads on longer range INF missiles to an equal level on a global basis.
Ambassador Nitze has explained that the United States views this proposal a§ a serious initial step toward the total elimination of this class of weapons. And he has conveyed my hope that the Soviet Union will join us in this view. Our proposal for the entire elimination of these systems remains on the table.
We've suggested that the negotiations resume several weeks earlier than originally planned. The Soviets have agreed to that, and talks will resume on May 17th. I hope this initiative will lead to an early agreement. We remain ready to explore any serious Soviet suggestions that meet the fundamental concerns which we have expressed.
I invited the NATO Ambassadors here today not only to review these developments but to express my appreciation for the firm support which the allies have given to our negotiating effort in Geneva. And I can assure them of my personal commitment to the closest possible consultations with them on the INF.
This consultative process has already proven one of the most intensive and productive in the history of the North Atlantic alliance. It's made the initiative announced today an alliance initiative in the best sense of that term. And over the past months, we and our allies have consulted intensively on the INF negotiations.
I have been in frequent and close contact with other heads of government. Vice President Bush had a very productive discussion with allied leaders on INF during his trip to Europe. Secretaries Shultz and Weinberger have exchanged views with their counterparts from allied governments. And the NATO Special Consultative Group has met regularly to review the negotiations and consider criteria which should form the basis for the alliance position in INF.
The very thoughtful views expressed by the allies in these consultations have been of significant help in shaping this new initiative. This process is a model for how an alliance of free and democratic nations can and must work together on critical issues. It is the source of our unity and gives us a strength that no one can hope to match. And it gives me great confidence in the eventual success of our efforts in Geneva to create a safer—safer world for all the Earth's people.

Thank you very much.
Note: The President spoke at 10:01 a.m. to the North Atlantic Alliance Ambassadors and administration officials assembled in the East Room at the White House.
Prior to his remarks, the President met with the Ambassadors in the Cabinet Room to discuss the interim agreement proposal.
Ronald Reagan, Remarks Announcing a Proposed Interim Intermediate-Range Nuclear Force Reduction Agreement Online by Gerhard Peters and John T. Woolley, The American Presidency Project https://www.presidency.ucsb.edu/node/262240