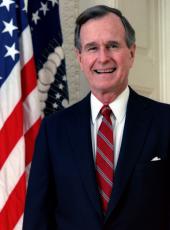 Remarks and a Question-and-Answer Session With Reporters on the Situation in Panama
The President. Well, I have a statement here, and then I'll be glad to take a couple of questions, and then I will turn the meeting over to General Scowcroft for any followup.
The people of Latin America and the Caribbean have sacrificed, fought, and died to establish democracy. Today elected constitutional government is the clear choice of the vast majority of the people in the Americas, and the days of the dictator are over. Still, in many parts of our hemisphere, the enemies of democracy lie in wait to overturn elected governments through force or to steal elections through fraud. All nations in the democratic community have a responsibility to make it clear, through our actions and our words, that efforts to overturn constitutional regimes or steal elections are unacceptable. If we fail to send a clear signal when democracy is imperiled, the enemies of constitutional government will become more dangerous. And that's why events in Panama place an enormous responsibility on all nations in the democratic community.
This past week, the people of Panama, in record numbers, voted to elect a new democratic leadership of their country; and they voted to replace the dictatorship of General Manuel Noriega. The whole world was watching. Every credible observer -- the Catholic Church, Latin and European observers, leaders of our Congress, and two former Presidents of the United States -- tell the same story: The opposition won. It was not even a close election. The opposition won by a margin of nearly 3 to 1.
The Noriega regime first tried to steal this election through massive fraud and intimidation and now has nullified the election and resorted to violence and bloodshed. In recent days, a host of Latin American leaders have condemned this election fraud. They've called on General Noriega to heed the will of the people of Panama. We support and second those demands. The United States will not recognize nor accommodate with a regime that holds power through force and violence at the expense of the Panamanian people's right to be free. I've exchanged these views over the last several days with democratic leaders in Latin America and in Europe. These consultations will continue.
The crisis in Panama is a conflict between Noriega and the people of Panama. The United States stands with the Panamanian people. We share their hope that the Panamanian defense forces will stand with them and fulfill their constitutional obligation to defend democracy. A professional Panamanian defense force can have an important role to play in Panama's democratic future.
The United States is committed to democracy in Panama. We respect the sovereignty of Panama, and of course, we have great affection for the Panamanian people. We are also committed to protect the lives of our citizens, and we're committed to the integrity of the Panama Canal treaties, which guarantee safe passage for all nations through the Canal. The Panama Canal treaties are a proud symbol of respect and partnership between the people of the United States and the people of Panama.
In support of these objectives and after consulting this morning with the bipartisan leadership of the Congress, I am taking the following steps: First, the United States strongly supports and will cooperate with initiatives taken by governments in this hemisphere to address this crisis through regional diplomacy and action in the Organization of American States and through other means. Second, our Ambassador in Panama, Arthur Davis, has been recalled, and our Embassy staff will be reduced to essential personnel only. Third, U.S. Government employees and their dependents living outside of U.S. military bases or Panama Canal commissioned housing areas will be relocated out of Panama or to secure U.S. housing areas within Panama. This action will begin immediately. It will be completed as quickly and in an orderly a manner as possible. Fourth, the State Department, through its travel advisory, will encourage U.S. business representatives resident in Panama to arrange for the extended absences of their dependents wherever possible. Fifth, economic sanctions will continue in force. Sixth, the United States will carry out its obligations and will assert and enforce its treaty rights in Panama under the Panama Canal treaties. And finally, we are sending a brigade-size force to Panama to augment our military forces already assigned there. If required, I do not rule out further steps in the future.
The United States and all democratic nations in this hemisphere hope that a peaceful resolution can be found to the crisis in Panama. And we urge all those in Panama -- every individual, every institution -- to put the well-being of their country first and seek an honorable solution to this crisis. The way is still open.
Thank you. God bless.
Q. Mr. President, are you willing to drop the drug charges against Noriega if it will mean that he will leave the country or at least give up control in a quid pro quo?
The President. No.
Q. Mr. President, do you recognize Mr. Endara as the President-elect, and what steps should the United States take to help him get inaugurated?
The President. We have not made any formal recognition determination at this point.
Q. Mr. President, I understand that you've been trying -- --
The President. We have been talking to other countries in the hemisphere on that point, I might add, Terry [Terence Hunt, Associated Press], but we have made no official determination.
Q. I understand you've been trying today, sir, to get other leaders in the hemisphere to agree on a joint statement of condemnation of Noriega, and I wonder if you could give us a progress report on that diplomatic effort, sir?
The President. Well, one, I have not -- by joint statement -- encouraged a joint statement in which the United States would participate. Some of the leaders in this hemisphere are working on getting a joint statement, and indeed, I'm told authoritatively that there might be a joint statement out of some European countries. But we would encourage countries in this hemisphere to either jointly or personally make strong statements. And I believe that -- I want to say 10 countries have already made individual statements. And now, I think the next collective diplomatic action is going to be at the OAS.
Q. Sir, how many troops will that mean, and will they be quartered in the military compound? Will they stay there quietly and just be there, or will they be out on the streets patrolling?
The President. We will assert our treaty rights, enforce our treaty rights. And I will let General Scowcroft answer the question, but my estimate of the troops would be about 2,000.
Q. Mr. President, what is your justification for sending the brigade of troops? What are you worried about?
The President. I'm worried about the lives of American citizens. And I will do what is necessary to protect the lives of American citizens. And we will not be intimidated by the bullying tactics, brutal though they may be, of the dictator, Noriega.
Q. Mr. President, your statement just now about defense forces -- would that be a signal that the United States would look favorably on a coup attempt?
The President. I have asserted what my interest is at this point: it is democracy in Panama; it is protection of the life of Americans in Panama.
I'm going to take two more, and then I'm going to go.
Q. Sir, we've been calling around to these Latin American Embassies. We find no enthusiasm for the dispatch of American troops there, and the Mexican Embassy even said that they warned against intervention. Are you disappointed at the reaction you're getting from Latin America?
The President. We've had good reaction from the Latin Americans. I haven't talked to them on that particular point, but we have had very good reaction from them. And I have been impressed with the role of several of the Latin American leaders. I think for the first time there is a total understanding on their part of the threat to democracy from the stealing of this election, or the threat to democracy in the hemisphere from totalitarianism; and it's brought home by this theft of the election.
So, they don't -- I might add, on the troops: I have a profound obligation as Commander in Chief of the Armed Forces and as President, and that is to protect American life. And I'm going to do what is prudent and necessary to do this. And so, we have a different obligation. We also have certain treaty rights and obligations. I'm prepared to fulfill our treaty obligations, and I am prepared to see that our treaty rights are exercised. And so, I'd leave it right there in terms of the troop deployments.
Last one.
Q. Mr. President, in the Reagan administration there was a very formal negotiating process with General Noriega over terms under which he might leave. Is there any possibility that that might repeat itself now, that there might be some sort of formal discussions between yourselves and the Panamanian Government and General Noriega about conditions under which he might leave?
The President. Oh, he knows my position on the fact that if he does leave we would have the instant restoration of normal relations with Panama. That has been conveyed to him very, very recently. But look, I will be openminded about seeing what it might take to see him leave. I'm not going to go back and do what Helen [Helen Thomas, United Press International] asked about in dropping these indictments. I'm not going to do that. That has profound implications for our fight against narcotics, which has got to be worldwide. But if there's something short of that, the door is open to understand what it is that would be required. But I don't think the Panamanian people should be asked to compromise in terms of their election, which was won 3 to 1 by those opposed to Noriega. So, there would be certain things, other nonnegotiable things, but I don't think -- that's between Noriega and the Panamanian people.
Thank you all very much. And Brent will take the remaining questions.
Q. How is Endara? Is he in the hospital?
The President. He was out, and then I think he's back in. But now I don't know whether he's gotten out later on or not.
General Scowcroft. I think he's back.
Q. Is Noriega capable of -- --
Q. Are you concerned about him taking hostages?
The President. I'm concerned about protecting the lives of Americans, and that is exactly why I've taken the action I have here today.
Note: The President spoke at 4:07 p.m. in the Briefing Room at the White House.
George Bush, Remarks and a Question-and-Answer Session With Reporters on the Situation in Panama Online by Gerhard Peters and John T. Woolley, The American Presidency Project https://www.presidency.ucsb.edu/node/263480