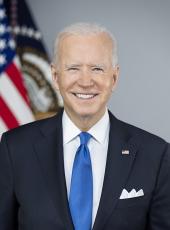 Remarks and an Exchange With Reporters Upon Arrival From Joint Base Andrews, Maryland
The President. I thought we had a good trip to New Jersey and New York. Those people need help. I'm confident we can get it to them, and I'm confident we can help change their circumstance. But—so I thought it was a good trip. I got a chance to talk to a lot of people. I hope you got a chance to talk to some of them as well. But it—I think it went well.
Coronavirus Prevention Efforts
Q. Mr. President, on COVID, you're going to speak this week about the next steps to combat the pandemic. What will you suggest? What will you lay out?
And is it possible——
The President. I'll tell you tomorrow.
Q. Is it possible to defeat the pandemic or just control it at this point?
The President. I'll talk about it tomorrow——
Q. Are you worried, Mr.——
The President. ——on Thursday.
Afghanistan/Taliban
Q. Mr. President, are you worried that the Taliban will get funding from China?
The President. Well, China has a real problem with the Taliban, so they're going to try to work out some arrangement with the Taliban, I'm sure—as does Pakistan, as does Russia, as does Iran. They're all trying to figure out, what do they do now. So it will be interesting to see what happens.
Senator Joseph A. Manchin III/Infrastructure and Jobs Legislation
Q. Mr. President, in terms of infrastructure, have you talked to Senator Manchin? And what do you think this—how deep is his resistance, do you think, to the reconciliation bill?
The President. Joe—Joe, at the end, has always been there. He's always been with me. I think we can work something out. And I look forward to speaking with him.
Q. Are you comfortable with the timing of the bill? Do you think—seeing what you've seen in New Jersey, today, and New York, should the first bill be passed now to get that—[inaudible]?
The President. I'm comfortable with proceeding the way we're proceeding so far.
Thank you.
Q. On COVID——
NOTE: The President spoke at 6:45 p.m. on the South Lawn at the White House. A portion of these remarks could not be verified because the audio was incomplete.
Joseph R. Biden, Remarks and an Exchange With Reporters Upon Arrival From Joint Base Andrews, Maryland Online by Gerhard Peters and John T. Woolley, The American Presidency Project https://www.presidency.ucsb.edu/node/352107