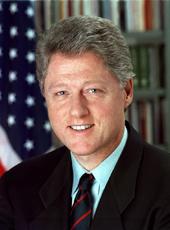 Remarks and an Exchange With Reporters Prior to a Meeting With Members of Congress
NAFTA
The President. Let me make a brief comment and then I'll answer a question or two.
I want to thank the Members of Congress who are here today. This is, as you can see, a fairly large bipartisan group of House Members who have come for one of a series of meetings I've been having to try to persuade them to vote for the North American Free Trade Agreement. I want to reiterate that the thing that has impressed me is that more and more Members are trying to look beyond the politics of this issue and just ask what's good for America, whether it will create jobs for America, whether it opens the opportunity for more growth. I strongly believe that. I think we're making progress, and I'm looking forward to having a good discussion.
I thank Mr. Michel for coming, and the Speaker who was going to come and couldn't come at the last minute. But we've had good support there, and I'm looking forward to this discussion this morning.
Somalia
Q. Mr. President, Senator Byrd has just announced his intention to introduce an amendment which would cut off funding for the U.S. forces in Somalia February 1st, as opposed to your March 31st. (a) Do you know about this? (b) What are you going to do about it; what does it mean?
The President. Well, I just talked to him. He said that he has—he started off at December 1st as a hard deadline and now says February 1st, and the President can ask for an extension and the Congress can give. So I appreciate Senator Byrd working with me on it. I've not read it so I can't comment on the substance of it. I'm very interested in what the details are. It's not just a question of a deadline, it's also of not tying not just my hands but any President's hands in foreign policy too much.
Our policy in Somalia, I believe, is beginning to work. I think the obvious import of what's happened in the last few days is that we're moving in the right direction, and I hope we can continue to do that. I can't comment about the specific resolution until I've read it and until I know what the alternatives are.
Q. Are you going to get Durant out? Is there a movement there—the pilot, the captive American?
The President. We're working very hard to get him out.
NOTE: The President spoke at 11:48 a.m. in the Roosevelt Room at the White House. In his remarks, he referred to Robert H. Michel, House Republican leader. A tape was not available for verification of the content of this exchange.
William J. Clinton, Remarks and an Exchange With Reporters Prior to a Meeting With Members of Congress Online by Gerhard Peters and John T. Woolley, The American Presidency Project https://www.presidency.ucsb.edu/node/218524