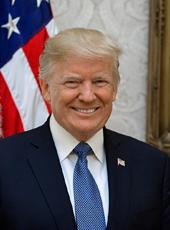 Remarks and an Exchange With Reporters Prior to Departure for Walter Reed National Military Medical Center in Bethesda, Maryland
The President. Hello, everybody. It's very hot.
Q. It is hot, sir.
The President. It's very hot.
So we're going to Walter Reed Hospital, and we're going to be seeing soldiers: our great heroes, our wounded, and some badly wounded. And they're incredibly brave and great people. And we're going to see also the warriors on the frontline of COVID and quite a few of them. And we're going to spend some good time with them, and I look forward to doing it. And it will be my honor to be there.
Protective Face Masks
Q. What is your message by wearing a mask today?
The President. Well, I'll probably have a mask, if you must know. I mean, I'll probably have a mask. I think when you're in a hospital, especially in that particular setting, where you're talking to a lot of soldiers and people that, in some cases, just got off the operating tables, I think it's a great thing to wear a mask. I've never been against masks, but I do believe they have a time and a place.
Q. But will you wear a mask?
Executive Grant of Clemency for Political Consultant Roger J. Stone, Jr./Investigation Into Russia's Interference in the 2016 Presidential Election
Q. Mr. President, can you tell us about Roger Stone and why did you not take the advice of the Attorney General, who cautioned you against clemency?
The President. Well, he didn't say that. No, the Attorney General, about a week or two ago, had made a statement, but that was long before anybody knew what I was going to do.
Roger Stone was treated horribly. Roger Stone was treated very unfairly. Roger Stone was brought into this witch hunt, this whole political witch hunt, and the Mueller scam—it's a scam, because it's been proven false. And he was treated very unfairly, just like General Flynn is treated unfairly; just like Papadopoulos was treated unfairly. They've all been treated unfairly.
And what I did——
Q. Will you give them clemency too?
The President. What I did—I will tell you this: People are extremely happy, because, in this country, they want justice. And Roger Stone was not treated properly.
So I'm very happy with what I did. He—I commuted his sentence, and by commuting, he now has the right to go and—hey, look, he had a forewoman——
Q. But, sir, what about a jury?
The President. Quiet.
Q. A jury decided this, sir. The President. Quiet. Quiet.
He had a forewoman—he had a forewoman who was horrendous. She should have never been on the jury. The judge should have so ruled. The judge didn't do that. Take a look at the record. The judge didn't do that. Take a look at the forewoman. He should have had another trial. Roger Stone was treated very badly.
Now, take a look at Comey, take a look at McCabe, take a look at the two lovers, Strzok and Page. Take a look at all these people that are walking around and they lied to Congress, and they leaked and they did everything else—a lot of other things. Take a look at Biden, Sleepy Joe. Take a look at Obama. And they spied on Donald Trump's campaign.
Those are the people——
Q. But, sir—just a second.
The President. ——let me just tell you something: Those are the people that should be in trouble.
Thank you.
Q. [Inaudible]
Q. Will you wear a mask again?
Q. But, sir—[inaudible]
NOTE: The President spoke at 5:08 p.m. on the South Lawn at the White House prior to boarding Marine One. In his remarks, he referred to former Department of Justice Special Counsel Robert S. Mueller III; former National Security Adviser Michael T. Flynn; George Papadopoulos, former foreign policy adviser, 2016 Donald J. Trump Presidential campaign; former Memphis City Schools Board President Tomeka Hart, in her capacity as jury foreperson in the Federal prosecution against Mr. Stone; Amy Berman Jackson, judge, U.S. District Court for the District of Columbia; James B. Comey, Jr., former Director, and Andrew G. McCabe, former Deputy Director, Federal Bureau of Investigation (FBI); former FBI agent Peter P. Strzok II, in his former capacity as lead investigator of former Secretary of State Clinton's use of a private e-mail server and the investigation into Russia's interference in the 2016 Presidential election; Lisa Page, former legal counsel to former Deputy Director McCabe; former Vice President Joseph R. Biden, Jr., and former President Barack Obama.
Donald J. Trump, Remarks and an Exchange With Reporters Prior to Departure for Walter Reed National Military Medical Center in Bethesda, Maryland Online by Gerhard Peters and John T. Woolley, The American Presidency Project https://www.presidency.ucsb.edu/node/343049