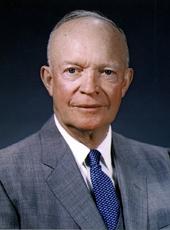 Remarks and Address at Testimonial Dinner Honoring Republicans in Congress
[The President spoke first to the guests who dined with him, then to a group in another dining hall upstairs.]
Chairman Wayne, Senator Goldwater, Mr. Martin, Distinguished Guests, Ladies and Gentlemen:
I am scheduled to make a speech--upstairs. Here, I am supposed to say just Hello. But, being a good Republican, in front of good Republicans, I don't think I can stop just there.
I want to explain about this speech. When they told me maybe it would be an idea for me to extend a few words of greeting, Barry Goldwater said, "Why don't you just give the same speech over that you are going to do upstairs?"
"Well," I said, "It has neither weight, nor inspiration, nor logic, and I see no reason for inflicting it on anybody twice, even the people at this head table."
But I am going very briefly to express a hope. I hope the Republican Party transforms itself into one gigantic recruiting service. We need recruits. We need them from among Democrats--discerning Democrats, that is--from Independents, from people that have never voted, or people who have just failed to vote.
To get new recruits, we have got to have real morale. We have got to have a morale that comes from the belief in a cause. Whenever I think of a great service, or a great accomplishment brought about by morale, I often think of Cromwell's army. His Roundheads marched into battle singing hymns, and never once were they shaken. Because he had told them--he had drilled into them that they had a cause for which to work.
Ladies and gentlemen, the cause of good government, sound, stable, progressive government for this country is the greatest cause that we could possibly have today on God's footstool.
We need management. And this you will have from your several chairmen--the National Committee and the senatorial and congressional committees, and with the hierarchy of leadership reaching on down to the last man.
We will need money. You are providing some now. Money, as Barry Goldwater said, will not do the job, you have got to give yourselves, if you are going to be real recruiters. So we have to have these men and women with them believing as we do: that the United States must stand proud and strong before the world as the champion of freedom and decency, and peace with justice.
We can do that only if we are strong at home. And we must follow those policies that logic, good sense, history itself, are good for this country, to keep our economy strong, our dollar sound, and ourselves spiritually inspired to do our duty--each single one of us.
And about this speech upstairs, I should have said I tried to get Mrs. Eisenhower to make it for me, but she wouldn't do it. I found that I might as well just--well, I don't know--have asked her to vote the Socialist ticket. Experiencing defeat there, I will say goodnight, good luck to you, and keep a-going.
SALUTE TO THE REPUBLICANS IN CONGRESS
Chairman Wayne, Congressman Martin, Senator Goldwater, Senator Dirksen, Distinguished Guests, and My Fellow Republicans:
It is a great pleasure to join in this salute to the distinguished Republicans whose presence in the Congress gives real lustre to both the Senate and the House of Representatives. I pay tribute also to those former Members who, because of the accidents of politics, are not now voting members, but who, we hope, will soon be recommissioned for this duty.
And further, I have looked forward to this opportunity to thank these Republican Senators and Congressmen for the splendid job they are doing to forward our Republican proposals in the 86th Congress. Your solidarity and loyalty in so many important tests now are a good omen for the great test coming in the fall of 1960.
Just a word about this solidarity to which Senator Goldwater referred. After the 1952 campaign, one of the expert political analysts came into my home and told my wife, I thought very unwisely, that she was responsible for 74 of the electoral votes that the ticket received that fall. I have never before this moment admitted to her that I thought that was an underestimate. But anyway, that's what the expert said.
Now, in 1956, as the campaign was going on, my wife was sitting with me one day, when a man came in with what was obviously a rather preposterous proposal, but he urged it with great vehemence. And finally she said to me, "My boy, if you do that, I'll take my 74 electoral votes and walk out."
Now we are not going to have any lack of that solidarity in this next campaign.
Clearly, the Republicans in the Congress have proven they have not been afraid to stand up and be counted. Next time you hear it said that there are no differences between our parties, you might point out this: except for the support of some discerning Democrats, it is the Republican Party that fights for responsible, sensible, and progressive policy in Government, as urged in the recommendations of the administration.
I am grateful to you Members of both Bodies. And I have come here to tell you so.
By the way, I sometimes hear of this support being measured in terms of percentages. I am gratified that in the records the grade is something more than a passing mark, and I hope by the end of this session everybody will be getting an A-plus.
With our minds on the next election, I want to emphasize four ingredients of successful organization: Morale, Men, Means, and Management.
This applies, of course, to political organizations.
First, Morale.
Above all else, it involves belief in a cause.
The will to win is always important--but alone it cannot long inspire a group to its best efforts. Only through the intensity of our belief in political principle and our pride that together we are creating increasing progress in America can we have a successful political party for the long pull.
Morale is created by many things. It comes from faith in leaders; from conviction in their sincerity, integrity, and above all, in their selflessness. Morale is not something to be sold--it is something to be generated. Though an organization might be impoverished as to means, and though it might be decimated in strength, it will never despair so long as its morale is high. Morale can stand acknowledged setbacks, but it will never recognize defeat. Morale is the seed of future victory.
The next two ingredients are Men and Means.
Politics has changed much within our lifetime. There was a time when Republicans in the north could win elections no matter how lacking their candidates might be in qualifications. Those days are gone. Our elections must be won by nominating bright, personable, vigorous candidates of character who are natural-born recruiting officers. To make their efforts truly effective, we need to give them enough money to tell the full story to the electorate.
All of us with a devotion to the Republican Party have a duty--and it is a joyful duty--to do everything within our power to choose and encourage candidates of the highest caliber, and to see that they have the means to wage successful campaigns.
Finally, I turn to Management. Management requires organization. Management is the function of orchestration. It makes certain that we all play the same tune at the same time, on the proper instruments, and with such effect that we will daily gain new listeners by the thousands.
No one person can possibly create from many millions of individuals an effective team or teamwork. This has to be done by a hierarchy of leadership, operating through many workers in successive echelons of responsibility. It has to be done intelligently and thoroughly. It has to be done with the single purpose of influencing the individual--and this means the individual in the remotest precinct of America.
It must be businesslike; above all, it must be spirited. It requires positive and abhors negative attitudes. As Republicans we should always assert that something is "half full" rather than to moan that it is "half empty."
Republican legislators are leaders in the management team. Today they are showing their mettle by battling actively for the major tenets in the Republican faith. At this moment we are engaged in a highly important battle for a sound dollar.
This is not a fight to balance the budget as an end in itself. This is not a fight just to pinch pennies. This is a fight to keep our Nation fiscally strong so that we may maintain the forces we must have for the security of ourselves and the free world. This is a fight to promote an expanding economy and domestic prosperity. This is a fight to make sure that a dollar earned today will tomorrow buy for the housewife an equal amount of groceries.
You in the Congress--all Republicans--all recruits from the Democrats, and I must say discerning Democrats, and Independents that we can get--are battling to protect the worker as he earns his pension, and to protect the retired man who must live on it. This is a fight to prevent prices from impoverishing every man, woman, and child in the Nation.
As you, my friends--my colleagues, wage this fight without ceasing, you will demonstrate your worthiness of victory at the polls. As the Nation comes to recognize this, you will win.
Thank you very much indeed.
Note: The dinner, held in the Sheraton Park Hotel, Washington, D.C., was sponsored by a committee consisting of Representative Joseph W. Martin, Jr., Chairman, Senator Barry Goldwater, Chairman of the Republican Senatorial Committee, Representative Richard M. Simpson, Chairman of the Republican Congressional Committee, and Lewis T. Breuninger, Chairman of the Republican Finance Committee of the District of Columbia. The actor, John Wayne, served as master of ceremonies.
Dwight D. Eisenhower, Remarks and Address at Testimonial Dinner Honoring Republicans in Congress Online by Gerhard Peters and John T. Woolley, The American Presidency Project https://www.presidency.ucsb.edu/node/234928