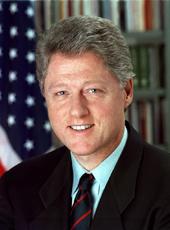 Remarks to American Troops at Aviano Air Base, Italy
The President. Thank you very much. Good morning.
Audience members. Good morning.
The President. I know it's early, but we can do better than that. Good morning. [Laughter]
Minister Corcione, Ambassador Bartholomew, our distinguished Italian hosts and guests, General Joulwan, General Ryan, Colonel Wald, Chief Myers, Colonel Moody, Aviano families, and to the men and women of Operation Decisive Edge. Let me begin by thanking the colonel for that fine welcome and thanking all of you for making me feel so welcome. I am very pleased finally to have a chance to come here to Aviano and to see you. And since it's so early, I may be more pleased to see you than you are to see me. But I'm glad you came out anyway.
I thank you for giving me the chance to meet you and to tell you how important and how appreciated your work is. What you and our allies are doing here and in Bosnia is the difference between a war that resumes and a peace that takes hold. You are giving people who have suffered so very much a chance to enjoy the blessings of a normal life. You are living up to the great traditions of the Armed Forces of the United States, protecting our Nation's interest by keeping a fire out that has threatened the heart of Europe's stability. On behalf of all the American people, I come here most of all to thank you for the superb job you are doing on this historic mission.
As you did in Operation Deny Flight and Operation Deliberate Force, the 31st Fighter Wing and all of the units here at Aviano, including the Guard and the Reserve, are showing in Operation Decisive Edge the professionalism, the skill, and the dedication that make America's military the greatest on Earth and make NATO a force for peace throughout Europe.
The American people know that the burden of America's leadership weighs heavily on you and on the families that are here. Many of you who are here have been a long way from home for a good long while. Others have just arrived. Because of the sacrifices you are making here and in the Balkans and the strength of the families that stand behind you, your country is able to stand up for its values and its interests.
I particularly want to thank Colonel Wald, who has done a tremendous job in commanding Aviano and the 31st Fighter Wing. America is proud of the way this base has met the challenge of this operation. He told me just before we came in here that he'd been here about 6 months, and the very first day he was on the job was one of the days that our bombing campaign was underway.
Today as a part of my visit here and in recognition of Colonel Wald's fine performance and his outstanding career over 25 years in the United States Air Force, I am pleased to promote him to brigadier general. [Applause] Colonel, it sounds like if we were doing this by popular opinion, I wouldn't stop there. [Laughter]
I would like to ask Mrs. Wald and their daughter, Marissa, to come up and stand with me. And I'd like to ask Mrs. Wald to help me as we put the stars on the general's shoulder.
General, our Nation and I look forward to many more years of your service. We thank you and congratulate you.
Let me say a special word of thanks to the Italian Defense Minister, Mr. Corcione, the Italian Government, and the people of Italy for the hospitality that all of them have shown our forces and for their help in coordinating this difficult operation. All of you know that all of our efforts over the last several years to contain the conflict in Bosnia, to deliver humanitarian aid, and in the end, to bring an end to it would not have been possible without the partnership of the Italian Government and the Italian people. And the United States is very grateful for it, and we thank you.
I also want to say a word of appreciation to all the other countries, especially those of our NATO allies participating in Decisive Edge. I know that distinguished units from Britain and Spain are here today. They, too, are playing a vital part in keeping our alliance strong and making sure this mission will succeed, and we thank them.
Men and women of Decisive Edge, let me say now, good luck and Godspeed. You are heroes for peace. Our Nation is very proud of you. And as long as you live, I hope you will always look back on this mission as something of historic importance and fundamental human decency.
Thank you. God bless you, and God bless America.
NOTE: The President spoke at 6:21 a.m. in Hangar One. In his remarks, he referred to Minister of Defense Domenico Corcione of Italy; U.S. Ambassador to Italy Reginald Bartholomew; Gen. George Joulwan, USA, Supreme Allied Commander, Europe; Gen. Michael Ryan, USAF, Commander, 5th Allied Tactical Air Forces; Col. Charles Wald, USAF, Commander, Aviano Air Base; Chief M. Sgt. Michael Myers, USAF, Senior Enlisted Adviser, 31st Fighter Wing; and Col. David L. Moody, USAF, Vice Commander, 31st Fighter Wing.
William J. Clinton, Remarks to American Troops at Aviano Air Base, Italy Online by Gerhard Peters and John T. Woolley, The American Presidency Project https://www.presidency.ucsb.edu/node/222497