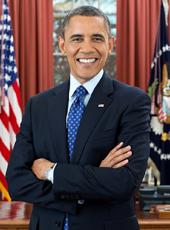 Remarks on an American Recovery and Reinvestment Plan in Bedford Heights, Ohio
I want to start by thanking the folks here at Cardinal Fastener for the tour you just gave me. The story of this company – which began building wind turbine parts just two years ago, and is now poised to make half its earnings that way – is that a renewable energy economy isn't some pie-in-the-sky, far-off future. It's happening all across America right now. It's providing alternatives to foreign oil now. It can create millions of additional jobs and entire new industries if we act right now.
The need for this action has never been more urgent. We've started this year in the midst of a crisis unlike any we've seen in our lifetime. Last month, we lost more than half a million jobs – a total of nearly 2.6 million in 2008. Another 3.4 million people who want and need full-time work have had to settle for part-time jobs. With each passing day, families here in Ohio and across America are watching their bills pile up and their savings disappear. And economists from across the spectrum tell us that if nothing is done, and we continue on our current path, this recession could linger for years – and America could lose the competitive edge that has served as the foundation for our strength and standing in the world.
It's not too late to change course – but only if we take dramatic action as soon as possible. The way I see it, the first job of my Administration is to put people back to work and get our economy working again. That's why I've moved quickly to work with my economic team and leaders of both parties on an American Recovery and Reinvestment Plan that will immediately jumpstart job creation and long-term growth. And I'm pleased that Congress has seen the urgency as well, and is moving quickly to consider such a plan.
It's a plan that will save or create three to four million jobs in businesses large and small across a wide range of industries – and 90 percent of these jobs will be in the private sector. And I want to be clear – we're not looking to create just any kind of jobs here. We're looking to create good jobs that pay well and won't be shipped overseas. Jobs that don't just put people to work in the short-term, but position our economy to be on the cutting edge in the long-term.
That starts with new, clean sources of energy. We know that the possibilities here are limitless. Here in Ohio and across America, we've seen old factories become new clean energy producers. We've seen entrepreneurs turning solar energy into electricity, and corn and soybeans into bio-fuels. Our scientists and engineers are hard at work developing cars that use less gas, homes and appliances that require less energy, schools and offices that are greener and more efficient than ever before.
But we also know that we are nowhere near realizing the full potential of their work. Take the example of wind power alone: I'm told that if we don't act now, because of the economic downturn, half of the wind projects planned for 2009 could wind up being abandoned. Think about that. Think about all the businesses that wouldn't come to be, all the jobs that wouldn't be created, all the clean energy we wouldn't produce.
And think of what's happening in countries like Spain, Germany and Japan, where they're making real investments in renewable energy. They're surging ahead of us, poised to take the lead in these new industries.
This isn't because they're smarter than us, or work harder than us, or are more innovative than we are. It's because their governments have harnessed their people's hard work and ingenuity with bold investments – investments that are paying off in good, high-wage jobs – jobs they won't lose to other countries.
There is no reason we can't do the same thing right here in America. That's why, as part of our Recovery and Reinvestment plan, we're committing to double the production of renewable energy in the next three years, and to modernize more than 75% of federal buildings and improve the energy efficiency of two million American homes.
In the process, we'll put nearly half a million people to work building wind turbines and solar panels; constructing fuel-efficient cars and buildings; and developing the new energy technologies that will lead to new jobs, more savings, and a cleaner, safer planet in the bargain.
Here at Cardinal Fastener, that could mean going from operating at 50 percent capacity to 90 percent capacity and creating even more good, made-in-America jobs right here in Ohio.
With our Recovery and Reinvestment Plan, we'll also create hundreds of thousands of jobs by improving health care – transitioning to a nationwide system of computerized medical records that won't just save money, but save lives by preventing deadly medical errors. And we'll create hundreds of thousands more jobs in education, equipping tens of thousands of schools with 21st century classrooms, labs and computers to help our kids compete with any worker in the world for any job.
We'll put nearly 400,000 people to work by repairing our infrastructure – our crumbling roads, bridges and schools. And we'll build the new infrastructure we need to succeed in this new century, investing in science and technology, and laying down miles of new broadband lines so that businesses across our nation can compete with their counterparts around the world.
Finally, we won't just create jobs, we'll also provide help for those who've lost theirs, and for states and families who've been hardest-hit by this recession. That means bi-partisan extensions of unemployment insurance and health care coverage; a $1,000 tax cut for 95 percent of working families; and assistance to help states avoid harmful budget cuts in essential services like police, fire, education and health care.
Now, given the magnitude of the challenges we face, none of this will come easy. Recovery won't happen overnight, and it's likely that, even with these measures, things will get worse before they get better.
But if anyone doubts that we can dig ourselves out of this hole, I invite them to come here to Ohio and look what you've done at Cardinal Fastener. I know it hasn't been easy – and it hasn't been without risk. But you've set your sights on the future, and you haven't looked back. In an economy that's losing jobs, you're creating them. And they're the kind of jobs that don't just support families and sustain communities – but also help transform our economy, spurring growth not just today, but for decades to come.
That's what we've always done in moments like this. We've looked ahead to the next big idea, that next new breakthrough. We've experimented and innovated, and when we've failed, we've picked ourselves up and tried again. And I know that if we can summon that determination and that great American spirit once again, we will meet the challenges of our time and build a better future for our children.
Barack Obama, Remarks on an American Recovery and Reinvestment Plan in Bedford Heights, Ohio Online by Gerhard Peters and John T. Woolley, The American Presidency Project https://www.presidency.ucsb.edu/node/285872