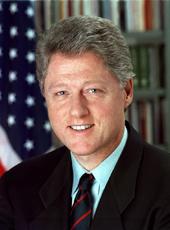 Remarks at an American Ireland Fund Dinner
President Glucksman, Mr. Aikins, Senator Mitchell, members of the administration and Congress who are here, and our distinguished Ambassadors of the United States to Ireland and Ireland to the United States. To all the leaders of the parties from Northern Ireland who are here; Secretary Mandelson; and in his absence, from his video, I would also say I very much appreciate what Tony Blair said earlier. And most of all, to you, Taoiseach, I thank you. I thank you for the award, and I thank the American Ireland Fund for all it has done for peace and progress in Ireland.
And I want to say that this is about the most beautiful piece of Irish crystal I've ever seen. It also bears, as my wife said, a remarkable resemblance to a golf ball. [Laughter] And it is only for that reason, and because he does not play, that I do not feel constrained to let it reside for half a year with George Mitchell— [laughter]—to whom we are all profoundly indebted.
You know, basically, I don't believe that Presidents should get awards. The job itself is reward enough. But I'm honored and pleased to have this one, because, for me, the work for peace that I have done and our administration—Hillary, through the Vital Voices networks—it's been a labor of love at all hours of the day and night and through many months of frustration, through all of the efforts I've made just to understand, sometimes, the fights which seem to me to be inexplicable.
So much has been accomplished in the last 2 years especially, but really over the last almost 8 years. At the moment, we wish that the institutions were up, not down; we wish that everybody was in agreement, not feeling frustrated; but we must never forget that the ceasefires now are measured in years, not weeks, that people now shop in their downtowns without fear of bombs going off, that the gradual return to normal life was again reflected today in the announcement of the British Government that further troops will be redeployed for duty outside Northern Ireland, leaving no army battalion resident in Belfast for the first time in 31 years.
More than 300 prisoners from both sides have been released. Human rights and equality commissions have been formed. Police reform is underway, and we are looking forward to the reform of the criminal justice system. A peace dividend has begun to take hold in Northern Ireland's economy: more people employed there than ever before, unemployment the lowest in 20 years. tourists up by 11 percent last year alone, American visitors doubling in the last decade, rising investment in trade, an economy becoming as modern as that of her Irish and British counterparts.
I am very proud of the role the United States has played in this economic rebirth as well. The International Fund for Ireland, to which we are the largest donor, has leveraged a billion and a half dollars of direct investment, helping to create over 30,000 jobs. The Walsh visa program will bring thousands of young Irish men and women to the United States for education and training, especially in high-tech areas. Our new microlending program, Aspire, is inspiring small business and entrepreneurs at a rapid rate.
And as the Taoiseach said, a year ago at this time, the people of Northern Ireland did not enjoy self-rule. Last year, the assembly was established, the executives, the bodies were put to work, and lo and behold, the Irish were pretty good at self-government in the North as well. Ministers from both sides met together, worked together, took care of constituents together, made mistakes together and learned together, just the sort of thing democratic governments ought to do everywhere. They were successfully tackling some of their toughest shared problems and building structures for cross-border cooperation with the Irish Republic.
Now what? Well, we must begin by respecting the will of the people. After all, they voted in record numbers not for stalemate and delay but for progress and peace. The threat of violence from whatever source must be removed forever from Northern Ireland's politics, clearly and unequivocally.
At the same time, the people have the right to expect their leaders, with the support of the Irish and British Governments, to show vision and good will, to come together to establish a basis upon which the new institutions can be restored and the Good Friday accord can be implemented in full, just as the people voted.
The United States and all the friends of peace must do all we can to assist, to honor the heroic efforts of Senator Mitchell, to reaffirm our lasting pledge that so long as the people of Northern Ireland walk the road of peace, we will walk with you. Tomorrow at the White House I will be discussing this with the parties and listening and working for an answer.
The last century began with bloodshed across Ireland, and across the United States in our cities, signs that read, "No Irish need apply." This one begins with the best hope for Irish peace in our lifetimes and with Irish and Americans of every background gathered in Washington to rejoice in Ireland's rich contributions to America's national life.
I don't know that I've had so much to do with this, the progress that has been made. Tonight I am more burdened by the fact that I have not found an answer for the present stalemate. But I will say this: I have loved Ireland. My wife and my daughter have loved Ireland, North and South. We love the music, the dance, the language, the land.
If Mr. Yeats was right when he said, "Our glory begins and ends in our friends," I can say truly, I have simply tried to be a friend. But as a friend who, unlike Taoiseach here, has a term limit and, therefore, who no longer has to stand for election, I must honestly say that I have spent an enormous amount of time as President comforting the victims of violence, mostly Americans, the people who died in Croatia trying to help overcome ethnic and religious hatred in the Balkans, the people who died in a terrorist bombing in the Middle East trying to help the people of that land and region find a different way, Irish victims of the Omagh bombing, the children's families who died in the school shootings in America, and on and on.
And I have spent a great deal of time trying to decide exactly what it is that makes people define the meaning of their lives in terms of their difference—their religion, their racial, their ethnic, their tribal differences—and how those differences come to be magnified in our minds along with the accumulated grievances of past wrongs, so that we are paralyzed to turn the clenched fist into the open hand, and how even when we start—and what a start we have made in Ireland—it is just hard to go on and easy to stop.
I must confess, as your friend, I still do not know the answer to these things. But I do know that life is fleeting, and opportunities come and also go. We have the chance of a lifetime here. You have done it—all of you, the Irish parties, have done this. The British have done it. We Americans, we've just been friends. But good friends tell each other the truth, the loving truth. Whatever the differences, it's not worth another life—not one. It's not worth another day's delay, much less a year. We're all just passing through this old world with an amount of time which we know not.
We're really happy and proud to be here tonight because we sense that good things have happened because people rose above their fears, their hatred, their honest wounds, their deep scars, to give a better future to their children. They're still out there, and they're still waiting. We have to find a way to put this back on track. And if we do, everyone will win. And that beautiful crystal piece there, it'll be a crystal ball, showing a way to our children's tomorrow.
Thank you, and God bless you.
NOTE: The President spoke at 9:42 p.m. in the Center Hall at the National Building Museum. In his remarks, he referred to Loretta Brennan Glucksman, president, and Kingsley Aikins, executive director, American Ireland Fund; former Senator George J. Mitchell, who chaired the multiparty talks in Northern Ireland; U.S. Ambassador to Ireland Michael J. Sullivan; Irish Ambassador Sean O'hUiginn; Secretary of State for Northern Ireland Peter Mandelson and Prime Minister Tony Blair of the United Kingdom; and Prime Minister Bertie Ahern of Ireland. Prior to his remarks the President received the American Ireland Fund's Millennium Peace Award.
William J. Clinton, Remarks at an American Ireland Fund Dinner Online by Gerhard Peters and John T. Woolley, The American Presidency Project https://www.presidency.ucsb.edu/node/227612