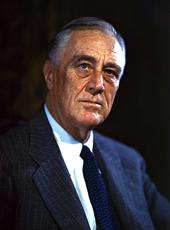 Remarks at Alabama Polytechnic Institute. Auburn, Alabama.
My friends of Auburn:
You are near neighbors of mine for, from the top of the hill behind my cottage at Warm Springs, I can see into Alabama. I am glad to come here. My contacts with Auburn in the past have been the famous football games held every autumn in Columbus and in those games I have to exercise very strict neutrality.
I am glad to come here and see the work that is being done. Last December I had a grave problem with the Senator and the Congressman as to whether we could get in under the line-get work started before that fateful January 1st-and I am told that the dirt did begin to fly and that the buildings are therefore entirely constitutional and legal.
I had an experience that did not go quite so well with the University of Alabama. Two years before, the President of the University came to Washington to thank me very much for some P.W.A. money that had been allocated for two dormitories to replace the old dormitories that were unsafe. The law at that time provided that we could only use these grants to aid State institutions to replace buildings that had fallen down or were burned down. The President of the University thanked me for the dormitories but, with tears in his eyes, said, "Mr. President, why didn't you give us the new library too?" I said, "But the application did not say anything about an old library which had either fallen down or burned down."
He said, "Mr. President, our library did burn down." I said, "When?" And he said, "In '64. General Sherman came our way." I believe we stretched the point and went back three-quarters of a century to the date of the arson, and gave him a new library.
Driving over here from Tuskegee, I have been talking with your Governor and the Senator and the Congressman from this district about land. I have been horrified, as I always am horrified, at all that needs to be done in the future to conserve the soil of the South. That is one of the great problems that lies with this generation and with you of the coming generation. That is part of the necessary economy if the South is to survive. But it is tied up with other needs as well, and perhaps I can illustrate by telling you of my first experience with the agriculture of the South.
The first year I went to Warm Springs, fifteen, nearly sixteen years ago, I had a little cottage that was about a thousand feet from the old A. B. & A. tracks. The first night, the second night and the third night I was awakened out of a deep sleep by the sound of a very heavy train going through at pretty high speed and, as it went through town, the whistle blew and woke everybody up. So I went down to the station and said to the station-master, "What is that train that makes so much noise and why does it have to whistle at half past one in the morning?" "Oh," he said, "the fireman has a girl in town."
I asked him what that train was and he said, "That is the milk train for Florida." Well, I assumed of course, knowing that the climate of Florida, especially South Florida, is not very conducive to dairy purposes, that this train on the A. B. & A. contained milk and cream from Alabama and Georgia. I was wrong. That milk and cream for Florida came from Wisconsin, Minnesota, Iowa and Illinois and was taken through all the intervening States of Indiana, Ohio, Kentucky, Tennessee, Alabama and Georgia in order to supply milk and cream and butter for Florida.
That gave me a feeling that something was wrong with the agricultural economy of these States of the lower South, because you and I know from what we have been taught and from the experiments that have been made that these States can produce perfectly good milk and cream.
A little while later I went down to the village to buy some apples. Mind you, this place is only 75 miles from here. I knew of the magnificent apples raised at the southern end of the Appalachian System. I had tasted them; no apples in the world were better. Yet the apples in Meriwether County, Georgia, the only ones I could find, came from Washington and Oregon.
I went to buy meat—and I know that we can make pastures in these States—and the only meat that I could buy came via Omaha and Kansas City and Chicago.
I wanted to buy a pair of shoes and the only shoes I could buy had been made in Boston or Binghamton, New York, or St. Louis.
Well, that was fifteen years ago, and there wasn't very much change in that system of economy until about six years ago. It was then we began to ask ourselves, "Why is all this necessary?" I think that we have done more in those six years than in the previous sixty years all through these southern States to make them self-supporting and to give them a balanced economy that will spell a higher wage scale, a greater purchasing power and a more abundant life than they have had in all their history.
It means a lot of work. It means, incidentally, getting the South "out of hock" to the North. It means establishing your own enterprises down here with your own capital. I don't believe that the South is so broke that it cannot put its own capital into the establishment of its own enterprises.
You young men and women who go through Auburn and go out into every county in this State have a great responsibility, not only to put into practice what you have learned here but also to try to devise new methods, new means—experiments, if you like- in order to improve the conditions during your own lifetime. I believe you can do it because you are getting the fundamentals, the essential training, that will give you the personal capacity to use your imagination. We shall never get anywhere until we do more and more of that.
I have been called an imaginative person, an experimenter, a seeker of new ideals and, generally, when I have been called that, I have been called something else that does not sound so good. I believe that this country is going somewhere but it must depend for its future progress and prosperity very largely on the younger generation, the people under thirty, the people who have American ideals and are not afraid of trying new things.
I should like to live long enough to see soil erosion completely stopped in this State and a lot of other States. I should like to live long enough to see the products of factories supplying local needs, State needs. I hope to be able to come back to this State and to the State of Georgia before I die and see at least a part of that ideal come true. For the achievement of that ideal you are going to be responsible in large part.
I am glad to have been with you here today and next fall I shall—well, perhaps I shall lean a little bit more toward Auburn than I have before.
Franklin D. Roosevelt, Remarks at Alabama Polytechnic Institute. Auburn, Alabama. Online by Gerhard Peters and John T. Woolley, The American Presidency Project https://www.presidency.ucsb.edu/node/209488