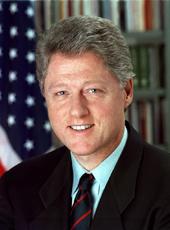 Remarks on Adjournment of the Congress
Good morning. The closing gavel has come down now on the 105th Congress, and I want to take a moment to discuss what we've done and the unfinished, vital business that still remains.
Just a few moments ago, I was pleased to sign into law important legislation requested by my administration to encourage States and to help them to open more innovative, independent public charter schools and to hold these schools strictly accountable for results. This will make sure that other public schools can actually learn from the best of these charter schools. That is the right way to strengthen our public schools.
When I took office in 1993, there was only one charter school actually operating in America. Now there are 1,000, many of them helped by previous administration-supported legislation. This legislation puts us well on our way to creating 3,000 charter schools by the year 2000.
On charter schools, Congress did put progress over partisanship. But on too many other issues, Congress has left town and left the work of the American people behind. This Congress' failure to act in many areas has had real costs for our families. Partisanship killed my proposal to use tax cuts, fully paid for in the balanced budget, to build or modernize 5,000 schools. Partisanship killed the Patients' Bill of Rights, which would guarantee your right to see a specialist, to medical privacy, to the nearest emergency care, to keep your doctor during the course of treatment, to have medical decisions made by doctors, not insurance company accountants. Partisanship killed tough legislation to crack down on teen smoking, even as teen smoking continues to rise and is the number one public health problem our young people face. Partisanship killed an increase in the minimum wage, which would give a much needed pay raise to our hardest pressed working families. Partisanship killed our best chance in years for tough campaign finance reform. And partisanship blocked our efforts to make child care more affordable for working families.
The American people deserve better. I hope when the next Congress convenes, it will put progress ahead of partisanship in a way that this Congress has not done.
Wye River Middle East Peace Talks
Now I am returning to the Middle East talks on the Eastern Shore of Maryland. The hardest decisions now, at last, are on the table. Israel, the Palestinians, the region, and the world have very much at stake today. I hope the parties will seize this opportunity and not retreat from the clear moment to capture the momentum of peace and keep it moving forward.
NOTE: The President spoke at 8:55 a.m. on the South Lawn at the White House, prior to his departure for the Wye River Middle East peace talks. The 105th Congress adjourned sine die on October 21. H.R. 2616, the Charter School Expansion Act of 1998, approved October 22, was assigned Public Law No. 105-278.
William J. Clinton, Remarks on Adjournment of the Congress Online by Gerhard Peters and John T. Woolley, The American Presidency Project https://www.presidency.ucsb.edu/node/225118