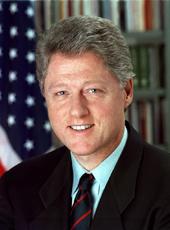 Remarks on Action To Protect Pension Programs
Thank you very much, Marian Jones, for that fine introduction. Acting Secretary Metzler, Secretary Daley, thank you for your good work at the Pension Benefit Guaranty Corporation.
I'd like to welcome Congressman Pomeroy and former Congressman Jake Pickle, from Texas, who had so much to do with the success of our administration's endeavors in this area; AFL-CIO President John Sweeney; the Acting Director of the Pension Benefit Guaranty Corporation, John Seal; Olena Berg, from the Department of Labor. And I'd also like to thank all the other members of the Department of Labor who are here today for the work that you have done in this and in so many other areas. And I'd like to acknowledge that we have two Department of Labor alumni, at least two, at least—maybe three—working in the White House; Ann Lewis and Maria Echaveste have just come there, and we're thankful for that.
Since we're having the annual Easter egg roll at the White House today, I didn't know if anyone would be here when I showed up— [laughter]—but I do appreciate your coming.
As Cynthia Metzler has said, the Department of Labor has done a remarkable job in the last 4 years in advocating for the interests of working people and their families and their future. I am confident that Secretary-designate Alexis Herman and her future Deputy, Kitty Higgins, both of whom have strong roots at the Department of Labor, will build on that record when they're confirmed.
We know that one of our biggest challenges moving into the 21st century is to help people to build strong work lives and strong family lives and to do that in a time when the labor force is ever more dynamic. One of the critical elements of the success of that endeavor must be to make sure that the pension dollars Americans work so hard to build throughout their working lives are there when they need them.
First of all, we have to have a strong economy. With 4 years of growth, we have done that. A strategy of investing in our people, reducing the deficit, and expanding trade is working. Our country has produced more than 11.7 million new jobs. Unemployment is low. Wages are beginning to rise. And you see it in so many other ways. That's having a helpful impact on our efforts to reduce the welfare rolls, down by over a 2.25 million, the largest drop in American history. It's very helpful in the efforts that law enforcement community leaders have undertaken to reduce crime, which has been going down several years in a row now.
There is a new spirit of community and possibility in this country, but it all begins with giving people the ability to succeed at home as parents and in the workplace. That's why things like the family and medical leave law, the minimum wage law, the passage of the Kennedy-Kassebaum health reform bill were so important and why we have to do more of that.
Last year, especially, I am proud of the work we did to raise the minimum wage and to put in place new measures to expand pension coverage, to increase pension portability, to protect workers' pensions. We made it easier for small businesses to offer pension plans by creating a new small business 401(k) plan. We made it possible for more Americans to keep their pensions when they change jobs without having to wait before they can start saving at their new jobs.
And you and I know that when it comes to securing the benefits of pensions, no organization has done more than the Pension Benefit Guaranty Corporation, the agency that guarantees traditional pension plans.
Just before I came here today, I read an article which appeared in one of our major newspapers in December of 1992, chronicling the dire straits of the Pension Benefit Guaranty Corporation, talking about what a great financial crisis it had. When I took office, it was facing a $3 billion deficit. Millions of Americans' pensions were in jeopardy. Literally millions and millions of Americans' pensions were in jeopardy.
Thanks to the actions of the last 4 years, the Corporation has made a remarkable recovery. The passage of the Retirement Protection Act of 1994, legislation we all worked so hard for, helped to make retirement more secure, literally for 40 million Americans. Today I am pleased to announce that the Pension Benefit Guaranty Corporation has gone for the first time in its 22-year history from being in the red to being in the black. It has the first surplus ever—that's what this chart means—last year. So you can see from 1976 to the dropping point in '92 and '93—look what's been done in just 4 short years. To every single one of you who's been involved in that, you should be very, very proud.
Let me say, when I look at that chart it is a bittersweet experience for me, because a great deal of the credit for turning the Pension Benefit Guaranty Corporation around goes to my friend, the late Marty Slate. Hillary and I first met him—well, she knew him before, but I first met him when we were in Yale law school together. He spent almost his whole life working to make sure that our laws were fair and applied justly. We saw him put that commitment on the line time after time, as a freedom rider in the South, as a visionary creating a scholarship program for minority lawyers at the IRS, as a dear friend in so many ways. Marty Slate was the quintessential public servant. I'm proud that I appointed him to direct the Pension Benefit Guaranty Corporation in its hour of crisis and need. It's one of the best decisions that I have made as President. Thanks to him, millions of workers like Marian here can sleep better at night knowing their pensions are safe and secure. I really wanted to have a chance to say that one more time in public, and I'd like to thank Marty's wife, Cookie, for being here today. Thank you, and God bless you.
We have made great strides in protecting the pensions of a growing number of workers who are now saving for their own retirement in 401(k) plans. While the vast majority of those plans are safe, we've stepped up our enforcement against employers who spend or borrow their employees' pension contributions. In just 2 years, the Pension and Welfare Benefits Administration 401(k) enforcement project has recovered over $20 million for more than 40,000 employees.
New rules we've put in place for faster deposit of 401(k) contributions will result in increased earnings—listen to this—increased earnings just by faster deposit, averaging $70 million a year over the next 10 years to stabilize the pension plans and benefit the workers who are saving.
But we have to do more. We're going back to Congress this year with a proposal that didn't quite make it into law last year, reforms that will ensure that our pensions are audited thoroughly. The audit reform proposal will do three things. First, it will address the fact that, today, more than $950 billion in pension plans assets are not meaningfully audited, leaving more than 22 million workers in the dark about the health of their pensions. Our proposal closes the loophole that permits these cursory audits. Second, it will require prompt reporting if criminal acts are discovered during an audit. And third, it will assure that only qualified professionals conduct audits of ERISA plans. I urge Congress to pass the audit reform this year so that our workers can have the peace of mind they deserve.
Finally, we are putting more power for protecting pensions in the hands of employees themselves. Today the Labor Department is activating a toll-free pension hotline that workers can call to get publications about their rights and to help them identify the early warning signs of pension problems. The toll-free number is 1-800-998-7542. I love to do this. [Laughter] That's 1-800—[laughter]—998-7542.
All the steps we announced today—getting the Pension Benefit Guaranty Corporation in the black, fighting for audit reform, and giving employees better tools to protect their pensions— are part of our overall commitment to achieving basic retirement security for America's working families. Our people deserve to know that if they work hard throughout their lives, the money they work for and that they saved is not being squandered or left unprotected.
Thomas Jefferson once said, "In matters of style, swim with the current. In matters of principle, stand like a rock." Today we affirm our common commitment to stand like a rock for our working families and their right to a secure retirement they have saved for, paid for, and earned.
Thank you all very much.
NOTE: The President spoke at 1:54 p.m. in Room 450 of the Old Executive Office Building. In his remarks, he referred to Marian Jones, employee, Anchor Glass Container Co., Salem, NJ, and glass workers union local president; and Acting Secretary of Labor Cynthia Metzler.
William J. Clinton, Remarks on Action To Protect Pension Programs Online by Gerhard Peters and John T. Woolley, The American Presidency Project https://www.presidency.ucsb.edu/node/224495