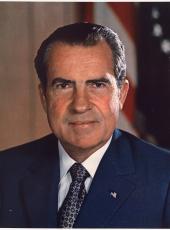 Remarks at a 75th Birthday Celebration Dinner Honoring Mamie Doud Eisenhower.
I KNOW that at this particular moment that everybody is rather waiting for somebody to leave. And since I understand nobody can leave apparently until we leave, I didn't want this opportunity to pass without speaking for all of this audience to thank those who have entertained us tonight so wonderfully.
I was trying, of course, to get my speech ready, but Julie wrote it, and the alphabet just was too difficult. And so, I will ad lib this one or "wing it" as they say.
First, to the women in radio and television, this is a great night for all of you. We are, all of us, I think, appreciative of the fact that you have honored Mrs. Eisenhower in a way that I know the General would particularly appreciate. And I think all of us who are your guests want to congratulate those who have built a great profession in the field of radio and television, the women in radio and television. To all of you our congratulations and our thanks.
Second, to those who have participated in the program, they are all here on the stage, but let me say that I came with Mrs. Nixon farther than anybody else, 5,000 miles. I just love to come and see some celebrities, believe me. [Laughter]
I think all of us collectively want to recognize Ray Bolger, Ethel Merman, "Private" [Red] Skelton, and, of course, Lawrence Welk. Let's give them all a hand now.
And the great Cadet chorus [West Point Glee Club].
And as soon as they are released from the service, Lawrence Welk's orchestra.1
1 The President was referring to the Marine Band, under the direction of Lawrence Welk.
And then just one thought for Mrs. Eisenhower. I think, first, on a serious note that the General perhaps would have most deeply appreciated the fact that she was honored in this way with the scholarship fund for Eisenhower College to go to all of the 50 States and that this will play a great part in providing that.
And second, to think of something that would be appropriate to say about her. It was said so eloquently in the presentation of the Military Wife of the Century,2 I think perhaps I could put it in somewhat of a different context, and even an almost personal one in this sense.
2 The Military Wife of the Century Award was presented to Mrs. Eisenhower at the dinner by Alfred J. Stokely, president, Stokely-Van Camp, Inc., as part of the annual Military Wife of the Year awards program, a worldwide effort to honor wives of servicemen who are active in volunteer work.
We often think of men in battle-whether it is in the battle of war or the battles of peace, in the battles of politics, whatever the case might be, the competition-as being the ones that have the difficult time, those that are the strong men, and so forth. As many of you who have heard me discuss this on occasion know, I do not feel that way. The man is in the arena and he is in there fighting and he is battling and so forth, and the one that really has to be strong is his wife, the woman, who sometimes has to suffer when he is having reverses or stand by him when he is going through difficulties.
Let me say in that respect: All of us know we have enormous respect for those women in our country who enter the processions, these excellent, these certainly superb examples here of women in radio and television, who can compete with anybody. There isn't any question about that. I see the Attorney General here. Let me say a woman can compete with anybody on the Court, too, but let him decide that. [Laughter]
But, let us also recognize that in the very highest sense, the wife, the role of a woman as a wife, as a mother, is also a very great profession. And I think Mrs. Eisenhower, in the over 50 years that she was the wife of General Eisenhower, so well illustrated that.
And then in this personal note. I did not know her well--until the year '55-- then I knew her very well. I flew to Denver then. The General had a heart attack. I talked to her, and I saw her stand by him, stand with him, comfort him, bring his spirit up. I saw her again when he had a stroke. It was a difficult time for him, but she was strong. She gave him the strength that he needed and, of course, added to the great strength that he already had. And then I saw her, too, in those last days, when there was never a time she was not by his side.
A woman, of course, is always proud when she can stand by her husband when he is on top, when he is winning, when things are going well. But when it really matters, when a woman really demonstrates that she is a great lady is when, like Mamie Eisenhower, she stands by her husband when he is going through those difficult days.
And so tonight, I am very honored on behalf of all of you, to wish her "Happy Birthday" and to congratulate her for being the great lady she has been through all these years.
Note: The President spoke at 11:35 p.m. in the International Ballroom at the Washington Hilton Hotel.
The dinner was sponsored by American Women in Radio and Television for the benefit of establishing the Mamie Doud Eisenhower Scholarship Fund at Eisenhower College, Seneca Falls, N.Y.
Richard Nixon, Remarks at a 75th Birthday Celebration Dinner Honoring Mamie Doud Eisenhower. Online by Gerhard Peters and John T. Woolley, The American Presidency Project https://www.presidency.ucsb.edu/node/240899