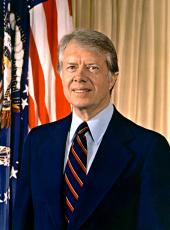 Regional Commissions Nomination of the Federal Cochairmen of Eight Regional Commissions.
The President today announced the persons whom he will nominate as Federal cochairmen of eight regional commissions. They are:
Cristobal P. Aldrete, of McLean, Va., to be Federal Cochairman of the Southwest Border Regional Commission. Aldrete was born January 16, 1924, in Del Rio, Tex. He received an LL.B. from South Texas College of Law in 1951. From 1951 to 1965, Aldrete practiced law in Texas. He was Regional Administrator of Community Action Programs for the Office of Economic Opportunity, in Austin, from 1965 to 1967. He served as special assistant to the Chairman of the Democratic National Committee in 1967 and 1968, and was national executive director of "Viva Humphrey," a campaign appealing to Spanish-speaking Americans, during 1968.
In 1968 Aldrete also served as Assistant Executive Director for Legislative and Legal Affairs at the Cabinet Committee on Opportunities for the Spanish-Speaking. In 1969 and 1970, he was administrative assistant to Representative Abraham Kazen, Jr., of Texas. He was deputy campaign manager for Lloyd Bentsen's Senate campaign in 1970 and has worked for Senator Bentsen since 1971, as legislative assistant during 1971 and executive assistant since then.
Claud Anderson, of Tallahassee, Fla., to be Federal Cochairman of the .Coastal Plains Regional Commission. Anderson was born September 1, 1935, in McCormick, S.C. He received a B.S. ( 1961 ), M.S. (1966), and Ph.D. (1970) from Wayne State University. From 1961 to 1970, Anderson was a teacher in the Detroit public school system. He also worked part-time as a counselor at Wayne County Community College from 1967 to 1969 and as an instructor at Highland Park College from 1967 to 1970. In 1967 he served as a research investigator in Detroit under the Safe Street and Crime Act, and in 1968 he was an administrative assistant with the Detroit Police Department. In 1969 he was assistant principal at Moore School for Socially Maladjusted Boys, in Detroit. In 1970-71 Anderson was a professor of educational sociology at Florida A&M University and Florida State University. Since 1971 he has been adviser and education coordinator in the office of the Governor of Florida. Anderson was named Black Educator of the Year by the Black Women's Political Caucus in 1975. He has had several articles published and made numerous speeches on education.
F. Kenneth Baskette, Jr., of Denver, Colo., to be Federal Cochairman of the Four Corners Regional Commission. Baskette was born October 17, 1940, in Alamosa, Colo. He received a B.A. (1963) and M.A. (1968) in political science from the University of Colorado. In 1968 and 1969, Baskette was a staff analyst for the Colorado Committee on Government Efficiency and Economy. From 1969 to 1971, he was a management analyst for the city and county of Denver. He was executive director of the Colorado Rural Development Commission from 1971 to 1973, and assistant director of the Colorado Division of Planning and coordinator of the Colorado Office of Rural Development from 1973 to 1975. Since that time he has been assistant director of the Department of Local Affairs and coordinator of the Office of Rural Development.
William R. Bechtel, of Madison, Wis., to be Federal Cochairman of the Upper Great Lakes Regional Commission. Bechtel was born September 19, 1923, in Superior, Wis. He received a B.A. from the University of Wisconsin in 1947. Bechtel was a reporter for the Grant County Independent from 1947 to 1950, and for the Milwaukee Journal Reporter from 1950 to 1957. From 1957 to 1963, he was State capitol bureau chief for the Milwaukee Journal. From 1963 to 1969, Bechtel was administrative assistant to U.S. Senator Gaylord Nelson, and from 1969 to 1971 he was staff director of the U.S. Senate Subcommittee on Employment, Manpower and Poverty. Since 1974 he has been secretary of the Wisconsin Department of Local Affairs and Development, and since 1976 he has been executive director of the State Manpower Planning Council.
Patsy Ann Danner, of Kansas City, Mo., to be Federal Cochairman of the Ozarks Regional Commission. Ms. Danner was born January 13, 1934, in Louisville, Ky. She received a B.A. from Missouri State University in 1972. She worked on Jerry Litton's Campaign for Congress in 1972 as Clay County chairman. From 1973 to 1976, she was Litton's district assistant, running his district office and coordinating the town forum programs. In 1976 Danner ran for the U.S. House of Representatives and finished second in a field of seven. She worked for the Carter campaign in Kentucky in 1976.
J. Joseph Grandmaison, of Nashua, N.H., to be Federal Cochairman of the New England Regional Commission. Grandmaison was born May 19, 1943, in Nashua, N.H. He received a diploma from Burdett College in 1963. From 1961 to 1966, he was assistant credit manager at Sears, Roebuck & Co., in Nashua, and from 1966 to 1971, he was assistant to the president of Consolidated Foods there. In 1971 and 1972, he worked on George McGovern's presidential campaign, directing the New Hampshire primary effort and the New York State campaign during the general election. In 1973 Grandmaison was deputy director of the Democratic Charter Commission, and in 1973 and 1974 he was campaign director for Michael Dukakis' gubernatorial campaign. During 1975 he served as director of Federal-State relations for the Commonwealth of Massachusetts until August, and then as campaign director for John Durkin's senatorial campaign and administrative assistant to Senator Durkin. In early 1976, Grandmaison was a Harvard Fellow at the Kennedy Institute of Politics and a presidential primaries analyst for WBZ-TV in Boston. In the fall of 1976, he was the Democratic nominee for the U.S. House of Representatives for New Hampshire's Second Congressional District.
George D. McCarthy, of Washington, D.C., to be Federal Cochairman of the Old West Regional Commission. McCarthy was born April 3, 1923, in Butte, Mont. He received a B.S. from Montana Tech in 1947. From 1947 to 1961, he was president of McCarthy Engineering Co., and McCarthy War Surplus, Army-Navy Stores. In 1949 and 1950, he was assistant city engineer in Butte, and from 1950 to 1961, he was county engineer for Silver Bow County, Mont. In 1961 McCarthy was deputy assistant director of the Office of Civil Defense Mobilization, and from 1961 to 1964, he was Director of the National Fallout Shelter Survey of the Office of the Secretary of Defense. From 1964 to 1966, he was Director of the Engineering Services Division in the Office of the Secretary of the Army, and for part of that time he was detailed to the Presidential Task Force on Poverty. From 1966 to 1968, he was Assistant Director for Congressional Relations in the Office of Economic Opportunity. In 1968 and 1969, McCarthy worked on congressional relations for the Department of Transportation. He was Federal/State coordinator in the Office of the Governor of Montana from 1969 to 1972 and Executive Director of the Old West Regional Commission from 1972 to 1973. Since 1973 .he has been program coordinator for the Old West Regional Commission.
Patrick J. Vaughan, of Boise, Idaho, to be Federal Cochairman of the Pacific Northwest Regional Commission. Vaughan was born March 17, 1929, in Dodge City, Kans. He received a B.A. from the College of Idaho in 1953 and an M.A. from Boise State University in 1975. From 1953 to 1955, he was a management trainee with the Idaho First National Bank in Boise. From 1955 to 1961, he was city treasurer and purchasing agent for the city of Boise. He served as administrative assistant to the executive secretary of the Idaho Medical Association from 1961 to 1964 and as director of advertising and public relations for Blue Cross of Idaho from 1964 to 1968. From 1968 to 1970, he was administrative assistant to the executive vice president of the Idaho Foundation for Medicine and Biology.
Vaughan was director of economic development for the Western Idaho Community Action Agency from 1970 to 1971. From 1971 to 1972, he was program coordinator for the Department of Special Services of the State of Idaho. From 1972 until 1977, he was special assistant to Governor Cecil Andrus, and since 1972 he has been alternate and program director for the Pacific Northwest Regional Commission.
Jimmy Carter, Regional Commissions Nomination of the Federal Cochairmen of Eight Regional Commissions. Online by Gerhard Peters and John T. Woolley, The American Presidency Project https://www.presidency.ucsb.edu/node/243530