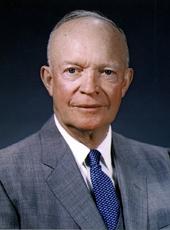 Recorded Summary of Address to the American People on the National Security and Its Costs
I HAVE JUST finished talking, ladies and gentlemen, to the American people on two of the important problems that beset us all today. They involve the budget--our fiscal problems on the one hand--and on the other hand the problems of national security.
Now, when we take these two problems together we get into the question that involves the deepest kind of concern on the part of your Government and should indeed on the part of all of us because on the one hand we have the great burden of taxes that plague us, getting dangerously close to the point where they stifle the initiative and the enterprise of the American worker and businessman, and on the other hand, we have national security with its great and tremendous costs on the Government and on this nation.
Now, I should like first to tell you of the spirit--the attitude-- in which I approach this problem of national security. I believe the American people are proud of and worthy of the traditions they have inherited from their founding fathers. Among those traditions is their memory of one great patriot, Patrick Henry. Do you remember what he said?--"I know not what others may do, but as for me--Give me Liberty or give me Death."
Now, I think that a people who still revere a man that could talk that way are going to throw completely out all of those croakers who now say, "Oh, yes, we like liberty. Give us liberty if it doesn't cost us more than fifteen percent of our income." I think the American people will have nothing to do with that kind of talk but because they are ready to make the sacrifices that mean security for this country of ours they are entitled to the confidence that their Government is spending their money with the greatest concern for its drain upon the pocketbook--the tax drain upon their pocketbook. So--what we are trying to do today is to find a program of security that costs the least and then through the most earnest kind of care to abolish duplication and luxury from expenditures to minimize your cost to you.
In my talk I expressed a bit of what we might call the Administration's philosophy of defense. In the first place, we all understand that democracy does not prepare for aggressive war. It has no intention of going to war if that can possibly be helped and still preserve our liberties. Consequently we don't look toward a possible emergency as just some moment of greatest danger. We realize that we are living in an age of danger and we must so conduct our affairs that we can live through that age of danger.
Now, part of our philosophy is this: We do not intend to become a garrison state. We do not intend to impose rigid controls over everything that the American people do--their production, their going into uniform, their living, their thinking, their talking--not at all. We expect to live as a free state, which means that we must develop a program that can, under the general practice of a free economy, carry the security burden for a long, long time if that is necessary, and we will do it without complaining because we prize our freedoms that highly.
Now, in making all of the economies that are possible it is necessary that we concentrate on that which is vitally necessary and tend to put into second place, and even to eliminate where we can, those things which are merely desirable. This, in view, we are concentrating largely on air power--air power not only in the American Air Force but in the Navy arm which absorbs more than half of the appropriations made for the Navy. Indeed, for all of the great costs for national security we find that we put more than sixty cents out of every dollar into air power. That is the measure in which we are concentrating on air power in the defense of this country.
Note: The President's summary of his address was recorded for radio, television, and newsreels.
Dwight D. Eisenhower, Recorded Summary of Address to the American People on the National Security and Its Costs Online by Gerhard Peters and John T. Woolley, The American Presidency Project https://www.presidency.ucsb.edu/node/231829