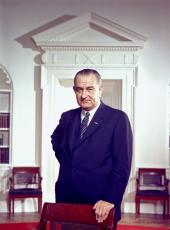 Recorded Statement Marking the Inauguration of Television by Communication Satellite Between the United States and Japan
This broadcast which carries my voice and my image to your television sets in Japan and in the United States has been made possible by our new communication satellite Syncom III.
This amazing satellite and the facilities in Japan and in the United States which make its operation possible are the product of the vision and inventiveness of our scientific communities--both private and Government.
I welcome the opportunity to applaud this latest triumph in the application of science to the field of communications. It opens for us new vistas of friendship and understanding in the fields of education, cultural exchange, business, and entertainment.
I think it most fitting that this system could come into operation as the 18th Olympic Games take place in Tokyo.
The youth of the world will be assembled there to engage in sports. Some of these events had their beginnings in ancient Greece, others started in ancient Asia. For a few days Tokyo will be the scene of a quest for excellence among all the young people of the world. Upon them all of our hopes must rest.
It is heartening that the Olympic Games-a symbol of peaceful competition among nations--can now be seen simultaneously by those actually present and by peoples throughout the entire world.
The United States and Japan can be deeply gratified, I believe, to have shared this dramatic expression of partnership that binds them in many fields.
I now look forward to seeing satellite communication systems extend throughout the world. It can be a great contribution to our international understanding--really a vital steppingstone toward helping us achieve lasting peace among peoples of the world.
Note: The message was filmed and taped in the Fish Room at the White House on October 3 for later release via the satellite Syncom III in connection with the opening of the Olympic Games in Tokyo. Secretary of State Dean Rusk and Japan's Foreign Minister Etsusaburo Shiina also relayed messages, the text of which was made public.
An earlier White House release, dated July 22, announced completion of plans with Japan for bringing television coverage of the 1964 Olympic Games, to be held October 10-24, across the Pacific for viewing in the United States, Canada, and Europe, pending the successful launching of the satellite Syncom III. The satellite was launched at Cape Kennedy on August 19 as part of the National Aeronautics and Space Administration's regular experimental satellite program.
Lyndon B. Johnson, Recorded Statement Marking the Inauguration of Television by Communication Satellite Between the United States and Japan Online by Gerhard Peters and John T. Woolley, The American Presidency Project https://www.presidency.ucsb.edu/node/242483