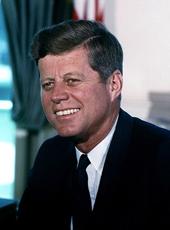 Recorded Message to the Alumni of the Choate School, Wallingford, Connecticut.
I'M SORRY indeed that I cannot attend the ceremony today. I need not say that I am deeply touched by this generous act on the part of my school and fellow alumni. I also deeply appreciate the spirit of forbearance involved since I cannot claim then or now that my actions have always enlisted total Choate enthusiasm. Nevertheless I spent valuable years at Choate--I am grateful for them and grateful for the honor you do me today.
Those of us who have gone to Choate and comparable schools represent really a very tiny minority of Americans. I believe that private preparatory schools have a role, a significant role in American education. But it is evident that they will merit that role only as they continue steadily to increase their contributions to American life. Schools like Choate must recognize and fulfill their special obligation and those fortunate enough to go to such schools must justify their special opportunities. I know that these considerations have been much in the mind of the leadership at Choate and of other preparatory schools.
It would seem to me that the task for the future falls into two main parts:

First, it is to make sure that our private schools are increasingly representative of the diversity of American life. These schools will not survive if they become the exclusive possession of a single class or creed or color. They will enlarge their influence only as they incorporate within themselves the variety which accounts for so much of the drive and the creativity of the American tradition.
The second is to make sure that our private schools prepare young men and women for service to the community and to the Nation. The inheritance of wealth creates responsibilities; so does privilege in education.
I would say that very little has helped the private schools more than the knowledge that they have produced so many national leaders who saw beyond the horizons of their own immediate life. I need only mention Theodore and Franklin Roosevelt and many in their administrations, or to take some in our own day, Averell Harriman, Dean Acheson, Douglas Dillon, Charles Bohlen and to name two eminent Choate alumni, Adlai Stevenson and Chester Bowles.
The careers of such men have done more than anything else to make our democracy accept and value the private preparatory school, even when, or perhaps because, the men themselves do things which appear on occasion to disappoint a good many of their classmates.
I know that Choate continues to teach high ideals of public service and public responsibility as it did when I was there a quarter of a century ago. And, I am confident that schools like Choate will represent the rich diversity of our people more than ever in the years to come; that they will inculcate our national ideals of freedom and they will thereby vindicate their place in our national life.

Thank you.
Note: The message was recorded for delivery as part of the Alumni Day ceremony at the Choate School. During the ceremony a portrait of the President, the work of William F. Draper, was unveiled.
John F. Kennedy, Recorded Message to the Alumni of the Choate School, Wallingford, Connecticut. Online by Gerhard Peters and John T. Woolley, The American Presidency Project https://www.presidency.ucsb.edu/node/236059