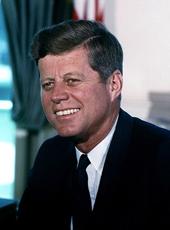 Rear Platform Remarks of Senator John F. Kennedy, Chico, CA
Senator KENNEDY. Thank you very much, ladies and gentlemen. Thank you, Governor. I want to express my thanks to all of you for coming down on this whistle stop tour in this county. We are carrying this campaign into the State of California. I want to make the point that this really is not merely a contest between the Vice President and myself, I think this is a contest between two political parties, between the histories of those parties, and between their promises and the record for the future. This is an important election. [Applause.] And I think the record of the Democratic Party, and its assurances for the future, is written in its record of the past: In the New Freedom of Woodrow Wilson, in the New Deal of Franklin Roosevelt, in the Fair Deal of Harry Truman.
I can assure you that if we are successful in January of 1961, that we are going to move ahead in this country, that we are going to bring men and women from all parts of the United States to go to work, as they worked in the 1930's for this country, to start it moving again, to bring the best we have in talents from all sections in order to work for the country once again.
I don't run for the office of the Presidency promising you that if I am elected that life will be easy and the problems all solved. I think the 1960's are going to be among the most difficult years in our history, because we have a responsibility not only to ourselves but we have a responsibility toward all those who look to us for leadership, to the people in Latin America and Africa and Asia, who stand today on the razor edge of decision, who are attempting to make a judgment as to which side represents the leader of the future, whether we do or the Communists. I believe that we do. But I believe that if we are going to meet the future [applause] it is going to require the best of us all. I think we are going to have to meet the problems we face here at home if we are going to successfully convey an image of vitality and strength abroad. We are going to have to develop the natural resources of the United States, the resources of this valley. We are going to have to increase our economic growth. We are going to have to put our country and our people back to work. This is a great country, but I think it can be a greater country. I ask your help in this campaign. Give me your help, give me your assistance. I think we can not only win this campaign, but we can start the United States moving again. Thank you. [Applause.]
John F. Kennedy, Rear Platform Remarks of Senator John F. Kennedy, Chico, CA Online by Gerhard Peters and John T. Woolley, The American Presidency Project https://www.presidency.ucsb.edu/node/274230