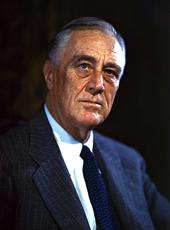 Rear-Platform Remarks at Jamestown, N.D., during a Drought Inspection Trip
I am very glad that I have had the chance to come into North Dakota. It is a big State and I have seen only a very small section of it; but I have learned something at first hand which confirms me in my thought that our problems not only here but in a great many other parts of the country can be described in three words —better land use.
This morning, when we came into that rain storm, I felt that my luck has held, because two years ago, in 1934, when I was coming back from the Coast and I got into the drought area, the rain followed me the whole way.
In fact, this morning one of the Eastern newspapermen on the train, when he woke up, got one eye open, looked out of the window, and said, "What is this, a floods control trip?" He had been with us up in New England and in Pennsylvania where they have had literally millions of dollars' worth of damage from floods. There it is a good deal different from what we see out here.
I am perfectly sure that with cooperation between the three different kinds of government—local government, State Government and Federal Government- we are going to find a solution for our problem, not only of taking care of the immediate necessities now and through this winter, but, beyond that, of working out a long-range system of planning that will use the land for the best purposes.
I am very appreciative of the greeting that you have given me here, also of that of the good people back in Bismarck and Mandan. I know that we can count on your cooperation. We are all pulling together, the Nation as a whole for the Nation's good-and that includes you.
Franklin D. Roosevelt, Rear-Platform Remarks at Jamestown, N.D., during a Drought Inspection Trip Online by Gerhard Peters and John T. Woolley, The American Presidency Project https://www.presidency.ucsb.edu/node/208975