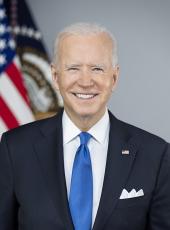 Readout: White House and HHS Host Inflation Reduction Act Roundtable with National Pharmacy Leaders
White House and HHS host discussion on how pharmacies can work together to build on the progress made under President Biden's Inflation Reduction Act to further bring down the cost of prescription drugs and educate consumers about the benefits of the law
On Tuesday, July 18, U.S. Department of Health and Human Services (HHS) Secretary Xavier Becerra, Director of the Domestic Policy Council of the United States Neera Tanden, and Administrator of the Centers for Medicare & Medicaid Services Chiquita Brooks-LaSure held a roundtable at the White House with pharmacy chain and association leaders to discuss how pharmacies can work together with the Biden-Harris Administration to educate consumers about the new Medicare prescription drug benefits under the Inflation Reduction Act. This roundtable builds on a meeting Secretary Becerra held with pharmacy leaders in March 2022.
Secretary Becerra, Director Tanden, and Administrator Brooks-LaSure opened the event by thanking pharmacy leaders who are working to familiarize their customers with the Inflation Reduction Act – President Biden's historic lower cost prescription drug law. The participants discussed ways to maximize and share resources to ensure that people who benefit from the law are aware of how the Inflation Reduction Act can help lower their prescription drug costs. In particular, the group discussed the Extra Help program, which assists low-income seniors and people with disabilities with the cost of premiums and prescription medications. Up to three million Americans have the potential to benefit from the Extra Help program but have not yet enrolled.
In advance of the meeting, Secretary Becerra, Director Tanden, and Administrator Brooks-LaSure sent a letter to national pharmacies and pharmacy associations encouraging them to play a larger role in educating their customers and communities about the new prescription drug benefits made available by the Inflation Reduction Act. Specifically, the letter encouraged pharmacies to promote these benefits by including educational material in pharmacy locations, and on websites and social media accounts; partnering with community organizations; engaging in public education campaigns; identifying customers who may benefit; and training staff to address questions about the new law, among other actions.
Additionally, the letter calls on pharmacies and pharmacy associates to assist in communicating to Medicaid and Children's Health Insurance Program (CHIP) enrollees that they should update their contact information with their state Medicaid and CHIP agency and respond to the Medicaid/CHIP renewal form when they receive it as the nation undergoes the Medicaid coverage renewal process. The Biden-Harris Administration is working to ensure that no eligible beneficiary experiences a loss in coverage that could have been avoided.
The Biden-Harris Administration has already taken historic steps to lower costs for Americans. Millions of Medicare enrollees are already saving money by receiving free recommended vaccinations and paying no more than $35 for a month's supply for each covered insulin product as a result of the Inflation Reduction Act, and this historic law will provide additional savings. In a July report, HHS' Office of the Assistant Secretary for Planning and Evaluation (ASPE) estimated the law's changes to the Medicare Part D program may reduce out-of-pocket spending by nearly $400 for more than 18.7 million enrollees when the provisions are implemented in 2025, or about one in three people with Medicare Part D. Among this population, the report finds nearly 1.9 million enrollees are projected to save at least $1,000 in 2025.
The group discussed how to educate consumers about the new Medicare prescription drug benefits and how pharmacies can direct people to help with filling out their forms during Medicaid coverage renewal process. The Secretary, Director Tanden, and the Administrator expressed appreciation that pharmacies are taking action to ensure people with Medicare are aware of these new benefits. HHS has a strong record of partnering with pharmacies on a range of issues and is committed to ensuring that this partnership will continue to grow over time.
In addition to Secretary Becerra, Director Tanden, and Administrator Brooks-LaSure, leaders from the following organizations participated in the roundtable:
CVS Health Corporation
Walgreens Boots Alliance, Inc.
Rite Aid Corporation
Walmart, Inc.
American Pharmacists Association
American Society of Health-System Pharmacists
National Community Pharmacists Association
National Association of Chain Drug Stores
Joseph R. Biden, Readout: White House and HHS Host Inflation Reduction Act Roundtable with National Pharmacy Leaders Online by Gerhard Peters and John T. Woolley, The American Presidency Project https://www.presidency.ucsb.edu/node/363626