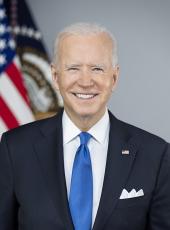 Readout: USDOT Port of Savannah Roundtable
WASHINGTON – After touring the Port of Savannah, Secretary Buttigieg and NEC Deputy Director Sameera Fazili convened business leaders, agricultural exporters, and labor throughout Georgia to discuss how DOT-supported pop-up container sites can help support the movement of imports and agricultural exports. This pop-up container program was the product of an innovative federal-local partnership. This effort will continue to grow American jobs and support America's families and communities as we implement and adapt models such as this across the country.
With DOT's support, the Georgia Ports Authority (GPA) recently converted five existing inland facilities in Georgia and North Carolina into pop-up container yards to ease congestion at the Port of Savannah. These pop-ups are functioning now and the Port of Savannah is actively moving containers to these facilities by truck and rail, which will free up more dock space and speed the flow of goods. The yards can handle more than 500,000 containers over the course of a year. Since September, long-dwelling containers in Savannah have been cut by more than 50%, and the ships at anchor outside the port have fallen from more than 30 to 8 this week.
During the meeting, GPA Executive Director Griff Lynch explained to businesses and agricultural exporters how they can utilize these pop-up container yards to move their goods in and out of the Savannah region.
Exporters and importers said the pop-up container sites are eliminating key bottlenecks and allowing truck drivers to make 70 miles turns instead of 400 mile turns, meaning truck drivers can get home at night to see their families. Many exports and importers present were already using the pop-up container sites to their benefit, and GPA is continuing to work with the partners at the table to expand this program. Participants thanked DOT and GPA for their creativity and collaboration that allowed this to go from idea to implementation so quickly and noted ways it was already reducing congestion and delivery delays at their companies.
Secretary Buttigieg spoke about the Biden-Harris Supply Chain Disruptions Task Force and the work they're doing with private companies across the supply chain to ease congestion. He also outlined the Biden-Harris Port Action Plan which helped deliver the pop-up ports in Georgia, as well as the Biden-Harris Trucking Action Plan that was announced yesterday.
Joseph R. Biden, Readout: USDOT Port of Savannah Roundtable Online by Gerhard Peters and John T. Woolley, The American Presidency Project https://www.presidency.ucsb.edu/node/353911