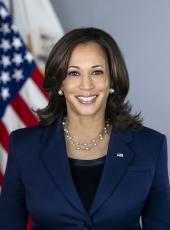 Readout of the Second National Space Council Meeting
Today, as Chair of the Biden-Harris Administration's National Space Council, Vice President Harris convened the second meeting of the Council and announced new commitments by the U.S. government and the private sector to advance American leadership in Space. During the meeting, Space Council members discussed advancing the Council's priorities in expanding Space STEM education and workforce development, human space exploration, and rules for commercial novel space activities.
Among the announcements made at the meeting, was a series of new commitments, programs, and initiatives to bolster our nation's capacity to inspire, prepare, and employ a diverse and inclusive space workforce.
The Vice President led the Council in discussing:
• STEM Education and the Space Workforce: Federal agencies discussed the benefits and opportunities to coordinate across government, and with K-12 institutions, colleges and universities, and industry leaders to attract, develop and grow the space workforce. The Vice President charged agencies to continue their efforts, specifically asking the Department of Education to develop plans to establish an Office of STEM Education, and asking other agencies to coordinate their college and investments to cultivate the future space workforce.
• Human Spaceflight: The Vice President reiterated the country's commitment to extending operations of the International Space Station (ISS) through the end of the decade and called for other ISS partners to make the same commitment. The Vice President emphasized the importance of avoiding a gap in operations between retirement of the ISS and the start of commercial space station operations. She also emphasized the need to take the United States' extensive experience and lessons learned in low Earth orbit and apply it to exploration efforts on the Moon and beyond. She noted the foundational importance of international and industry partnerships to U.S. human spaceflight endeavors. The Vice President charged NASA with developing a new plan for the next generation microgravity lab in space and to finalize an initial lunar architecture plan. She also asked the Department of Transportation to identify steps that can be taken to ensure the safety of humans in space.
• Rules for Commercial Novel Space Activities: The Vice President restated the need for clear, predictable, and flexible rules to meet the needs of the dynamic and rapidly developing private space sector. To that end, the Vice President directed Federal agencies to begin work to address this issue, in consultation with the space industry. The meeting today marked the next step, bringing academic and adjacent industry perspectives into the discussion with a number of U.S. Departments and Agencies with equities in space, and building upon the Vice President's engagement with the leaders of nine innovative space companies during her visit to Oakland, California in August.
Kamala Harris, Readout of the Second National Space Council Meeting Online by Gerhard Peters and John T. Woolley, The American Presidency Project https://www.presidency.ucsb.edu/node/357740