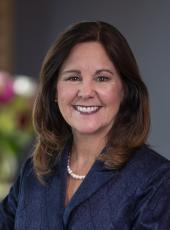 Readout of Second Lady Karen Pence's Visit to Baltimore's Crisis Response, Inc.
Today, Second Lady Karen Pence and Dr. Elinore F. McCance-Katz, Assistant Secretary for Mental Health and Substance Use, visited the Baltimore Crisis Response, Inc. (BCRI) to learn more about the mental health, substance use, and suicide prevention services offered to those who need help.
The visit started with a tour of the BCRI's operations. Executive Director Edgar Wiggins led the tour, which included the viewing of the residential counselors space, patient rooms, nurses station, medical director's office, addiction treatment center, and the hotline's national lifeline service room.
Following the tour, Mrs. Pence participated in a listening session with the executive director, staff members, and current and former patients. Mrs. Pence received an overview of how BCIR's departments work to serve the community and how BCRI has been adapting their services and programs during the COVID-19 pandemic. They also shared that BCRI is one of six National Suicide Prevention Lifelines in the state of Maryland and provided information on their community education and training programs addressing a wide range of mental health related topics including suicide prevention.
The patients then shared testimonials of their recovery and healing. One patient, in particular, shared how he went through the program after years of homelessness and addiction. After completing the program, he later returned to work at BCIR. He said "BCIR became my safe place, and I wanted to give everything back to BCIR for helping me through tough times." Another patient said "Life is now a beautiful thing and I give everything I am today to BCIR."
Mrs. Pence concluded the visit with closing remarks. She recognized the need to address mental health issues and bring attention to people's mental health and emotional well-being. She thanked the staff for their important work in providing quality care and services to people in their community as they overcome mental health and substance use disorders.
Listening Session Participants Included:
Dr. Elinore McCance-Katz, Assistant Secretary for Mental Health And Substance Use
Edgar Wiggins, Baltimore Crisis Response, Inc.
Diane Ossip, MD, Medical Director, Board Certified Psychiatrist
Deana Krizan, LCSW-C, Director of Clinical and Community Services,
Betty Taylor, Director of Human Resources since May 2009
Quinita Garrett, LCPC, Director of Hotline Services/Acting Mobile Crisis Team Director
Jescina Artis, CAC-AD, Director of Substance Abuse Treatment Services
Cynthia Woodard, RN, Nursing Coordinator for Crisis Res Unit and Mobile Crisis Services
Johnnie Phipps, RN, Nursing Coordinator for Crisis Res Unit and Mobile Crisis Services
3 former and current patients
About Baltimore Crisis Response, Inc. (BCRI)
The BCRI provides crisis services to Baltimore area residences, where one in five residents struggle with a mental health issue, via both mobile services and residence treatment services provided 365 days a year, 24/7. Click here to learn more about BCRI.
About PREVENTS
On March 5, 2019, President Trump signed Executive Order 13861, establishing a three-year effort known as the President's Roadmap to Empower Veterans and End a National Tragedy of Suicide (PREVENTS). PREVENTS recently launched their national health campaign called REACH, which aims to empower all Americans to play a role in preventing suicide. Click here to learn more.
Karen Pence, Readout of Second Lady Karen Pence's Visit to Baltimore's Crisis Response, Inc. Online by Gerhard Peters and John T. Woolley, The American Presidency Project https://www.presidency.ucsb.edu/node/343112