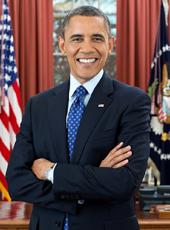 Readout of President Obama's Meeting with the UN Security Council Permanent Representatives
Earlier today, the President joined a meeting National Security Advisor Tom Donilon was hosting with Ambassador Susan Rice at the White House for the Permanent Representatives to the United Nations of the fifteen current Security Council members, and of the five countries whose two-year elected terms on the Council begin in January.
The President began by congratulating the new members, and underscoring the importance of the United Nations and the Security Council to the United States. In particular, the President stressed the importance of the Security Council remaining united in urging all parties to the Comprehensive Peace Agreement on Sudan to abide by their commitments, particularly in light of the upcoming referendum scheduled for January. The President also underscored the importance of continued Security Council support for non-proliferation, building on the strong work that has been done to hold North Korea and Iran accountable for their failure to live up to their obligations. The President also noted the broader role that the Security Council has in supporting peace, security and development around the world.
The President then led a discussion that covered a wide range of issues facing the council, including nuclear non-proliferation, the Middle East, Haiti, Somalia, Sudan, Iran, North Korea and our shared efforts to combat terrorism.
List of attendees:
H.E. Thomas Mayr-Harting (Austrian Permrep)

H.E. Ivan Barbalic (Bosnian Permrep)

H.E. Maria Luiza Ribeiro Viotti (Brazilian Permrep)

H.E. Li Baodong (Chinese Permrep)

H.E. Claudia Blum (Colombian Permrep)

H.E. Gerard Araud (French Permrep)

H.E. Emanuel Issoze-Ngodet (Gabonese Permrep)

H.E. Miguel Berger (German Deputy Permrep)

H.E. Hardeep Singh Puri (Indian Permrep)

H.E. Tsuneo Nishida (Japanese Permrep)

H.E. Nawaf Salam (Lebanese Permrep)

Mr. Guillermo Puente (Mexican Counselor for Security Council Affairs)

H.E. U. Joy Ogwu (Nigerian Permrep)

H.E. Jose Filipe Mendes Moraes Cabral (Portuguese Permrep)

H.E. Vitaly Churkin (Russian Permrep)

H.E. Baso Sangqu (South African Permrep)

H.E. Ertugrul Apakan (Turkish Permrep)

H.E. Ruhukana Rugunda (Ugandan Permrep)

H.E. Sir Mark Lyall Grant (U.K. Permrep)
Barack Obama, Readout of President Obama's Meeting with the UN Security Council Permanent Representatives Online by Gerhard Peters and John T. Woolley, The American Presidency Project https://www.presidency.ucsb.edu/node/290522