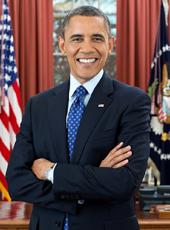 Readout of President Obama's Briefing with DHS Secretary Napolitano and FEMA Administrator Fugate on the Preparations for Severe Winter Weather
President Obama was briefed this morning by phone by DHS Secretary Janet Napolitano and FEMA Administrator Craig Fugate regarding the ongoing preparations for the large winter storm that is forecasted to affect more than two dozen states by the end of the week. The National Weather Service has issued winter storm watches, warnings or advisories in over 30 states, and blizzard warnings have been issued for 8 states, including Illinois, Indiana, Iowa, Kansas, Michigan, Missouri, Oklahoma and Wisconsin. We encourage all Americans to follow the instructions of state and local officials, and listen to local radio or TV stations for updated emergency information. We urge all individuals in the region to listen to NOAA Weather Radio and their local news to monitor for updates and directions provided by their local officials.
Secretary Napolitano and Administrator Fugate discussed FEMA's close coordination with state, local and tribal officials in affected and potentially affected states. As of this morning, the following states have accepted FEMA's offer to deploy personnel and closely coordinate with state officials should federal emergency response assistance be needed: Arkansas, Connecticut, Illinois, Indiana, Kansas, Missouri, New Jersey, New York, Oklahoma, Pennsylvania and Rhode Island. FEMA has also prepositioned commodities for rapid delivery, if needed, including water, meals, blankets, cots, generators and other essential items.
The President stressed the need to be prepared for all scenarios, including significant power outages across the country, and that state and federal agencies need to work closely to support affected communities. The President also reinforced the importance of the ongoing efforts to encourage Americans in the path of the storm to take the steps needed to be prepared. While no requests for federal financial assistance have been made yet by governors, President Obama reinforced the need to be ready to do everything needed to support the impacted states throughout the duration of the storm.
To see a photo of President Barack Obama on the phone with Homeland Security Secretary Janet Napolitano and FEMA Administrator Craig Fugate and click HERE.
Barack Obama, Readout of President Obama's Briefing with DHS Secretary Napolitano and FEMA Administrator Fugate on the Preparations for Severe Winter Weather Online by Gerhard Peters and John T. Woolley, The American Presidency Project https://www.presidency.ucsb.edu/node/290040