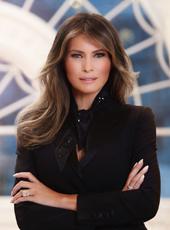 Readout from First Lady Melania Trump's Visit to Arizona
Today, the First Lady traveled to Arizona and visited a United States Customs and Border Protection (CBP) facility and a nonprofit social services center that is a grantee of the Department of Health and Human Services Office of Refugee Resettlement (ORR).
Upon arrival at a CBP short-term holding facility in Tucson, Arizona, approximately 60 miles north of the border, the First Lady participated in a roundtable with the CBP Commissioner, border patrol agents, a member of Immigration and Customs Enforcement and Removal Operations, the United States Marshal for Arizona and his deputy, and a local rancher. Members of the roundtable recounted their experiences working along the border, highlighting emergency response and surveillance efforts used to keep America safe.
The First Lady toured the control room of the facility, where she viewed the "north pod"— an area where adult illegal immigrants are housed, including criminal aliens and those awaiting adjudication. She then toured the "south pod" – an area where minors are temporarily housed. Mrs. Trump was also briefed on the Joint Intelligence and Operations Center, which supports the Joint Task Force-West (JTF-W). The JTF-W is an initiative to combat threats along the southwest border and uses cameras, air surveillance, sensor activations, and other technology. It is the only facility of its kind on the southwest border.
In Phoenix, Mrs. Trump visited Southwest Key Campbell, a shelter for unaccompanied alien children. The First Lady met with members of the staff and leadership, including Chief Executive Juan Sanchez and Field Specialist Supervisor Ivonne Velazquez. Their roundtable discussion centered on the services that the facility provides — especially focused on the care of the children housed.
Afterwards, the First Lady toured several of the classrooms in the shelter, stopping into a game room, social studies room, and a daycare room, and talking with children and teenage mothers.
"Today's visits were very informative," said First Lady Melania Trump. "I want to thank law enforcement and care providers. It is important to meet with children and educate myself on the operations happening on the front lines of the border. Thank you to the many hardworking people who take care of children in such difficult situations. Although this is a complex issue, I continue to call on Congress to act now and work together to pass comprehensive immigration reform."
Melania Trump, Readout from First Lady Melania Trump's Visit to Arizona Online by Gerhard Peters and John T. Woolley, The American Presidency Project https://www.presidency.ucsb.edu/node/336162